The lifestyles of the rich and the Russian haven't all been caviar dreams in recent weeks.
Escalating strife in Crimea has sent Moscow into a stock market slump this month — and caused the country's 10 richest to lose a collective $6.6 billion, reported research firm Wealth-X.
But don't think those opulent oligarchs are crying into their triple-distilled vodka just yet. They're still rolling in enough rubles to make multimillion-dollar deals in America — and their names aren't among the high-level Russian officials whose U.S. assets have been frozen under Western sanctions.
Russia's mega rich are still expected to continue to drop big dollars on investments like these:
Real Estate
Luxury residential properties are the ultimate status symbol among Russia's elite. Some $1 billion worth of residential real estate in the U.S. is tied to buyers from Russia or a former Soviet state, according to a New York Times estimate in 2012.
They're snatching up penthouses in Manhattan and mansions in Miami.
Dmitry Rybolovlev, who amassed part of his estimated $9.1 billion in the potash fertilizer industry, has made some of the most high-profile purchases. Last year, the 47-year-old surfing enthusiast scooped up actor Will Smith's $20 million getaway in Hawaii. And that property pales in comparison to the $88 million New York City penthouse he snagged in 2011.
The 10-bedroom Central Park West pad had belonged to ex-Citigroup CEO Sandy Weill, Forbes reported. Rybolovlev's vast collection of residential real estate holdings were revealed in a divorce filing with his now ex-wife.
Sports
While Rybolovlev also wheels and deals as the owner of the European soccer club AS Monaco, another Russian has made a rare turn owning an American sports team. Mikhail Prokhorov, 48, bought a majority stake in the Brooklyn Nets — when they were still the New Jersey Nets — in 2010.
Prokhorov's $200 million assist allowed the struggling NBA franchise to move to the new Barclays Center in downtown Brooklyn and diversify his $13 billion fortune, mostly made in the precious metals and banking industries.
While the towering Prokhorov has shown a penchant for the playboy lifestyle, he also made a serious bid in 2012 to run for Russian president. But he lost to Vladimir Putin.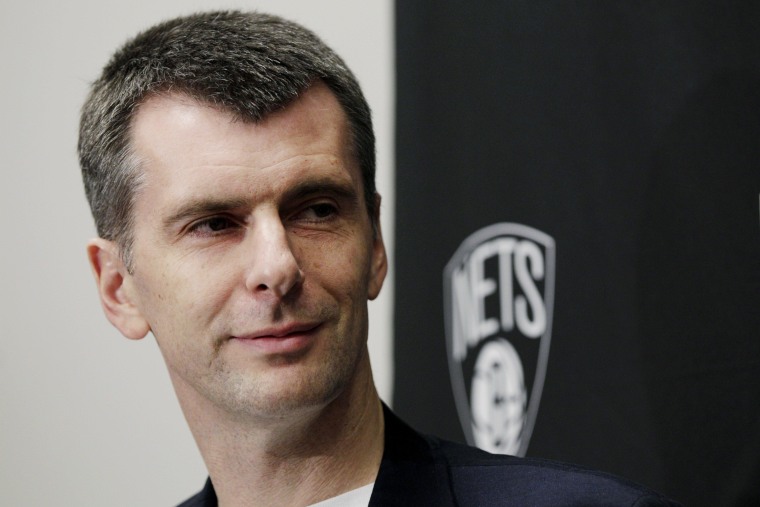 Art
Coming from a country steeped in historical treasures, it makes sense that some of Moscow's moneyed have taken up trustee positions inside America's art powerhouses.
The Guggenheim Foundation board currently includes Vladimir Potanin, who made $12.6 billion in metals and investment, according to Forbes. Potanin's wealth also helped to build a ski resort that was used for competitions in the Sochi Olympics.
Another Guggenheim trustee, Janna Bullock, was born in Russia and made her name — and $700 million — in real estate and art. Bullock had assembled more than 4,000 works by Russian artists from the late 19th century to the present day, the Guggenheim Foundation said in a 2007 press release announcing her election to the board.
But in 2010, the New York socialite took a leave of absence from the Guggenheim amid a Russian mafia money laundering scandal. Several countries froze her assets, The Moscow Times reported in September.
Technology
A few popular social media companies have Russian investors to thank.
Yuri Milner, 52, has contributed cash to some of America's well-known brands, including Twitter, Groupon and Zynga. In 2011, through his firm Digital Sky Technologies, he convinced Goldman Sachs to help buy a $500 million stake in Facebook, Bloomberg News reported.
That same year, he bought a $100 million mansion in Los Altos, Calif. — the most reportedly paid for a single-family home in the U.S. at the time. But Milner, worth an estimated $1.8 billion, isn't the only Russian to rival Silicon Valley.
Eugene Kaspersky founded Kaspersky Lab, an antivirus software company, 17 years ago in Moscow. It now has 30 offices, including a U.S. headquarters outside of Boston. The firm's impressive list of clients includes the FBI, and Kaspersky's personal wealth has grown to around $800 million, The Wall Street Journal reported.
Outer Space
While the U.S. scales back its space program, Kremlin has pledged cash to make the space industry a priority. Currently, Russia is the only country to operate a space shuttle that can take astronauts to the International Space Station.
Billionaires, such as Arkady Rotenberg, whose riches are in construction, have invested millions of dollars into space technology to set Russia apart.
The Russian aerospace firm Orbital Technologies, meanwhile, made headlines in 2010 when it announced plans in the next few years to launch a spaceship hotel 200 miles above the Earth. The clientele would be, of course, deep-pocketed explorers.
"Space tourism is a real and fast-growing business," Orbital Technologies CEO Sergei Kostenko said at the time, according to Reuters. "Whoever builds the first new spaceship now will reap big dividends."