Official tallies from Crimea's referendum are expected on Monday, but the end result is already fairly certain: A breakaway from Ukraine.
The only question in what manner will Crimeans choose to become Russian -- either directly or in steps. That is, by first voting for independence and then declaring Crimea as part of Russia as their first "free" act.
But what happens after that is anything but certain.
All eyes will be on Russian President Vladimir Putin, who could either annex the strategic peninsula outright — a process that could take up to two weeks — or simply recognize the desires of the Crimean people without formal annexation.
"Putin doesn't care about what others will say."
In their failed, last-ditch effort at diplomacy in London on Friday, Russian Foreign Minister Sergei Lavrov told Secretary of State John Kerry repeatedly that his boss, Putin, would only make a decision on what to do with Crimea after the referendum.
By then, Putin will be facing a lot more pressure from the West: the 28-member European Union on Monday is expected to vote for a wave of sanctions against Russia.
The targets of those sanctions — mostly Russian and some Ukrainian individuals and entities, though not including Putin himself — will have their visas banned and European bank accounts and assets frozen, effective immediately.
If Putin does then moves to annex Crimea, another wave of sanctions, this time economic and more painful, are supposed to kick in.
But Kremlin watchers like Fyodor Lukyanov, editor of the Russian quarterly "Russia in Global Affairs," notes that Putin has already decided to annex Crimea, and that no Western sanctions will deter him.
"Putin doesn't care about what others will say," said Lukyanov. "And the West is demonstrating political dementia thinking that these individuals will be terrified by visa bans and asset freezes."
Lukyanov also bets that the Kremlin has every chance of winning — or at least stalemating — a "war of sanctions" against the U.S. and European Union.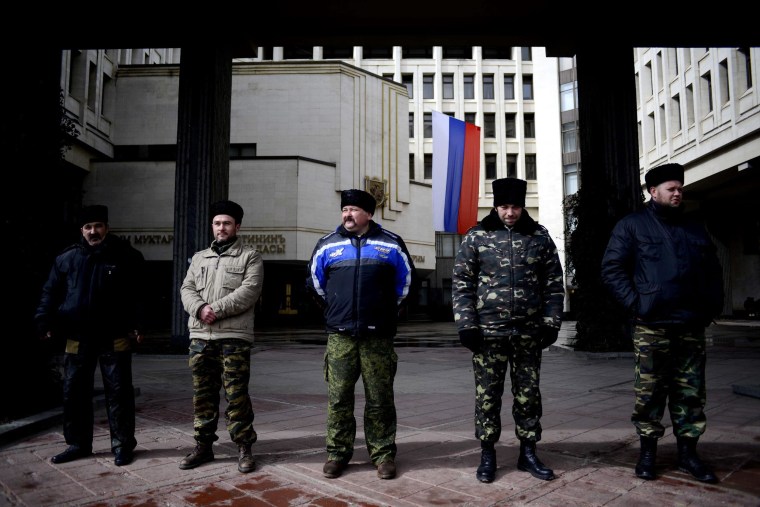 "We're talking about pretty tough people," he warned. "And if no one wants to negotiate with them, they will take what they consider to be theirs."
Another big unknown: Will Putin use Crimea as a jumping board to launch Russian forces into restive chunks of Eastern Ukraine, under the guise of protecting Russian "compatriots" caught up in — Ukrainians would say stirring up — ethnic violence?
This worries Russian daily "Kommersant" foreign affairs editor Sergei Strokan, born in Ukraine.
"My feeling is that the 'Beyond Crimea' option for Putin is something we may well see translating into reality in Ukraine's future," said Strokan.
But others see Putin stopping the land grab once Crimea is in his hands.
They believe the recent build-up of Russian forces along Ukraine's border and even Saturday's incursion into mainland Ukraine by dozens of Russian troops - to commandeer a Crimean natural gas pumping station - are signals to the Ukrainian government in Kiev.
"It's part of a campaign to put more pressure on Ukraine," said Andrei Soldatov, a Russian security analyst and blogger, "and to send a clear message to Kiev — leave Crimea alone or we can take more."
Whatever is up the Russian leader's sleeve, he seems to be holding all the cards. And — as always — has left everyone guessing.