DONETSK, Ukraine - Masked men handed out leaflets telling Jews to register with pro-Russian separatists who had taken over a government office in the eastern Ukrainian city of Donetsk, a witness told NBC News on Friday.
"There were about 100 of us outside the synagogue after Passover eve prayers [on Wednesday] when we saw three masked men in the crowd who started to hand out letters," Yosef Gurevitz said. "One of them tried to tape one on the synagogue door. Then they quickly left. When I read the letter I was in shock."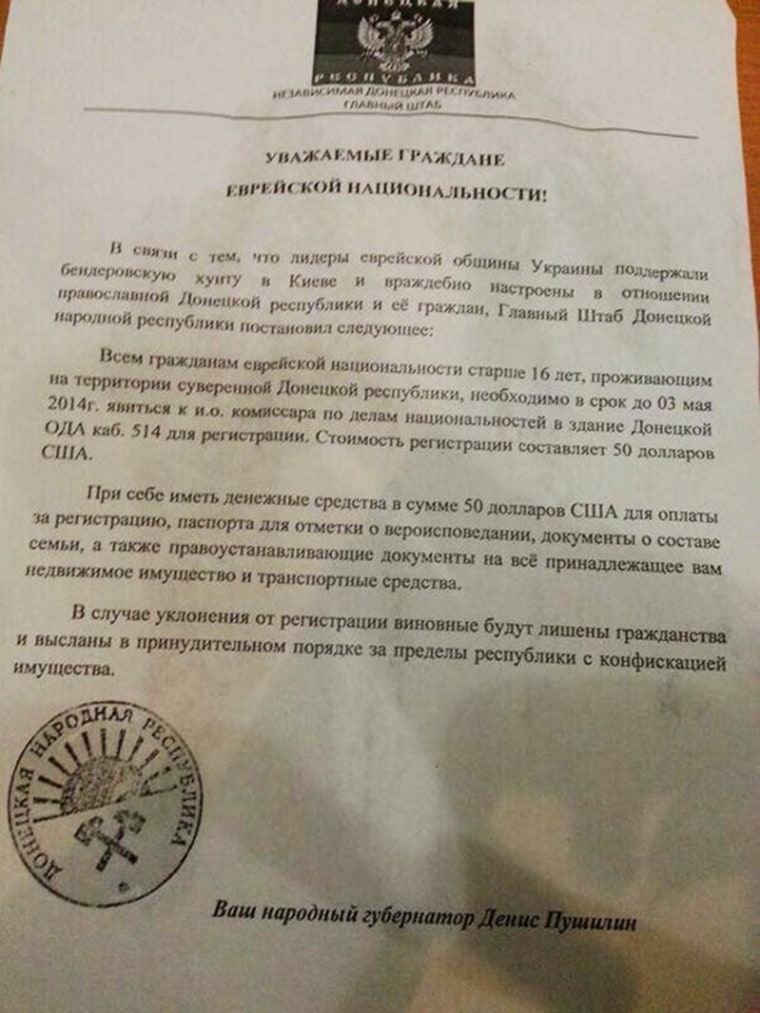 It was not clear who was behind the leaflets and NBC News could not independently confirm Gurevitz's account.
The letters said Jews must register with a "commissar" at the regional government headquarters by May 3, according to a Reuters translation.
"It's very worrying," said Gurevitz, who is a Brooklyn native visiting Ukraine with his family. "We're hoping its just a provocation but I always thought the days that Jews would become scapegoats for whatever reason were long over."
The letters were purported to be the work of a pro-Russian group that took over public buildings and wants to end rule by the new Ukrainian government in Kiev.
Kirill Rudenko, a spokesman for the pro-Russian People's Republic of Donbass, told Reuters the leaflet was "complete rubbish" and "we made no such demands on Jews."
On Thursday, Secretary of State John Kerry condemned suggestions that Jews had been ordered to register.
Once home to a large Jewish population devastated by the Holocaust, Ukraine has seen a rise in attacks on Jews in recent months. Everyone interviewed by NBC News said they had never before witnessed anti-Semitic behavior in Donetsk.
Since Ukraine's pro-Moscow President Viktor Yanukovych was ousted, Russian President Vladimir Putin has stated that he's worried about rising anti-Semitic forces in the region.
— Reuters contributed to this report