Russian President Vladimir Putin has been "improvising" throughout the Ukraine crisis and still appears to have no long-term strategy for either cementing the gains of pro-Russian separatists or withdrawing from what is quickly becoming a protracted military crisis, according to U.S. officials and outside experts on the Kremlin.
"There's been a lot of improvisation by Putin and it's been a challenge to anticipate," said one senior U.S. official familiar with intelligence on the continuing conflict along the Ukraine-Russia border.
ANALYSIS
The U.S. officials, who spoke with NBC News on condition of anonymity, said Putin's spur-of-the-moment moves run a high-risk of "unintended consequences," pointing to the apparent accidental shootdown of Malaysia Airlines Flight 17 on July 17, allegedly by rebels armed with Russian surface-to-air missiles.
They also could eventually jeopardize his hold on power, they say.
The officials said Putin was likely emboldened by the success of his initial gambit in Ukraine, when pro-Russian Ukrainian separatists seized Crimea in March. The separatists were led by "little green men," a term used by Ukrainian officials to describe well-armed Russian-speaking soldiers who wore no insignias and were believed to be backed by the Kremlin. Moscow followed by annexing the territory, precipitating the first round of U.S. and European sanctions aimed at punishing Russia for its aggression.
"Crimea, more than anything, was impromptu," said a second U.S. official. "The 'little green men' were there to exert influence over Ukraine, but something flipped and once the Crimean Parliament voted to accede to Russia and there was evidence that a vast majority of Russians wanted it, Putin went along."
"He could have stepped back and played the role of magnanimous Russian leader. Instead, he made the choice to escalate."
Putin pressed on, deciding to supply other separatist groups along Ukraine's eastern border with heavy weapons, according to the officials -- a move that they say backfired when the rebels blasted the Malaysia Airlines jet out of the sky, killing all 298 people on board.
Rather than backing down in the face of worldwide condemnation that followed the tragedy, however, Putin upped the ante, said Angela Stent of Georgetown University's Center for Eurasian, Russian and East European Studies.
"He could have stepped back and played the role of magnanimous Russian leader," said Stent, author of "The Limits of Partnership: U.S.-Russian Relations in the Twenty-First Century." "Instead, he made the choice to escalate."
Stent was referring to claims by officials in Kiev that, in the immediate aftermath of the shootdown, Moscow stepped up the flow of military equipment to the separatists and launched rocket attacks at resurgent Ukrainian military forces from Russian soil – apparently the first direct hostilities between the two nations.
The U.S. continues to try to engage Putin. President Barack Obama called the Russian president on Friday and "reiterated his deep concerns about Russia's increased support for the separatists in Ukraine," according to a White House statement.
Ian Brzezinski , a senior fellow at the Atlantic Council's Brent Scowcroft Center on International Security, said Putin now has three unattractive options: He could bring Russian troops openly into the conflict, continue to supply the separatists at a level where they can fight Ukrainian troops to a standstill or simply abandon them.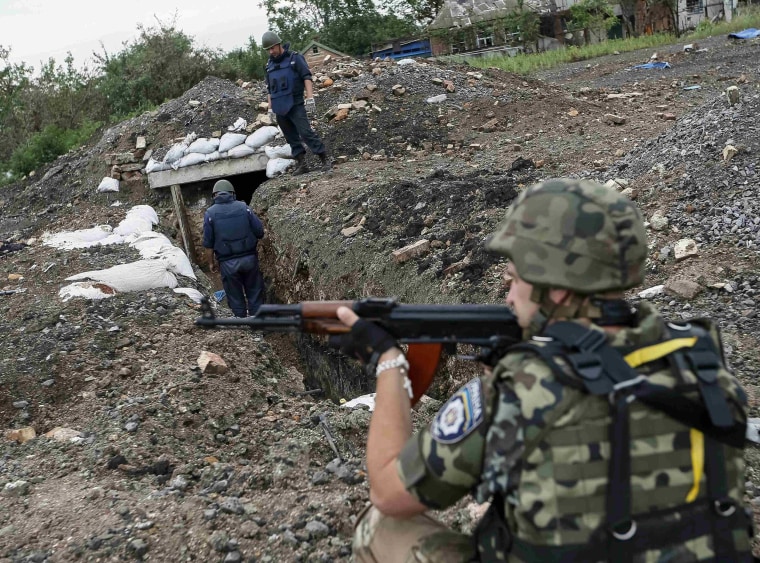 Backing away from the separatists if conclusive evidence emerges that that they shot down the jetliner is a possibility, but many experts say Putin's hands may be tied by domestic concerns.
Putin's "gas gauge was running close to zero" before the Ukraine crisis, one U.S. government analyst said. His popularity remained in the 60 percentiles in polls, but the Russian economy was stagnant and, with world oil and gas prices dropping, there were concerns that it might be headed for a recession.
Now, as a result of his aggression in Ukraine, a wave of nationalist Putin-mania has broken out among the Russian people, sending his approval rating soaring into the 80s.
But moving to ease the crisis with Ukraine could quickly reverse those gains, say the U.S. officials.
"The public has been lulled into a nationalist belief that triumph will follow triumph and he will have a difficult time meeting such raised expectations," said one official.
"The question is, what are his goals and how committed is he to them?"
Although the shootdown and the new financial sanctions, which for the first time target entire sectors of the Russian economy, would seem to argue for a long-term strategy on Ukraine, the U.S. officials and experts say Putin still appears to be winging it.
"Putin IS improvising," said Steve Sestanovich of the Council of Foreign Relations, who was U.S. ambassador-at-large for the former Soviet Union during the Clinton Administration. "The question is, what are his goals and how committed is he to them? To me, the policy is starting to look like a loser -- but we don't know how much he's prepared to give" to reach a negotiated settlement.
While Putin's tactics are fluid, Kremlin watchers say they do reflect a broad longer-term goal.
"He feels it's an important priority to the re-establishment of Russian greatness," said Brzezinski . "It has a territorial dimension as well as an ethnic dimension. He wants a Russia that not just akin to former Soviet Union but to the former Soviet Union ... and its satellites. He feels that Russia has been forced out of that realm."
That goal is intertwined with a feeling of insecurity, says Georgetown's Stent.
"On one level, it has been Putin's goal since Orange Revolution (Ukraine's democratic uprising in 2004), making Ukraine a country that is weak, divided and not looking toward Europe, but looking both ways or toward Russia," she said. "Putin did seem to think, 'if it could happen in Kiev, it could happen in Moscow. And he believes the U.S. is committed to regime change."
U.S. analysts also believe Putin is on perilous footing.
"We disagree with those who see Putin and Russia acting out of swagger," one U.S. official said, calling Ukraine "Russia's most significant foreign policy issue." "They are acting out of deep insecurity."
At the same time, however, U.S. officials say Putin is becoming more isolated and, hence, even more unpredictable.
"Putin's circle of advisers is small and getting smaller," said one official. "… And (he) can act on his own initiative, without consultation."
Related
Russia Reportedly Plans Military Exercises Near Ukraine Border
Why Europe Might Balk at Backing Sanctions Against Russia
How will it end?
One Russian business executive said the Russian economy's vulnerability could drive a resolution. He said he expects pressure to build on Putin to back off in eastern Ukraine as Western banks show less willingness to finance or refinance Russian corporate debt, triggering a liquidity crisis. Russian business leaders aren't discussing it publicly, fearing retribution, he said, but many believe Russia can't deal with that at the same time that financial sanctions are beginning to bite.
Follow NBC News Investigations on Twitter and Facebook.
But the U.S. officials say a retreat by Putin is not a given.
At a briefing for reporters in the spring, U.S. intelligence officials warned that "unexpected developments can be fraught with unintended results," suggesting that Putin's gambit in Ukraine could ultimately undercut his long hold on power.
The first part of that prediction came true last month when separatists shot down the Malaysian airliner. So, too, could the second, if Putin can't find an as-yet-unseen exit from the current crisis.