Ukraine's exiled President Viktor Yanukovych reiterated his belief Tuesday that he still rules the country and added that he will return soon.
Speaking in the Russian city of Rostov-on-Don, Yanukovych said presidential elections planned in Ukraine for May 25 were "illegitimate and illegal" and again labelled the powers now running Ukraine as "fascist."
"I want to ask those in the West, are you blind? Have you last your memory? Have you forgotten what fascism is?" he told the press conference, in which no questions from the media were allowed.
Yanukovych left Ukraine for Russia after the popular uprising in Kiev last month saw him sign away many of his powers to parliament.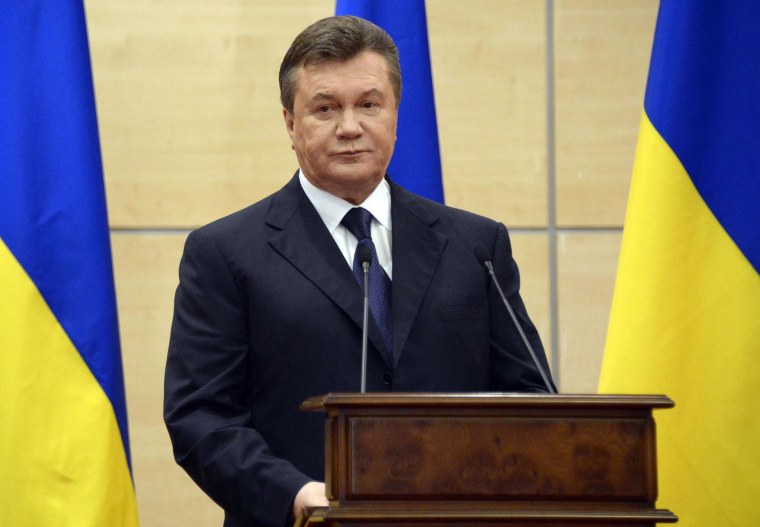 His remarks echo leaders in the Ukraine's southern peninsula of Crimea, who characterize a referendum scheduled for this Sunday as the people's opportunity to decide between Russia and Ukraine's new "fascist" government.
Crimea is the Ukraine's only region that features a Russian-speaking majority.
Yanukovych also referenced rumors that he had died of a heart attack. "I am alive, but I cannot say I am feeling good because I cannot see what's happening in Ukraine without a sense of worry."
He also claimed he was not ousted from Ukraine but left on his own accord.
"The U.S. and other countries say I lost my legitimacy because I left the country, [but] I did not flee," he said. "It's not long to wait until I come back to Ukraine."
He added that international law prevented the United States giving financial aid to illegitimate governments, which he labeled "bandits."
He also blamed the proposed breakaway of Crimea on his political opponents.