A Malaysia Airlines jetliner with 298 people on board was shot out of the sky by a surface-to-air missile Thursday as it cruised in a hostile region of Ukraine, U.S. officials told NBC News.
The officials said they were trying to determine who fired the missile. The plane went down in one of the most volatile parts of the world — near the Ukrainian border with Russia, where separatists have fought Ukrainian security forces for months.
Vice President Joe Biden said at a public appearance that the plane was apparently "shot down, not an accident. Blown out of the sky."
The plane, Malaysia Flight 17, was a Boeing 777. It was about three hours into its journey from Amsterdam to Kuala Lumpur when it crashed into a sparse wheat field 31 miles from the Russian border.
Photos from the scene showed bodies scattered among the blackened, smoldering wreckage of a jumbo jet.
President Barack Obama said the U.S. government was working to determine whether Americans were on board.
The crash came four months after another Malaysia Airlines plane, Flight 370 from Kuala Lumpur to Beijing, disappeared with 239 people on board — the greatest mystery in modern aviation.
"This is a tragic day in what has already been a tragic year for Malaysia," Prime Minister Najib Razak said.
Flight 17 had 283 passengers, including three infants, and 15 crew on board. There were no reports of survivors. The flight was at about 33,000 feet at last report. Malaysia Airlines said the aircraft had a clean bill of health and a functional communication system at the time of the crash.
A Malaysia Airlines official told reporters that 154 Dutch nationals were on the plane. Royal Dutch Airlines said that it had sold some tickets for the flight under what is known as a code-share agreement. Families of those aboard began gathering at Schiphol Airport in Amsterdam.
The dead include 154 citizens of the Netherlands; 43 from Malaysia, including 15 crew members and two infants; 27 from Australia; 12 from Indonesia, including one infant; nine from the United Kingdom; four each from Germany and Belgium; three from the Philippines; and a citizen of Canada. The nationalities of 41 other victims have not yet been verified.
A report by the Russian news agency Interfax said that the crash Thursday was in the Donetsk region of eastern Ukraine, among the most volatile regions in the world. Pro-Russian separatists have been fighting Ukrainian security forces there for months.
The U.S. officials said intelligence analysts were still trying to determine whether the missile could have been launched by separatists in Ukraine or by Russian forces across the border.
Ukraine claims that separatists have shot down its military planes, including earlier this week. In the early hours after the crash, analysts raised the possibility that someone might have mistaken the civilian jet for another military plane.
Andrey Tarasenko, a miner who was walking home from work with a friend, said that he saw a white trail go up from the ground, then heard an explosion two seconds later, then saw smoke risking from the ground 10 seconds after that. He said he was about 10 miles away.
"You know how you see a trail from a plane — it was the same, but it was a missile launched from the ground," he said.
Anton Gerashenko, an adviser to Ukraine's interior minister, said on his Facebook page that the plane was hit by a Russian surface-to-air missile known as a Buk. The type of missile can hit a target far higher than Flight 17 was flying.
The Associated Press reported earlier this week that it had seen a Buk system on the ground in a separatist-controlled area of eastern Ukraine.
The separatists denied responsibility. The separatists were quoted by the Russian news agency Interfax as saying that they had found the "black box" flight recorder. Other Russian reports said the rebels planned to call a three-day cease-fire to allow for an investigation.
In the chaotic early hours after the plane went down, the separatists and the Ukrainian government each said the other had shot it down.
A Ukrainian interior ministry official said that pro-Russian separatists had downed the plane, and a leader of the separatists, Aleksander Borodai, said that it was the Ukrainian air force.
Ukraine's recently elected president, Petro Poroshenko, called it an act of terrorism. He said he had spoken to the Dutch prime minister and invited the Netherlands to join the investigation.
On national television, he said, "I would like to draw your attention that we do not call it an incident, not a disaster, but we call it a terrorist act."
In a video statement, Poroshenko claimed the government had intercepted conversations — one of them allegedly with a Russian colonel whom he identified as Vasiliy Geranin — in which rebel commanders and fighters were "boasting about the hit airplane." NBC News couldn't authenticate the recordings, which the Ukrainian government posted online.
At a government meeting in Moscow late Thursday, Russian President Vladimir Putin appeared to pin the blame on Ukraine, saying "the state over whose territory this happened bears the responsibility for the terrible tragedy."
"This tragedy would not have happened had there been peace in this land, if hostilities had not resumed in the southeast of Ukraine," Putin was quoted as saying by Interfax.
Images appearing to depict the crash site spread quickly on social media. NBC News could not confirm the images.
Malaysian Prime Minister Najib Razak said his government was investigating. The defense minister, Hishammuddin Hussein, said that there was no confirmation that the plane had been shot down. He said on Twitter that the Malaysian military had been instructed to "get on it."
Obama spoke on the phone with Russian President Vladimir Putin, and White House press secretary Josh Earnest said that Putin noted the reports of a downed passenger jet. Officials at the Pentagon scrambled to learn more and assess who might have had the capability to shoot down an airliner.
The conflict in Ukraine has raised tensions between Russia and the West to their highest since the end of the Cold War.
In February, protesters toppled the pro-Russian government in Kiev, and Russia answered by invading and later annexing the Crimean peninsula of Ukraine. Since then, pro-Russian separatists have fought Ukrainian security forces in the east.
Evan Kohlmann, an NBC News terrorism analyst, said that shooting down a 777 at 33,000 feet would require "access to serious military equipment."
"The chances this was done by a conventional terrorist group like al Qaeda or something like that is almost nonexistent," he said.
The immediate impact on relations between Russia and the West was not clear. At the request of Ukraine, Britain asked for a meeting of the U.N. Security Council, a U.N. diplomat told NBC News.
Data from the website FlightAware showed that Flight 17 took off from Amsterdam at about 6:30 a.m. ET. Its last recorded position was over Ukraine, west of the Russian border, at 9:19 a.m. ET.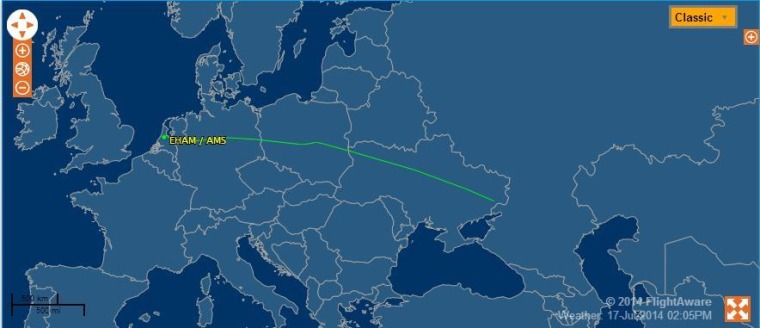 Delta Air Lines, the German airline Lufthansa and two Russian airlines said that they would stop flying over the region. Lufthansa said that it would use a "wide detour," and that four of its flights Thursday were affected by that change.
American Airlines said that it does not fly over Ukraine. American commercial airliners have been prohibited from flying over some parts of Ukraine since April, after Russian President Vladimir Putin moved to annex Crimea, but the crash site Thursday was outside that zone.
Boeing said it was trying to learn more and that its thoughts and prayers were with everyone on board, their families and loved ones.
The Boeing 777 had one of the best safety records in the industry. No one was killed aboard that model until in July 2013, when a 777 operated by Asiana Airlines crash-landed in San Francisco, resulting in three deaths. Flight 370, which was also a 777, disappeared March 8.
Alexander Smith, Courtney Kube, Alastair Jamieson, Catherine Chomiak. Robert Windrem, Irina Tkachenko and Daniel Arkin of NBC News contributed to this report. Reuters and The Associated Press also contributed to this report.