LONDON — Investigators are "fully confident" their inquiry into the downing of Flight MH17 over Ukraine will lead to a trial, but experts and relatives of the 298 people who died fear it could be years before those responsible are brought to justice — if ever.
An international criminal probe this week concluded that the Malaysia Airlines jet was destroyed by a missile fired from territory controlled by pro-Moscow rebels using a Soviet-era Buk launcher that was trucked in from Russia and hastily returned there.
Video, witness accounts and intercepted call transcripts gathered over more than two years were among the evidence set out Wednesday by the Dutch-led Joint Investigation (JIT) team.
The U.S. welcomed the findings as an "important step toward accountability," with U.N. Ambassador Samantha Power saying in a statement that "those responsible for carrying out and ordering this attack must be held accountable."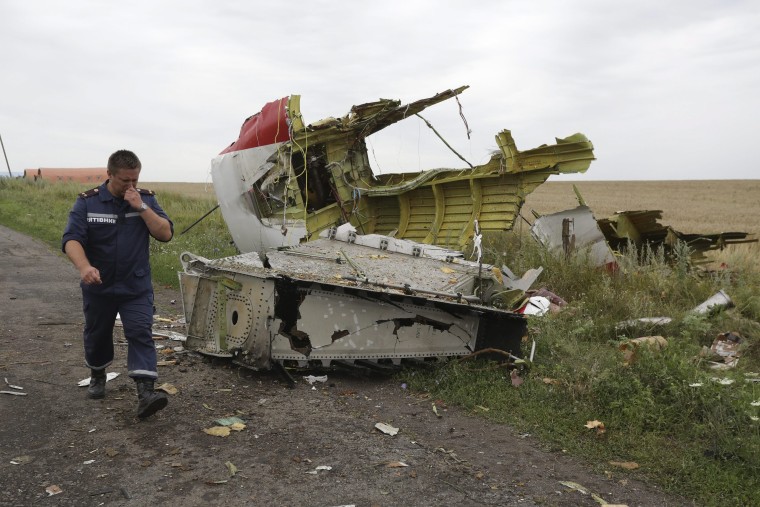 Australia, which lost 38 citizens in the July 2014 disaster, said it was "carefully considering the prosecution options available."
However, a specialist in international law said it would be "a monumental challenge" to get individual defendants on trial" — and the process would likely take years.
"For a trial, you need defendants and we don't appear close to that point yet," lawyer Toby Cadman, from London-based firm 9 Bedford Row, told NBC News.
Any moves towards an international criminal trial could be stymied by Russia, which immediately denounced Wednesday's findings as "biased and politically-motivated."
"Russia has previously blocked a U.N. Security Council resolution to set up a tribunal on MH17," Cadman explained. "Russia can't stop an International Criminal Court investigation and it can't stop a national investigation in the Netherlands or anywhere else, but getting defendants before a court would be a huge challenge."
Gallery: Malaysia Airlines Wreckage Litters Ukrainian Landscape
Even if the individual suspects who fired the missile could be identified and extradited, prosecutors would have to prove that they intended to destroy the Boeing 777, which was flying at 33,000 feet above the conflict zone — far higher than military jets involved in combat.
Cold War-era Buk surface-to-air missile launchers, first built in the 1970s, are capable of shooting down aircraft up to 18 miles away. But the radar system that guides the missiles is designed for war zones and isn't capable of distinguishing between military and civilian planes.
Much of the JIT evidence — in particular, expletive-laden communications in which unidentified military personnel appear to realize the scale of the disaster — suggests the downing of MH17 was "unlikely to have been intentional act," according to Cadman.
That view was echoed by Australian Paul Guard, whose parents Jill and Roger Guard from Toowoomba, Queensland, were among the victims.
"I think it is important to prosecute the people involved, mainly as a deterrent to others," he told Australia's ABC Thursday. "I don't think that anyone intended to bring down a passenger plane. Nobody benefited except possibly the Ukrainian government as an excuse to escalate the war. I don't think it was intentional."
Guard said it was "good to see" the JIT had a wealth of evidence but added: "I do see the whole incident as a function of the war that was going on there. What was a passenger plane doing there? Ukraine should have closed its airspace in the days leading up to the incident. Malaysia Airlines should have done a risk assessment and it may not have had the information it needed in order to do that."
The JIT's chief prosecutor, Fred Westerbeke, told Wednesday's news conference that he was "fully confident" the investigation would lead to a trial. But he said it was too early to decide which court could hear it.
"The next question, of course, is who was responsible for this," Westerbeke said.
"All fingers were pointing in the direction of Moscow"
When pressed by journalists, the prosecutor declined to give more information about the 100 people believed to be involved — including whether any are Russian nationals.
"Who gave the orders?" Westerbeke asked. "Did the crew take its own decisions or were they operating on instructions from above?"
He appealed to "insider witnesses" to come forward, saying they could receive immunity or reduced sentences. He also said JIT was seeking more information on two people heard on the intercepted military communication — Andrey Ivanovich, who used the callsign Orion, and Nikolay Fiodorovich, identified as Delfin.
Westerbeke said the JIT wasn't yet "making any statement about involvement of the Russian Federation as a country or of people from the Russian Federation," but that there was little doubt that all fingers were pointing in the direction of Moscow.
Even before the latest evidence was presented, Russia's military said newly-found data from radar in southern Russia showed that the missile responsible for downing Flight 17 did not originate in rebel-controlled territory. It said it would give that data to investigators.
The JIT said it haven't yet received the data, but downplayed the possibility it would alter their findings.
"In this case, absence of evidence does not prove that it (the missile) was not there," said Wilbert Paulissen, head of the Dutch National Police Central Crime Investigation Department. "We have no doubt whatever that the conclusions we are presenting today are accurate."
Russian defense ministry spokesman Maj. Gen. Igor Konashenkov denied that Moscow's air-defense missile systems, including the Buk, have ever been sent to Ukraine.
With a format and location for any trial still a distant prospect, prosecutors may look to previous cases such as the investigation into the destruction of Pan Am Flight 103 over Lockerbie, Scotland in December 1988.
The Lockerbie trial eventually took place under Scottish law but on neutral ground in the Netherlands after a deal to hand over the suspects for trial was agreed with Libya. The process took 11 years and four months.
"I'm sure they know a lot more than they said at their press conference but I would imagine it would still be several months if not years before any potential suspects are identified, unfortunately," said Cadman, the international law expert.
Bogdan Petrenko, deputy director of the Ukrainian Institute of Extremism, told Voice of America that the JIT report showed that "the circle is narrowing" on the perpetrators.
Related: MH17 Report Reveals Shocking Details of Jet's Last Moments
However, Guard said Ukraine's inclusion on the JIT "creates a public perception problem and gives the Russian government an excuse to dismiss the findings" since the country may have played a role in the disaster.
"It is very disappointing that Russia refuses to accept any facts. Russia has been a bad actor in all of these proceedings from the start and … there is a continued need to put pressure on it to own up to what the facts are and hopefully cooperate," he said.
Guard added many bereaved families were keen to see "retribution or some sort of punishment" but that a trial conviction was "well down my list of priorities."
"I do think the focus should be on resolving [the Ukraine] conflict peacefully, finding a long term political compromise and sorting out the rules on civil aviation to make sure this doesn't happen again," he said.