A Dutch-American student killed on Malaysia Airlines Flight 17 was on his way to meet his family for a summer vacation in Bali, relatives said Friday.
Quinn Lucas Schansman, 19, who had dual citizenship, was born in Fort Lee, N.J., but lived most of his life in Holland, where he was studying international business.
"You go through all the phases of mourning," Ronald Schansman said from his sister's home in New Jersey, where he happened to be visiting when the plane was shot down over Ukraine on Thursday.
"Of course it's anger. It didn't need to happen," he told NBC Philadelphia. "A senseless thing to do."
The grandfather said Quinn was supposed to join his father Thomas, his stepmother and his younger siblings in Indonesia and travel with them to Bali for a week's holiday.
Now the father is on his way back to Holland to wait for the return of his son's remains from the crash site, where pro-Russian separatists were seen picking through the wreckage.
"We want to know why," Ronald Schansman said, noting that both the separatists and Ukrainian officials have blamed each other for the missile attack that brought down the Boeing 777.
"Who shot?"
Quinn Schansman was born in New York while his father was working for the Dutch embassy in New York, the grandfather said. The family then moved to California but was back in Holland by the time Quinn was five years old.
A cousin, Rodney Schansman of Georgia, said he had not seen the young man since he was a baby but was planning a family reunion in Europe.
"Who would ever believe that a disaster that far across the world would affect us here?" he said.
"Our prayers go out to all the families that have lost loved ones in this tragedy."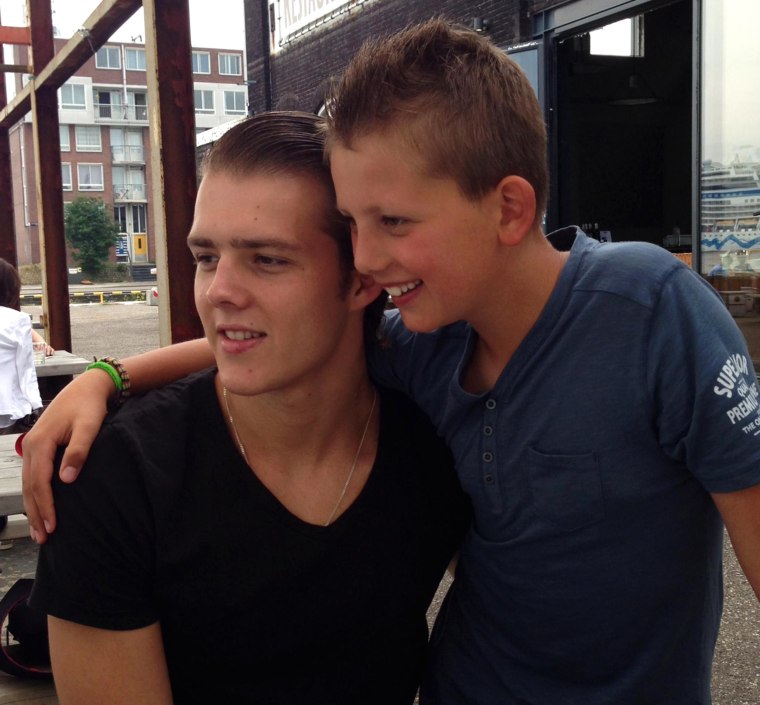 A friend from high school described Quinn as kind and popular.
"He stuck up for you and made you laugh when he saw there was something wrong," Fabienne Schriek said in a message to NBC News.
"He was ... kind of sensitive and caring. He had a lot of friends and everybody seem[ed] to like him. If there was a fight in class he could cool everyone down again, made a joke and it was like it never happened. He was really down to earth and just [a] fun guy to have around."
"We are devastated," she added.
A young woman identified on his Facebook page as his girlfriend posted a photo of the two of them kissing:
Most of the 298 people on board were from the Netherlands, Malaysia and Australia, officials have said. An official passenger manifest from the doomed flight has not been released.
One Dutch passenger did have ties to the United States.
Karlijn Keijzer, 25, was a doctoral student at Indiana University, where she was on the rowing team.
"The Indiana Rowing family is deeply saddened by the news of Karlijn's sudden passing," head coach Stephen Peterson said.
"She came to us for one year as a graduate student and truly wanted to pursue rowing. That year was the first year we really started to make a mark with the First Varsity 8 boat and she was a huge reason for it."