Russia hit back at Western claims that Kremlin-backed rebels downed Malaysia Airlines Flight MH17 and demanded that the U.S. provide evidence of its alleged role in the missile attack.
On Sunday's "Meet the Press," Secretary of State John Kerry outlined the case for pro-Moscow separatists in Ukraine being responsible for attacking the Boeing 777 but clarified that a "final conclusion" hadn't been reached.
Kerry said separatists bragged on social media about the downing of a transportation vehicle but then took their posts down when word got out that the jet was a civilian aircraft. The presence of gun-toting militants at the debris field hindering monitors from gaining access also "makes its own statement about responsibility," Kerry said. And on Monday, President Barack Obama called on Russian counterpart Vladimir Putin to compel the separatists from hampering the investigation. "What are they trying to hide?" Obama asked.
"In Russia we are not playing these games that our Western counterparts are engaging very much in, blaming someone and accusing some parties without any evidence"
But speaking late Monday, Putin's Ambassador to Malaysia Lyudmila Vorobyeva described the Obama administration's claims as "groundless" and suggested that Ukraine's government could be responsible for shooting down the jet.
"There have been a lot of accusations and finger pointing towards Russia," she said. "The U.S. claims they have evidence of what happened, where is this evidence?"
Vorobyeva expressed her "deepest condolences and heartfelt sympathy" to the families of the 298 people who died. But she insisted Moscow wanted a "transparent" investigation into the incident.
"I want to make it very clear. In Russia we are not playing these games that our Western counterparts are engaging very much in, blaming someone and accusing some parties without any evidence, we are not doing that," she added. "We're calling for a thorough investigation that could produce evidence who is responsible for this tragedy."
Washington has said it detected a launch from a rebel-controlled region of eastern Ukraine at the time of the crash, and that it had evidence of a SA-11 Buk weapons system being transported into the country from Russia. It also said Russia has been providing training to rebels at camps in southwest Russia.
Pro-Moscow rebels' refusal to allow investigators to access to the crash scene for several days has slowed the probe but Dutch and Malaysian experts were at the site on Tuesday. Australian Prime Minister Tony Abbott said evidence at the MH17 crash site had been tampered with on an "industrial scale" as part of an apparent cover-up attempt.
Putin's ambassador to Malaysia also reiterated a claim made at a Russian Defense Ministry briefing earlier Monday that a Ukrainian Su-25 fighter jet was flying no more than three miles from the Boeing 777 before it was shot down. U.S. intelligence officials later "categorically denied" that account to NBC News.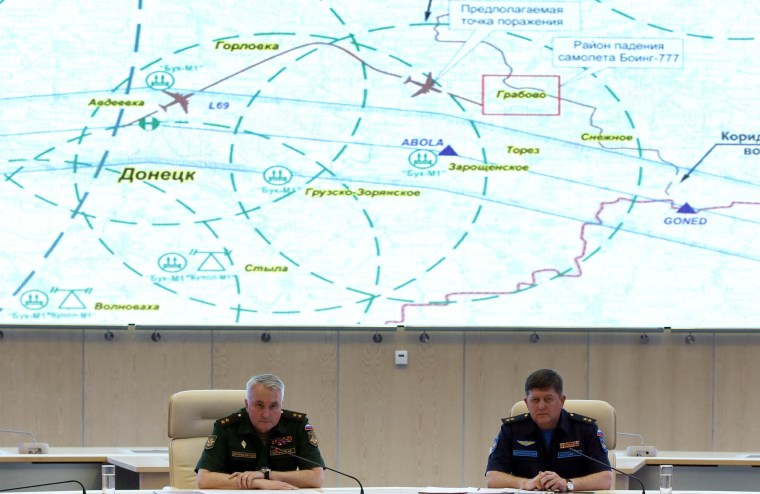 "We also have some questions for our U.S. partners," Lieutenant-General Andrei Kartopolov said at the presentation in Moscow. "According to the U.S. declarations, they have satellite images that confirm the missile was launched by the rebels. But nobody has seen these images. If the American side has pictures from this satellite, then they should show the international community."
During her later press conference, Vorobyeva said that the military briefing "proves that what is said about Russia and Russia's role in this awful tragedy is groundless in a very big extent."
A fierce propaganda battle aimed at tipping the balance of perception is being waged by officials and supporters of both the Russian and Ukrainian governments.
Russia's state-controlled media has broadcast various conspiracy theories as to how the plane was brought down, including that it was an attempt to shoot down Putin's presidential plane or a CIA operation.
However, U.S. officials have noted that the Russian military has stepped up its delivery of heavy weapons to the pro-Moscow separatists fighting to break away from Ukraine in recent weeks, including missile systems, heavy artillery and tanks.
Meanwhile, a refrigerated train carrying most of the victims' remains arrived in the Ukrainian city of Kharkiv on Tuesday, hours after a rebel leader handed over the aircraft's black boxes to Malaysian officials in the city of Donetsk.
NBC News' Marc Smith and Andrea Mitchell, Reuters and The Associated Press contributed to this story.