They boarded the doomed Malaysia Airlines Flight 17 with dreams of holidays in the sun, soccer games in faraway packed stadiums and prestigious medical conferences. Some were simply headed home.
But as the passengers flew over a region steeped in conflict, the journey of the 298 souls was violently cut short at 30,000 feet above ground, victims of a war not their own.
The Netherlands, a nation of about 16 million, was dealt the harshest blow, as the majority of those aboard were Dutch citizens. The country flew its flags at half-mast Friday, Dutch cyclists competing in the Tour de France wore black armbands and the prime minister offered condolences and vowed to repatriate the bodies as soon as possible.
Among the dead was Willem Witteveen, a Dutch senator traveling with his wife and daughter.
Neeltje Tol and Cor Schilder, a couple in their 30s who ran a flower shop in the small town of Volendam, were headed on vacation.
"Dear Cor and Neeltje. This is unwanted, unbelievable and unfair. Rest in peace. We will never forget you," read a note taped to their storefront, The Associated Press reported.
"I asked him why he worked so much. He said 'Do you know how much it costs to buy shoes for 5 girls?' He was a kind man &a true humanitarian."
Karlijn Keijzer, a 25-year-old from Amsterdam, was a doctoral student at Indiana University, where she was on the rowing team.
"The Indiana Rowing family is deeply saddened by the news of Karlijn's sudden passing," head coach Stephen Peterson said. Laurens van der Graaff, her friend and also a rower, was her travel companion.
Professor Joep Lange, a leading AIDS researcher, was headed to the 20th International AIDS Society conference in Melbourne, Australia. His partner, Jacqueline van Tongeren, was also on board, along with other scientists and activists headed to the same conference.
Dr. Seema Yasmin reminisced on Twitter about Lange, a father of five daughters. "I asked him why he worked so much. He said 'Do you know how much it costs to buy shoes for 5 girls?' He was a kind man & a true humanitarian," she wrote.
Glenn Thomas, a Briton who worked for the World Health Organization spokesman, was also traveling to the conference. A former BBC journalist, Thomas was known as a "calm, kind and thoroughly professional individual," according to the broadcaster.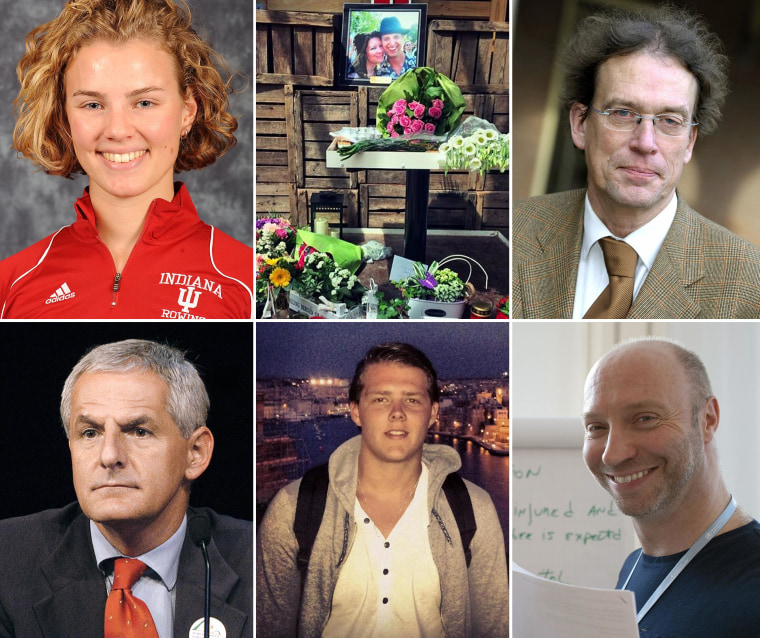 Yuli Hastini and her Dutch husband, John Paulisen, were headed to Indonesia to visit her mother's grave. Hastini had not been able to attend the funeral last year. The couple had two children with them, a 5-year-old boy and a 3-year-old girl, the BBC reported.
Others came from Malaysia, Britain, Germany, Australia and Indonesia, among other places.
Quinn Lucas Schansman had dual Dutch-U.S. citizenship. A friend said he was flying to Malaysia to join the rest of his family on vacation.
A Canadian, Andrei Anghel, was headed to Bali with his German girlfriend to celebrate finishing his second year of medical school in Romania.
"It's just ... ripped our guts again."
For one Australian family, tragedy struck for the second time this year. Kaylene Mann's brother Rod Burrows and sister-in-law Mary Burrows were on Malaysia Airlines Flight 370 that vanished in March, the AP reported. Maree Rizk, Mann's stepdaughter, died in Thursday's crash. Her husband, Albert Rizk, was with her.
"It's just ... ripped our guts again," Mann's brother, Greg Burrows, told the AP.
Another Australian, Francesca Davison, a teacher, and her husband, Liam, were headed home from a holiday in Europe. The woman was described as "an inspiration to all who came in contact with her," according to the BBC.
The School of the Sacred Heart in Sydney was also in mourning after it lost Sister Philomene Tiernan in the crash. Tiernan had traveled to Europe for a retreat, a workshop in England and a family reunion in Holland, according to a statement from the Society of the Sacred Heart. "Many who encountered her at the Janet Stuart workshop commented how happy and peaceful Phil appeared, grateful for those experiences of the International Society," the statement read.
Ben Pocock, a British student from Bristol, was remembered as "a warm, caring, fun-loving son and brother," according to the BBC. Pocock enjoyed cricket and ultimate Frisbee and was headed to Australia as part of an exchange program.
John Alder and Liam Sweeney were passionate soccer fans headed to New Zealand to watch the tour of their beloved English Premier League club Newcastle United. The club released a statement on its website and said the manager and players will be wearing black armbands during their games in New Zealand to honor their fallen fans.
"Both men were dedicated supporters of our Club and were known to thousands of fans and staff alike," the statement read.
Sweeney's father, Barry, told the BBC he would rather it had been him on the plane.
"I just want everybody to know what a tremendous bloke he is," he said.
Flight MH17 came down about 30 miles from the Russia-Ukraine border. In Kiev on Friday, flowers, stuffed toys, candles and other tributes were left outside of the Dutch Embassy.
Tracy Connor and Tricia Culligan contributed to this report. The Associated Press also contributed to this report.