The surface-to-air missile that Dutch investigators say downed Malaysia Airlines flight MH17 is a deadly remnant from the hottest days of the Cold War.
Russia-made Buk warheads, first built in the 1970s, are capable of shooting down aircraft up to 18 miles away. But the radar system that guides the missiles is designed for war zones, and is not capable of distinguishing between military and civilian planes.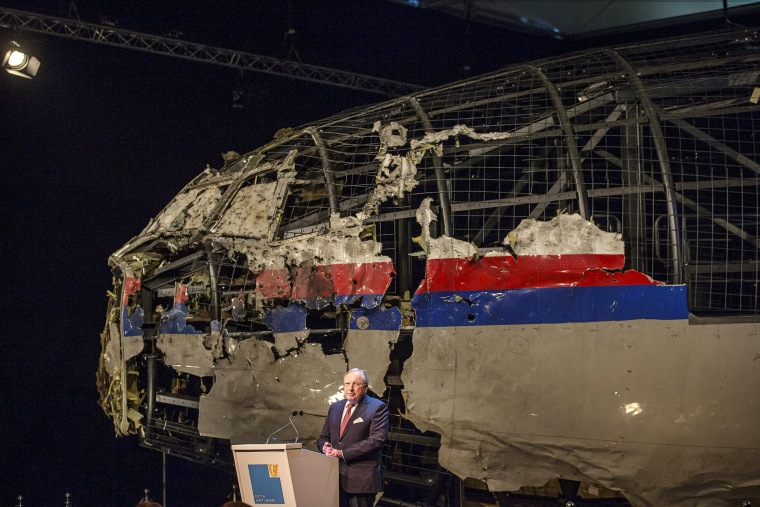 Experienced operators may have been able to identify a commercial airliner by its steady path at about 33,000 feet, Steve Zaloga, a senior analyst for the Teal Group Corp. in Virginia, told NBC News last year.
But that apparently wasn't the case in eastern Ukraine, where investigators said the missile that destroyed flight MH17 originated.
The Dutch Safety Board, which released its findings on the crash Tuesday, did not say who it believed fired the missile.
MH17, which was carrying 298 people, was shot down on July 17, 2014 over an area where Ukraine troops were battling pro-Moscow rebels. Ukraine and Western allies have blamed the rebels for the attack, which the rebels and Russia have denied.
The Dutch board's Tuesday announcement followed a report by Buk's Russian manufacturer, Almaz-Antey, that contradicted the findings. The company said the damage patterns on MH17 did not match those it found in its own blast tests, Reuters reported.
Nick de Larrinaga, Europe Editor for IHS Jane's Defence Weekly, said in a statement that the Almaz-Antey argument "should be discounted as disinformation and propaganda aimed at drawing attention away from the Dutch report."