ALBUQUERQUE, N.M. -- Accusations at a VA hospital in Phoenix that patient records were falsified by staff are emerging in other facilities, including a New Mexico medical center where alleged bookkeeping misrepresentations were investigated last year.
A whistleblower working at the Raymond G. Murphy Medical Center in Albuquerque, who spoke to NBC News on condition of anonymity, said in a complaint sent to the VA's regional Office of the Inspector General in September 2013 and again early last month to the national OIG, that "clinic staff were ordered to enter false information into veterans' charts, because it would improve the data about clinic availability."
"A person calling for a next available appointment would be scheduled three months later," the whistleblower said in the latter complaint, which was reviewed by NBC News. "That's not good care, but our performance measures don't show that and the people ultimately responsible for the problems reap the same rewards as if they had actually addressed the underlying staffing problem."
'A climate of deceit'
The complaint also alleged that "the pressure to falsify information had come from management," and described VA Albuquerque as having "a climate of deceit."
NBC News was shown how Albuquerque's electronic appointment system could mask delays. Whistleblowers say clerks were instructed to falsify records to reflect two wait times. In one example, the fake wait time reflected zero days, while the actual wait time was 81 days.
The VA Inspector General's Office first responded to the whistleblower within a month, saying it would investigate, but informed the whistleblower in February that it had referred the complaint to the regional VA district office that oversees the Southwestern region of the VA's sprawling health-care system, including the Phoenix and Albuquerque hospitals.
Tell Us Your VA Health Care Stories
The whistleblower then filed an online complaint with the national Office of the Inspector General in early April, just before allegations about the Phoenix hospital were made public by Rep. Jeff Miller, R-Fla., the chairman of the House Committee on Veterans Affairs. Miller said at the time that the appointment falsifications led to delays in care that may have contributed to the deaths of up to 40 veterans there, though the VA's acting inspector general , Richard Griffin, testified last week that investigators have not substantiated that figure.
The Albuquerque whistleblower received an acknowledgement of the resubmitted complaint, but no further communications.
Officials at the Albuquerque medical center and at VISN-18, the regional office for VA medical facilities in Arizona, New Mexico and parts of Texas, did not respond to requests from NBC News for comment.
'These matters will be immediately addressed'
In a statement responding to NBC News' inquiries about the Albuquerque whistleblower's allegations, New Mexico VA Health Care System spokeswoman Sonja Brown said, "We take all allegations about improper patient care very seriously. As a result of this information, these matters will be immediately addressed."
The allegations involving the Albuquerque medical center could prove important to the investigation of the spreading scandal, as the regional VA office that oversees the Albuquerque hospital also was responsible for the Phoenix VA Health Care System, the facility where the allegations first surfaced. Veterans and VA watchers are asking investigators to determine if the alleged falsification of records was part of a broader scheme to mislead higher-ups in Washington.
Other current and former doctors and nurses at the VA facility in Albuquerque told NBC News that the hospital also was plagued by chronic understaffing and management intimidation that compromised care for veterans. One current health-care worker, who asked not to be identified for fear of retaliation, said some patients are even assigned to doctors who don't ever see them.
"I know how it should work, and it wasn't working."
Renee Sussman, a retired Air Force lieutenant colonel with more than 40 years' experience as a flight nurse and health-care administrator, said she received treatment at the VA hospital in Albuquerque and experienced the dysfunction first-hand.
"I know how it should work, and it wasn't working," she said.
Sussman, 62, who responded to NBC News' call-out asking veterans to share their VA health-care experiences, said she received care at the Albuquerque VA hospital after a radiologist there spotted a small spot during a mammogram and a biopsy revealed she had breast cancer. After her initial diagnosis, which prompted her to write a letter of gratitude to Marnell, things quickly went downhill, she said.
Follow NBC News Investigations on Twitter and Facebook.
First, she was referred to the general surgeon at the hospital, who recommended a mastectomy. Then, after she found a breast cancer specialist in private practice who recommended a much less drastic treatment, the VA was unable to help her locate her biopsy, which had been sent to another government facility for further study, forcing her to try to track it down herself.
"I called the pathologist and asked where it was (because) … the breast surgeon needed it for my surgery. … he said that I would get it when I would get it," she said. "And I said, 'Well, that's unacceptable.' And so his answer to me was to call the president. And then he hung up on me."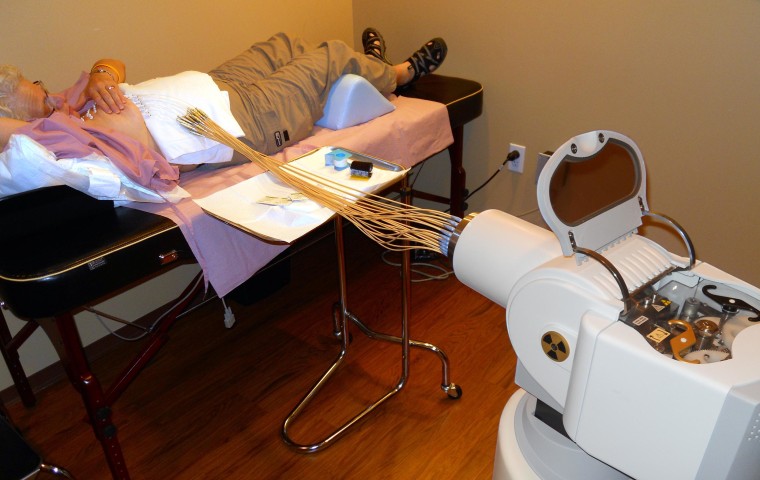 As a result of her experience, she wonders whether her experience in Albuquerque is emblematic of the broader scandal rippling through more than a score of the VA's 1,700 hospitals and clinics.
"It's in general how they treat patients, how they talk to patents, how they think of them, how they think of us," she said.
While testifying last week that allegations that appointment wait times were misreported by some VA facilities made him "mad as hell," Secretary of Veterans Affairs Eric Shinseki also stressed that surveys of veterans show that most are satisfied with their health care.
"Most veterans are satisfied with the quality of their VA care, but we must do more to improve timely access to that care," Shinseki said Friday.
VA officials also have said they are making progress in reducing wait periods, but acknowledge that VA facilities successfully met their goal of scheduling veterans for primary care appointments within 14 days just 41 percent of the time in fiscal 2013.
Related
Ill Will, Accusations From Previous VA Jobs Stalk Director of Phoenix Hospital
Opinion: Want to Fix VA Health Care? Get Rid of It
Memos Show VA Staffers Have Been 'Gaming System' for Six Years
Those numbers will come under new scrutiny with Wednesday's report from the VA's Office of the Inspector General that that 26 VA facilities are now under investigation for concealing long wait times for care. The office declined to identify the facilities.
President Barack Obama said at the White House Wednesday that record falsification by VA staffers, if proven to be true, would be "dishonorable … disgraceful" acts and said he would hold anyone who engaged in or ordered such activity accountable.
Obama's point man in the effort to get to the bottom of the scandal, White House Deputy Chief of Staff Rob Nabors, was scheduled to travel to Phoenix for meetings Thursday with leadership at the Phoenix VA Health Care System, including interim chief Steve Young, and with local veteran service organizations.
The previous director of the Phoenix hospital, Sharon Helman, and two other employees were placed on administrative leave last month by Shinseki pending an investigation of the allegations.