The director of the VA health care system in Arizona that allegedly used appointment bookkeeping tricks to meet performance benchmarks left a trail of ill will along her career path, with staff at previous facilities she managed saying they experienced a culture of deceit and intimidation that closely matches accounts emerging from whistleblowers in Phoenix.
Sharon Helman, 43, has been placed on administrative leave from her post as director of the Phoenix VA Health Care System amid allegations that administrators there kept a "secret list" of appointment requests in order to disguise long wait times for medical appointments.
Whistleblowers there say her management style was a major factor in creating an environment that encouraged VA staff to manipulate the waiting lists to make them look acceptable to VA officials in Washington.
"It was very hostile and many were afraid for their jobs, especially those that worked in Health Administrative Services," said Dr. Sam Foote, a recently retired VA physician in Phoenix who triggered the current scandal by alleging the existence of the "secret list" — paper records that reflected the actual months' long waiting periods for appointments. "They had families, mortgages and knew from example that if anyone stood up and questioned anything that they would suffer termination."
Foote's description of a "toxic" workplace atmosphere is similar to accounts provided by four other former officials and employees interviewed by NBC News who worked for Helman during three previous VA postings.
"The person we're hearing about in Phoenix is the same person that was at our VA, tore it asunder," said Catherine Galvin, a psychiatric nurse practioner who was fired from her job at a VA facility in Walla Walla, Wash., as a result of administrative proceedings that began when Helman was in charge.
And Geraldine Clarno, a union official representing physicians, psychologists, psychiatrists and social workers at the Edward Hines Jr. VA Hospital in Illinois, where Helman subsequently served as hospital director, said workers there described "a culture of fear" during her tenure.
'This is regular practice'
Clarno said that, in her capacity as a union rep, she also has heard from numerous employees who say that appointment scheduling practices designed to obscure long wait times-- similar to those allegedly used in Phoenix -- also were employed at Hines, beginning during Helman's tenure there from February 2010 to February 2012.
"When the issue of Arizona first came forward … this was the big talk, 'Are the breadcrumbs going to lead back to Hines? " she said. "Because this is regular practice. This is not one or two people. This is not one department. It is through the whole hospital." (Federal auditors have visited Hines to investigate the allegations, the Chicago Tribune and other local media outlets have reported.)
Another whistleblower who worked as a nurse when Helman was director at a VA facility in Spokane, Wash., from March 2008 to January 2010, said the "gaming" of appointment records also occurred both there and at an outpatient clinic in nearby Coeur d'Alene, Idaho, and that her management contributed to the practice. The former nurse spoke to NBC News on condition of anonymity, as did another former employee there who offered support for the nurse's account.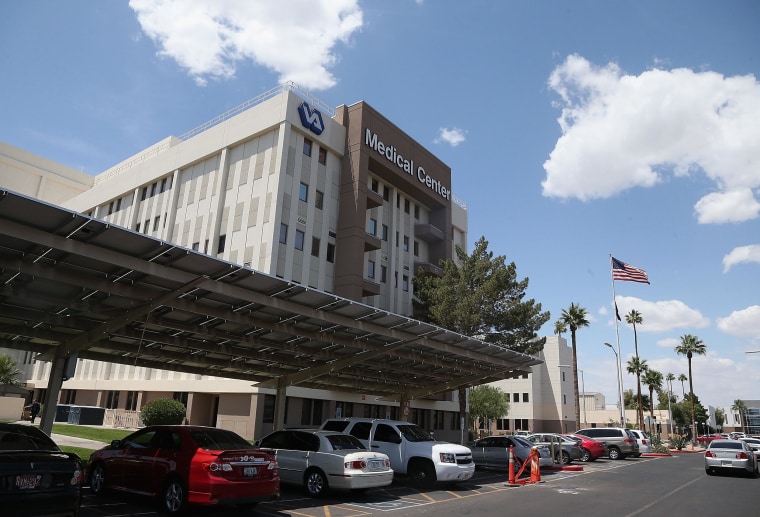 Helman, who was placed on administrative leave on May 1 by VA Secretary Eric Shinseki, along with two other Phoenix staffers, did not respond to a request for comment by NBC News. In a statement at the time, she said she was supportive of any measure that ensured a thorough review by the Inspector General.
Clarno and Foote both allege that the effort to disguise the appointment wait times for veterans was aimed at meeting benchmarks that would reward senior officials – including Helman – with performance bonuses.
Foote, who noted that Helman received a bonus of $9,345 on top of her base salary of $169,900 in 2013, alleged that she also bears some responsibility for the long wait times.
Related stories
Interactive Map: VA Hotspots at Center of Scandal
Memos show VA Staffers Have Been 'Gaming System' for Six Years
Doctor Delays? Tell Us Your VA Health Care Stories
"I would say she's driving good people away and she's frustrating those that remain," he told NBC News this week, adding that more than 90 nurses had left the Phoenix system in 2013, leaving the system with 193 nursing vacancies as of January. A number of mandatory care providers also departed, he said.
Galvin, who was fired from her job at the Walla Walla VA in July 2008 for alleged lateness of required patient work notes, filed a whistleblower retaliation complaint in an effort to win it back. She says she spent $70,000 of her retirement savings in the effort before finally settling for an undisclosed sum.
"I had a mission to see if we could rectify a wrong, which was having a director like Helman continue on her course," she said.