Las Vegas ambush gunman Jerad Miller had an extensive criminal record that included arrests for guns, drugs, assault, auto theft, harassment and other offenses in two states.
Miller, 31, frequently vented about his run-ins with the law on his Facebook page — where he also shared his anti-police and anti-government views.
Authorities say he and his 22-year-old wife Amanda gunned down two police officers in a pizzeria on Sunday, then shot dead a civilian in a Walmart before dying during a gunfight with cops.
Public records from Washington state show that Miller was still in his teens when he started getting into trouble, with a 2001 felony conviction for auto theft.
He also racked up eight other arrests for phone harassment, driving under the influence, malicious mischief, obstructing a law enforcement officer and assault between 2001 and 2003.
By 2007, Miller was living in Indiana, where records show that in 2007 he was charged with criminal Recklessness, pointing a firearm, intimidation, and possession of marijuana.
Two years later, he was arrested for felony battery, and the year after that, he was arrested for dealing marijuana. In 2011, an arrest for strangulation and battery was added to his rap sheet.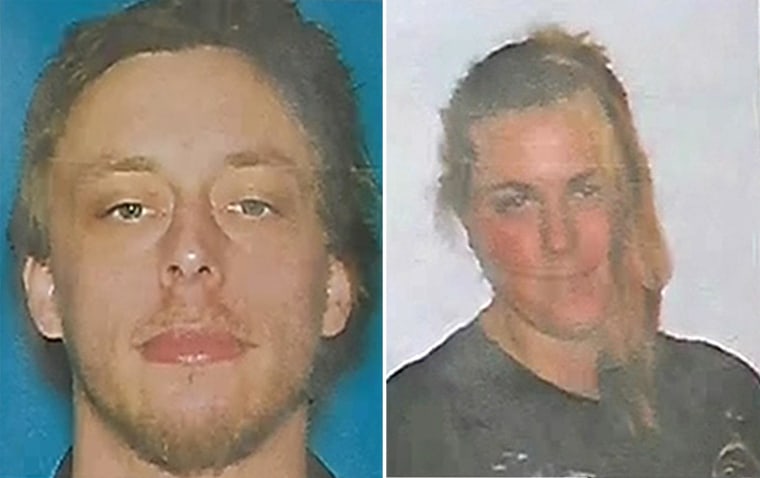 In his Facebook postings, Miller suggested that he was being unfairly punished and railed at the criminal justice system.
On June 29, 2011, he wrote: "later today at 10 am going to go report for work release for 5 days. All because i forgot to call a stupid number a couple times and missed a drug screen. Now I call the number 2 times each day just to be sure. I love my gf soo much and its gonna be hard not having her by my side."
A May 2013 post recounted a court hearing:
A posting the next month referenced a house-arrest order:
In a July 2013 posting, he said he was being sent to jail for seven weeks:
"Well guys, just shaved my head and my baby is upstairs asleep. Gonna pull an all nighter, normally cant sleep before going to jail anyway. I'm going to miss my wife so much. This is by far the hardest thing we have had to do so far. We will stronger for it tho," he wrote.
When he got out, he got right back on Facebook:
— Tracy Connor and Andrew Blankstein