CARACAS, Venezuela — As clashes between government forces and protesters on Venezuela's streets enter a third month, a group of medical students and young doctors in the capital are risking their lives to offer first aid to those on the front lines.
The "Cascos Blancos, Cruces Verdes," also known as the Green Helmets or Green Cross, was founded by three medical students during the first wave of heavy protesting against President Nicolás Maduro back in 2014. It went dormant after those protests ended.
But in late March, the Venezuelan Supreme Court issued a sentence dissolving the opposition-controlled National Assembly, sparking a new wave of unrest that's left 70 people dead and thousands more wounded. Hundreds have been arrested during the protests.
"Two of us went on our own to the first march right after the Supreme Court decision," Federica Dávila, one of the founders of the Green Helmets, told NBC News. "We ran into each other and we realized that there was a need for medical assistance. We started going out again to assist protesters and the national guard."
Dávila, 23, one of the founders of the Green Helmets and a fourth-year medical student from the Central University of Venezuela (UCV), said their idea went viral. "Doctors with specialties started to join. In 2014, there were four of us; now there are 200 of us. About 100 medical students, 100 doctors, some firefighters and even dentists," Dávila said.
"Fear is not an obstacle for us. We believe we can help people; we can really make a change," Dávila said.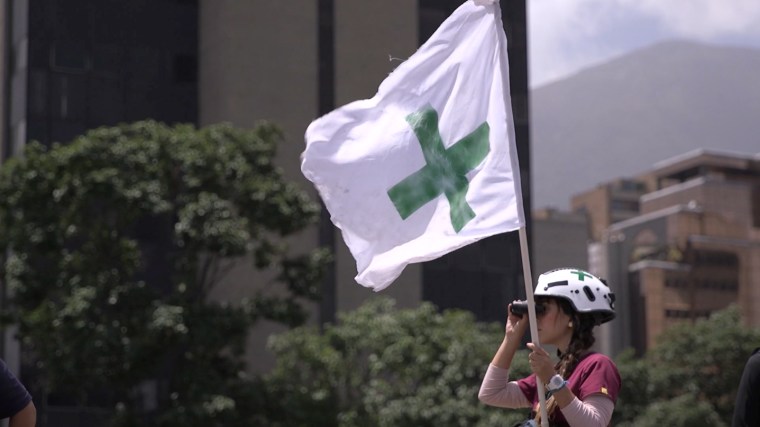 Wearing scrubs, backpacks, walkie-talkies and their white helmets with green crosses, these volunteers go out every day there is a protest in Caracas. They have set up a system that works like emergency units during a natural disaster, divided into three zones: red, orange and green.
They give first aid to those at the front of the protest — that is usually the red zone. Then other volunteers transport people in motorcycles or cars to the orange and green zones, depending on the severity of their injuries. If required, the wounded are transported to a nearby hospital.
"The dynamic of the protests is such that the green zone [the safest one] can rapidly transform into a red zone," said Dávila.
RELATED: Venezuela Protests and Economic Crisis: What is Going On?
Most of the injured are suffering from respiratory issues from the constant exposure to the tear gas used by the Venezuelan National Guard and National Police. In recent weeks, security forces have intensified their response to protesters under orders of the Maduro government.
"We have decided, by orders from the president of the republic, to go [into] to a second phase — we mean a higher focus and additional activities, a second phase of the 'Plan Zamora,'" Defense Minister Vladimir Padrino López said in May.
Plan Zamora, originally announced mid-April, was the government's response to the growing and constant protests around the country. Its goal is to impede and disperse the protesters, who the government often calls terrorists. The Venezuelan constitution protects citizens' right to protest.
The Green Helmets say they have started to see more cases of people hurt by projectiles or tear gas canisters that are shot directly at protesters. The violence has even touched one of the Green Helmets' own. Paul Moreno, a volunteer in the city of Maracaibo, was killed on May 18 in a hit-and-run during an opposition lead protest.
Venezuela is in the middle of one of the worst economic crises in its history, with a staggering inflation rate that rose to 128 percent in May, according to the National Assembly. The country is also struggling with a humanitarian crisis due to the massive shortages of food and medicines. Many Venezuelans don't eat three meals a day and some die due to starvation or lack of the proper medicine.
RELATED: Venezuela: Maduro Says Children Should Not Be Part of Violent Protests
"The support we have received nationally as well as internationally has been phenomenal," explained José Di Giorgio, 38, a gastroenterologist who volunteers with the Green Helmets. "A lot of the times we are walking down the street and people hand you a baggy with some gauze and peroxide," he said.
The group receives medicine and supplies from across the country and nations as far away as Africa, but especially Latin American countries including Mexico, Argentina, Peru, Colombia and Chile.
Both Dávila and Di Giorgio describe their work with the Green Helmets as a duty and a calling.
"One of the reasons I came back from Spain is because you always miss your country. To Venezuelans, Venezuela is the best country of the world," said Di Giorgio. "It was this feeling of wanting to help others, and the necessity to do a little more for your country."
The country's political crisis has many divided along party lines, tensions are running high, and nowadays for some, every day is a struggle for survival.
"But we are impartial, our job is to mend people who get hurt," Di Giorgio said. "Every day before going out we come close to the security forces and we tell them we are there if they need our help. The problem is that most of the time they don't want our help."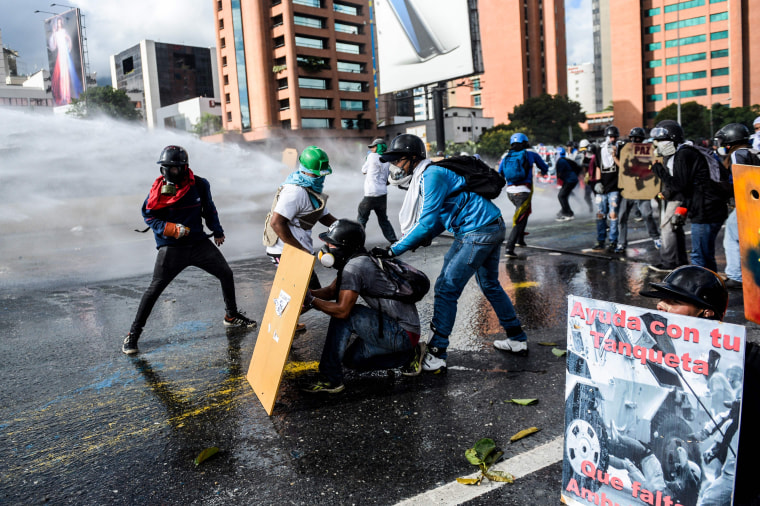 As the protests continue throughout the country, so does the need for the work of the Green Helmets. So far, they have shared their mission, structure and vision with other volunteer first-aid teams in 11 cities around the country.
"These young students, I am in awe and pleased with the commitment they have to this cause… they are there every day and they don't rest," noted Di Giorgio. "Even though I am older than most of them, it is contagious, their energy."
Members of the Green Helmets say they will continue on the streets as long as there is a need for their services. Their hope in the future is that they can grow into a natural disaster response team, perhaps even in collaboration with the government, regardless of who sits as president.
Geraldine Cols Azócar reported from New York, and Carlos P. Beltran reported from Caracas.