Protesters filled the streets of Venezuela's capital Caracas on Tuesday, less than 24 hours after a fourth person died from the political unrest there over the past week.
Ahead of the planned marches by supporters and opponents of President Nicolas Maduro, security forces armed with riot gear and water cannons lined roads, prepared for what some have predicted will be "historic" demonstrations.
The protests came a day after a 17-year-old student protester became the fourth person killed from the unrest, opposition activists said.
The protests have gained momentum among the student population since the start of February and represent the biggest challenge to Maduro, who was elected following the death of his mentor, the socialist icon Hugo Chavez.
On Tuesday, opposition activists arrived wearing white and carrying anti-Maduro banners. Bus-loads of government supporters - so-called "Chavistas" after Hugo Chavez - formed the other side, mostly wearing the red of the socialist party.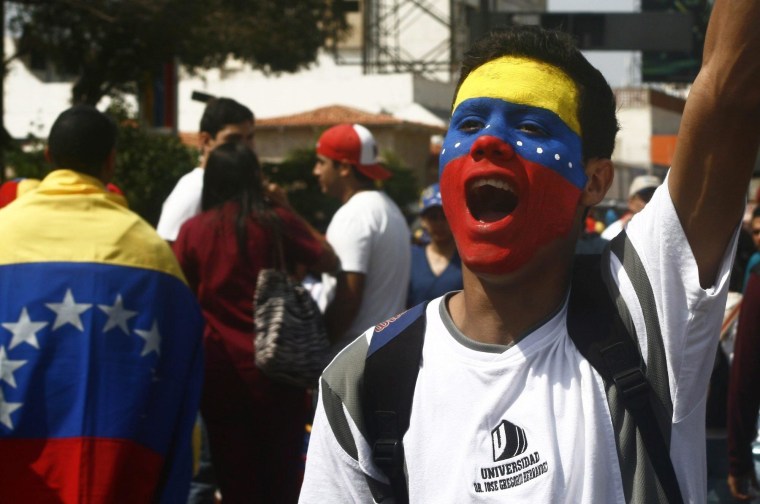 Opposition leader Leopoldo Lopez, 42, has for two weeks helped organize sporadic demonstrations around the country to denounce President Nicolas Maduro for failing to control inflation, crime and product shortages. On Tuesday, after the marches began, he peacefully turned himself into authorities on charges of inciting violence last week.
The Harvard-educated hardliner whose arrest was ordered by a Venezuelan court Thursday had called his supporters out to accompany him on an anti-government march.
Tens of thousands of protesters flooded the streets of Caracas after his arrest.