At the center of Venezuela's massive political and economic crisis is President Nicolas Maduro, an unpopular socialist who this week taunted President Donald Trump and was placed in an "exclusive club" of dictators subject to U.S. sanctions.
Maduro held a vote on Sunday — which critics called a naked power grab to avoid a democratic election that he would surely lose — to replace Venezuela's National Assembly with a new National Constituent Assembly and rewrite the nation's constitution.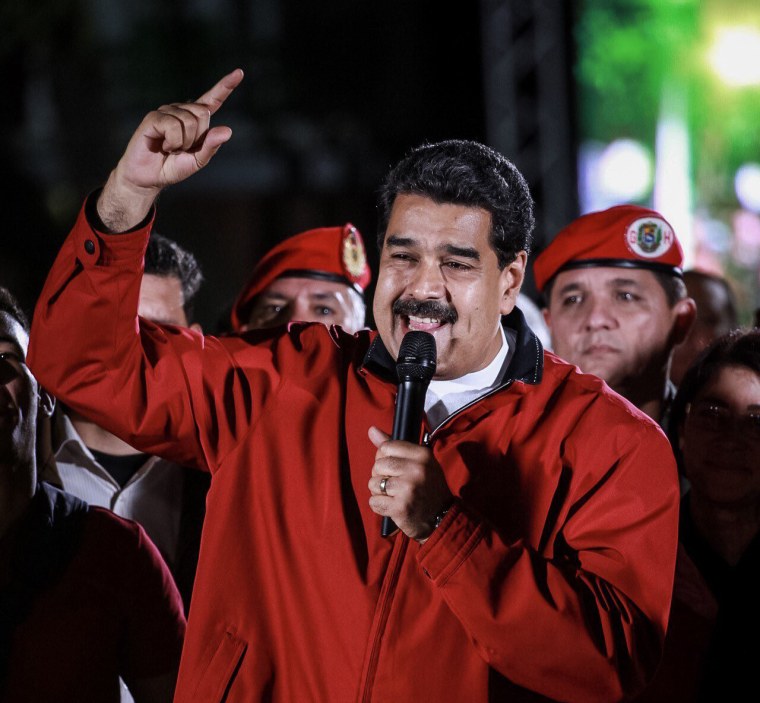 The vote sparked deadly protests in Venezuela. Trump's national security adviser, H.R. McMaster, called it an "outrageous seizure of absolute power."
Dozens have died in protests in Venezuela since the vote, which is part of "the terrible repression and brutal crackdown" the Maduro administration has embraced, said Tamara Taraciuk Broner, an Americas senior researcher at Human Rights Watch.
"He's clinging onto power at whatever cost, undermining every existing check and balance of a democratic system," she said.
Here are five things to know about the man at the center of the intense upheaval.
Maduro is a former bus driver and longtime Chavez loyalist
Maduro spent years as a city bus driver in Caracas, Venezuela's capital. He rose through the ranks of the trade union movement, then into former Venezuelan President Hugo Chavez's inner circle as a loyalist. Maduro served for six years as the country's foreign minister and then was Chavez's vice president.
When Chavez was dying of cancer, he urged Venezuela to consider Maduro as his successor, calling him "a complete revolutionary, a man of great experience despite his youth, with great dedication and capacity for work, for leading, for handling the most difficult situations."
Maduro was narrowly elected president in April 2013. But despite his commitment to carrying on Chavez era-policies, experts say Maduro, 54, rules very differently.
"While Chavez was a very charismatic leader who was able to maintain cohesion among different groups within the government structure, Maduro doesn't have that ability, and he also doesn't have the money that Chavez had because the price of oil has plummeted," said Taraciuk Broner. "He doesn't have the funds to sustain all the social programs that Chavez had."
"Maduro is not a decision-maker," Golinger said. "He wasn't someone who aspired to this job."
Eva Golinger, an American attorney who served as an adviser to Chavez and and has known Maduro for years, told NBC News Maduro "didn't really have the preparation for that level of leadership" when he was elected.
"Maduro is not a decision-maker," Golinger said. "He wasn't someone who aspired to this job."
He has led Venezuela into an unprecedented crisis
Under Maduro, the economy will be 23 percent smaller at the end of this year than it was in 2013, according to IMF forecasts. The country does not produce the food or medicine it requires, instead relying on imports, and there's currently a shortage of both: Food is so scarce, about three-quarters of Venezuelans have lost weight over the past year, the Economist reported.
"He destroyed the economy," Dany Bahar, a fellow at the Brookings Institution who is an expert in Venezuela economics, said. "This is a small group of people who mismanaged the country and brought it to this crisis, and they don't even acknowledge that there is a crisis."
Refusing to admit Venezuela is suffering has had dire consequences, Taraciuk Broner said.
"They deny they are facing a crisis, which is absolutely evident if you walk down the streets in any city or town in Venezuela," she said. "By doing so, they are not allowing sufficient international humanitarian aid into the country."
He mocked Donald Trump as an "emperor"
Following Sunday's vote, as officials in Washington said they were considering oil-sector sanctions against Venezuela, Maduro told a crowd of supporters: "A spokesperson for emperor Donald Trump said that they would not recognize the results of Venezuela's constituent assembly election."
"Why the hell should we care what Trump says?" he added. "We care about what the sovereign people of Venezuela say."
The comments came after Maduro earlier called U.S. leaders "imperialists" seeking to become "the government of the world."
In the meantime, the U.S. has imposed sanctions on all of Maduro's assets. He now joins Syrian President Bashar Assad, North Korea leader Kim Jong Un, Zimbabwe President Robert Mugabe, former Yugoslav President Slobodan Milosevic, and military dictator of Panama Manuel Noriega in what Trump's national security adviser H.R. McMaster called an "exclusive club" of dictators under U.S. sanctions.
He and his wife have long been considered a power couple
Maduro's wife, Cilia Flores, is a lawyer who has been just as involved in politics as he has: She is a former president of the country's National Assembly and she served as Venezuela's attorney general when Maduro was vice president. In the 1990s, she was the lead attorney for Chavez's defense team and helped secure his release from prison after his failed coup in 1992.
"They've always sort of governed as a team, and that's very obvious now," Golinger, the former adviser to Chavez, said. "She's the one who most has his ear and influences a lot of his decisions. He wouldn't make decisions without consulting her."
He's a (failed) music video star
As part of his campaign for his widely criticized vote, Maduro aired a remixed version of the most streamed song of all time on his show "Los Domingos con Maduro." The song, "Despacito," is a pop song by Luis Fonsi and Daddy Yankee.
"We going to see if it also passes the test to become viral," Maduro said on his show, according to Business Insider.
The song starts out: "For the unity and peace of our country ... the constituent [assembly] goes on." It features Maduro and dancing supporters.
But it didn't go viral in the way Maduro had hoped: the co-author of the song, Panamanian composer Erika Ender, said in an Instagram post that she didn't approve of its use and hadn't authorized the lyrics change to promote Maduro's political agenda. The singers also said they disapproved.