Venezuela, Latin America's biggest exporter of crude oil, with some of the world's largest petroleum reserves, is facing its biggest anti-government protests in a decade. As many as 13 people have been killed, 150 injured and 500 arrested in the unrest.
The demonstrations, which began as student protests in early February, spread after the first deaths on Feb 12. They are the biggest challenge President Nicolas Maduro's 10-month-old government has faced so far.
But what's behind the protests? And how is the government handling them? Where are things expected to go from here?
What is at the heart of the protests? Hardship
Venezuelan society is in dire straits. A person is murdered in Venezuela every 21 minutes. Imports and staples such as milk, flour and soap are in short supply and cost a fortune.
Venezuela has runaway inflation, last year registering at 56 percent — the highest rate in Latin America. And the government's attempt to control foreign currency coming into the country has created a virulent black market in dollars. While the official exchange rate is around 11 Venezuelan bolivars to $1, you get 80 bolivars to the dollar on the black market, and many goods are priced based on black market prices. Frequent power blackouts are also a common complaint.
What is the opposition demanding?
The students are demanding that Maduro resign over Venezuela's high rates of crime and inflation and shortages of staples such as milk, flour and sugar. They have also accused the president of brutal repression of protests.
Opposition leaders such as Henrique Capriles and others are also demanding that the government release imprisoned protest leader Leopoldo Lopez and dozens of other jailed student demonstrators.
Anger is rooted in deep polarization of society
One-third of the population lived in poverty when former President Hugo Chavez came to power 15 years ago. The government says that anti-poverty programs Chavez pushed through have cut the number of people in poverty in half through heavy government subsidies for food, housing, education and health care — programs paid for by oil revenues and the nationalization of some 1,000 companies.
But critics say "Chavismo," the term used to describe the left-wing political ideology Chavez espoused, has left Venezuela more divided than ever.
Maduro, a 51-year-old former union activist, won the election to replace Chavez last year by just 1.5 percent — the narrowest margin in the country's history. The slim margin shows how divided the country is between those who love Chavez and his legacy and those who hate everything he did.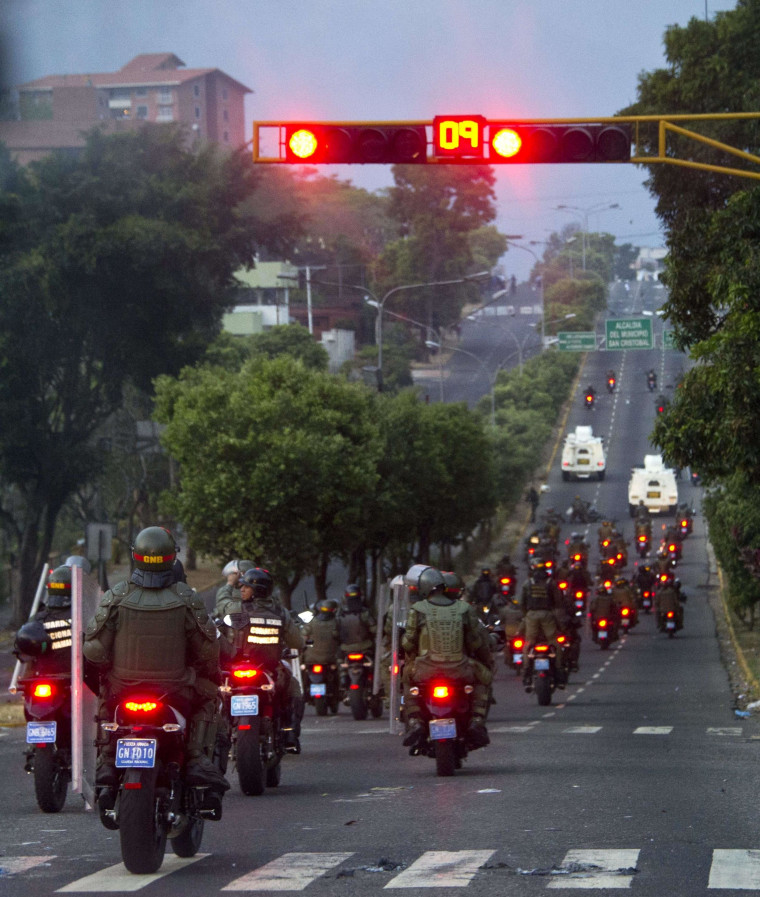 Military's use of force has escalated tensions
Anti-government protests are going on in several cities, but some places are hotter than others.
San Cristobal, a city some 10 hours by car from Caracas and the capital of the western Tachira state, which borders Colombia, is almost completely shut down. Two army battalions were sent to the region to retake control, but they were met with fierce resistance from middle-class professionals, housewives and merchants who joined forces with the students. The region is a longtime opposition stronghold — 73 percent voted against Maduro in last April's election.
The opposition has accused Maduro of using storm-trooper tactics to crack down on what had been peaceful protests. As many as 3,000 soldiers were dispatched to control the city, which has just over half a million residents.
While Maduro has used a heavy hand in San Cristobal, he has had a lighter touch in the capital Caracas. The government has used counter-demonstrations to try to silence the daytime student protests there. For instance on Tuesday, thousands of workers at the state telephone company were expected to march to support the president.
Nightfall is when the violence in Caracas has occurred, with clashes between the students and "colectivos," paramilitary vigilantes who support the government. Students say these vigilantes are armed thugs the government has unleashed to crush the opposition instead of employing uniformed security forces.
Who are the opposition leaders?
Henrique Capriles, 41, is one the main opposition leaders. Maduro extended an invitation to Capriles on Monday to take part in a meeting of mayors and governors, which some had hoped would open up communications between the sides — but Capriles spurned the invitation.
"This is a dying government.... I'm not going to be like the orchestra on the Titanic," Capriles told reporters, according to Reuters. "Miraflores [the presidential palace] is not the place to talk about peace. It's the center of operations for abuses of human rights."
Leopoldo Lopez, a 42-year-old Harvard-educated economist, led demonstrations for several weeks before surrendering himself to authorities who had ordered his arrest. "May my imprisonment serve to wake the people up," he said as he gave himself up to soldiers in Caracas in front of a huge crowd on Feb. 18.
What is the state of U.S.-Venezuelan relations?
Venezuela and the United States have been without ambassadors since 2008. And just last week, Maduro expelled three U.S. diplomats, accusing them of stirring up the protests, a claim Washington rejected as baseless.
In retaliation, the State Department on Tuesday ordered three Venezuelan diplomats to leave the U.S.
The department said in a statement that two first secretaries and a second secretary at the Venezuelan Embassy in Washington had been declared personae non gratae in response to Caracas' move against the three Americans. "They have been allowed 48 hours to leave the United States," the statement said.
But in spite of the diplomatic spat, Maduro said earlier Tuesday that he planned to nominate a new ambassador to Washington to try to improve relations.
What's next? Maduro may try new tactics
Maduro has blamed others for his trouble. From the start he described the protests as a U.S.-inspired coup d'etat to undermine his democratically elected rule. So far, those tactics haven't worked. In addition to saying he now wants to appoint a new ambassador to the U.S., Maduro announced that he wants to host "a national peace conference with all social, political, union and religious groups" to denounce violence while asking the parliament to form a commission to look into the protesters' grievances.
NBC News' Petra Cahill and Reuters contributed to this report.