BOGOTÁ, Colombia — It is hard to start a new life in a different country with no resources, but one exiled family's circumstances have taken a happy turn. And it started with the presence of a street dog.
Wanger Zuleta and his wife, Maribel, were living in Maracaibo, Venezuela, when they realized they couldn't put enough food on the table to feed their four children. This was despite the fact they were working double shifts and had sold their two houses, cars and appliances.
It was 2018, and they knew they had to leave the city they called home in the northwestern part of the country.
After 15 years working as a technician at a state oil company and living a stable middle-class life, Zuleta found that Venezuela's extreme food and medical shortages and skyrocketing prices had turned the family's life upside down.
"I told my wife, if we stay and resign ourselves to this and give up, what we're going to get is the government's food box every seven months. That isn't enough for six of us, and in order to get that, you have to support the regime and live a lie," Zuleta told NBC News.
At their children's school, there were only a few teachers left and very little food to feed the students — and there were no signs of improvement.
Although it was hard seeing his children's pain leaving the only life they knew, Zuleta said he would rather clean toilets in another country to give them a chance at a good education.
At the end of 2018, Zuleta set off for Bogotá, Colombia, and a week later Maribel, Wanger Junior, 12, Natalie, 11, Nicole, 8, and Thiago, 4, followed. They are part of the more than one million Venezuelans who are now in Colombia, according to the United Nations refugee agency, the UNHCR.
With the last savings they had, Zuleta and Maribel found a room in an apartment where the family shared two mattresses, and they started a business selling cheese sticks on the street.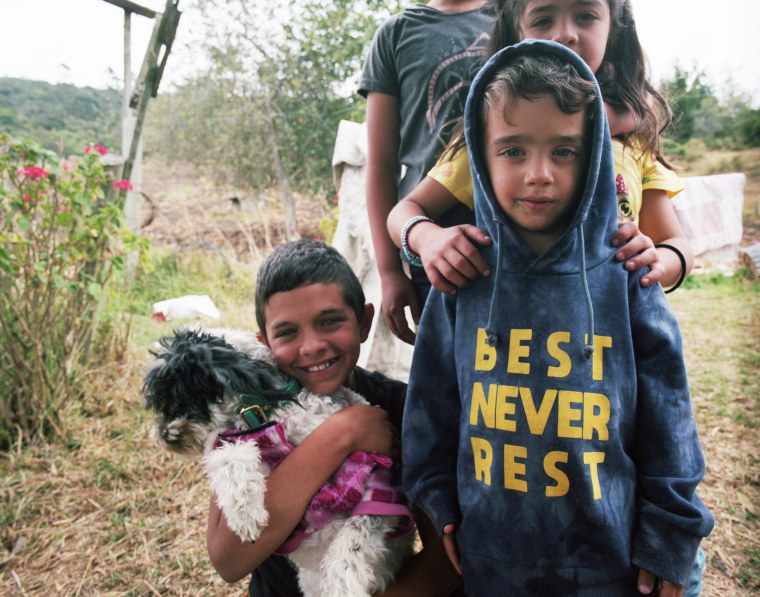 Each morning, Wanger Junior would go with his parents at 4 a.m. to buy the sticks from a bakery to sell on the street, while Natalie stayed home to look after her younger siblings. Although it wasn't a secure way to make a living, the family was able to pay rent, eat and set a little bit aside for the children's school fees.
"We knew it would be really hard to own a house or a car. Now in our new lives, that wasn't a goal anymore," Zuleta said. "The most important thing was for the kids to have an education and a future."
Without telling his parents, Wanger Junior had started saving the tips he made selling cheese sticks to feed a dog that slept on the street nearby. One day he brought the dog, whom he called Shana, to their room and told his parents he wanted to keep her.
Reluctantly Zuleta agreed, but the next morning their landlord said the dog had to go. "[Wanger Junior] brought her to work that morning and was really sad and crying all day, knowing he'd have to say goodbye," Zuleta said.
Later that morning, one of the bakery's regular customers heard the story and asked for Zuleta's number. Not long after, Zuleta's phone started getting messages.
Isabella Ruiz, a dog lover, called him and said she would collect Shana with her father, Hernando Ruiz.
"As they were about to take her, Wanger held her crying and wouldn't let her go," Zuleta said. "I told him it was for the good of the dog, but when I looked up, Isabella was crying and I looked at Hernando and he was crying too. I thought, oh God, what's happening here?"
Hernando Ruiz, who co-owns a private school, Tierra Nueva, invited Zuleta and Wanger Junior for coffee and asked what he could to help. Zuleta told him about the family's circumstances and his search for a stable job to help his family.
The Zuleta and Ruiz families parted ways, happy to have met each other and knowing Shana had gone to a good home.
But two days later, Zuleta's phone rang again. It was Ruiz, offering him a job as the farm manager at his school. Though Zuleta had no idea about farming, compost or animals, he was willing to learn and jumped at the opportunity.
The next day Ruiz drove him to the school and showed him a house he could rent nearby, where the family could keep Shana.
"We were really happy. We finally saw a hope at the end of everything, that we could have the future we were working for," Zuleta said.
The family left their room in the city and were reunited with Shana in the countryside, where Wanger Junior, an animal lover, not only has Shana, but now has chickens and a rooster and looks after the farm animals.
The new opportunity, Zuleta said, has given them hope for the future, and they have been able to save enough to get their children into a school in their new town.
Though things are looking up, it's still hard to think of what they left behind, Zuleta said. The worst thing wasn't leaving what they owned, it was leaving their families.
"Knowing that my mom is sick and I can't go and see her, it kills me," he said, "and that I have my uncles eating from the garbage."
Zuleta is thankful that Colombia has a democratic government and one of the best education systems in South America.
"I feel that Colombia has given us the chance to improve and to live a better life," he said.
They now have a home, and a dog, too.
FOLLOW NBC LATINO ON FACEBOOK, TWITTER AND INSTAGRAM.