The U.S. Embassy in Venezuela announced Monday it will partially suspend issuing tourist visas to first-time applicants, though it will still be able to renew tourist visas. The U.S. says the embassy is understaffed following Venezuela's expulsion of three American consular officials and Venezuela's delay in authorizing the arrival of new U.S. officials.
The government of socialist President Nicolas Maduro expelled the American diplomats last month, accusing them of helping the opposition. The U.S. has denied the charges.
The protests and clashes in Venezuela which started five weeks ago have left at least 32 people dead and scores injured.
On Monday, medical students in Caracas attended a class outdoors as a protest for the lack of medical supplies and shortages on basic goods. On Sunday a pregnant woman was killed in the neighborhood of Guaicaipuro after she left a bus near an anti-government barricade and got caught in a shooting, according to reports.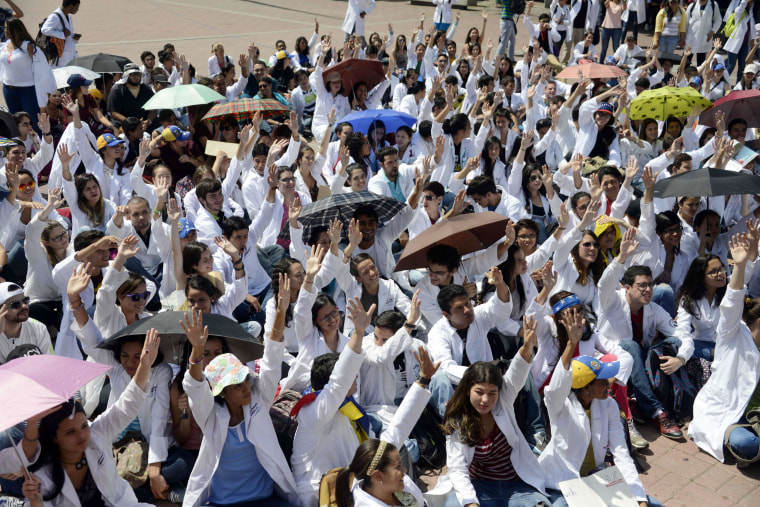 Last week the Venezuelan government cracked down on the opposition. The Mayor of San Diego, Enzo Scarano was arrested and sentenced to over 10 months in prison for failing a court order to remove barricades erected by the opposition. The Mayor of San Cristobal, Daniel Ceballos was arrested on charges of rebellion and conspiracy.
The U.S. State Department expressed concern over the arrests.
"The Venezuelan government should stop the violence against its citizens and opposition officials who are exercising their freedom of speech," said spokeswoman Jen Psaki.
--The Associated Press