CARACAS — Venezuelan security forces arrested opposition leader Leopoldo Lopez on Tuesday on charges of fomenting unrest that has killed at least four people, bringing tens of thousands of his angry supporters onto the streets of Caracas.
Crowds of white-clad protesters tried to block the vehicle carrying the 42-year-old Harvard-educated economist after he made a defiant speech, said an emotional farewell to his family, and gave himself up to soldiers.
Opposition leaders hope Lopez's arrest will galvanize street demonstrations against President Nicolas Maduro, though there is no immediate sign the protests will topple the socialist leader.
"I am handing myself over to an unfair justice system," the protest leader told supporters, standing on a platform next to a statue of Cuban poet and independence hero Jose Marti.
"May my imprisonment serve to wake the people up."
The crowd lifted his wife up to give him a final embrace and hang a crucifix around his neck.
Minutes later, he surrendered to military officers, pumping his fist and then stepping into the military vehicle with a Venezuelan flag in one hand and a white flower in the other.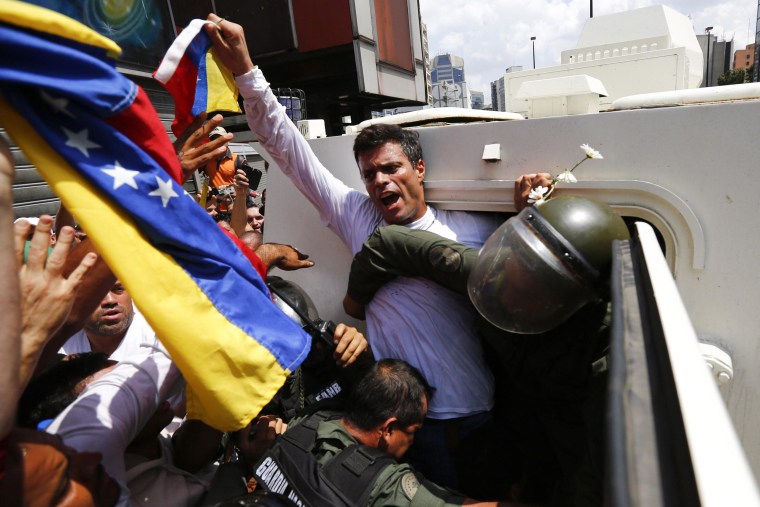 In a speech to a rival rally of his own supporters, Maduro said he had sent the Vice President of the Socialist Party, Congress Chief Diosdado Cabello, to help transport Lopez.
Lopez later addressed the country via a pre-recorded video posted to his Twitter account in which he urged supporters to continue protesting.
"If you're seeing this video, I may already be detained by Venezuelan security forces for dreaming of a better Venezuela," he said, accompanied by his wife. "Venezuela more than ever needs you to make a commitment to change. But that commitment can't be passive."
Supporters will rally on Wednesday outside the court where Lopez is scheduled to have his initial hearing on murder and terrorism charges. He will spend the night in a military jail.
Anti-riot troops maintained a heavy presence on Caracas streets on Thursday as demonstrators burned trash and tires in scenes that have become familiar over the last week.
All over Caracas, citizens banged pots and pans from their homes in a traditional manifestation of discontent that the opposition invoked frequently during the Chavez era.
— Reuters