CARACAS — Two Venezuelans died from gunshot wounds during protests against socialist President Nicolas Maduro, witnesses and local media said on Saturday, pushing the death toll from almost two months of anti-government protests to 33.
Opposition demonstrators complaining of soaring prices and product shortages have vowed to remain in the streets until Maduro resigns, although there are few signs that the country's worst unrest in a decade will force him from office.
Argenis Hernandez, 26, was shot in the abdomen as he was demonstrating near a barricade in the central city of Valencia and died early on Saturday in a nearby hospital, according to local media reports.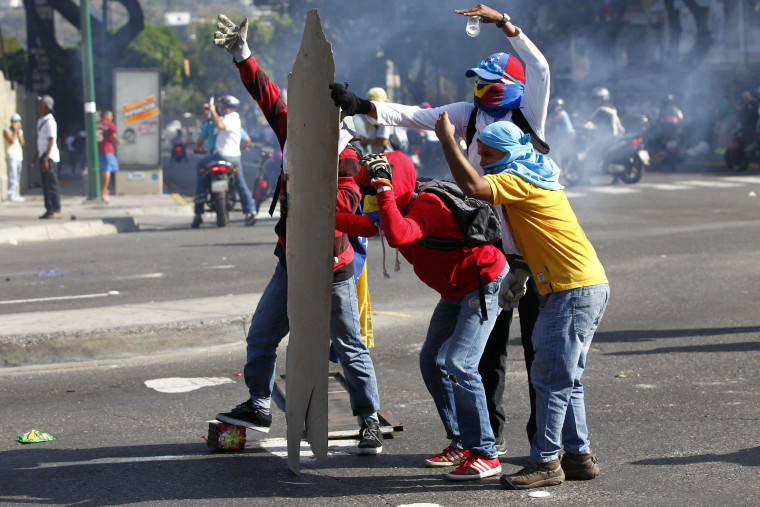 A motorcyclist attempted to cross the barricade and opened fire on demonstrators when they would not let them through, wounding Hernandez.
Bus driver Wilfredo Rey, 31, died on Friday night after being shot in the head during a confrontation between demonstrators and hooded gunmen in the convulsed western city of San Cristobal, according to residents of the neighborhood where the incident took place.
Rey had not been involved in the protests, they said.
Opposition street protests began in February over soaring consumer prices, product shortages and rampant crime. They intensified after three people were killed following a February 12 rally in downtown Caracas.
The demonstrations since then have ranged from peaceful marches and violent clashes between police and hooded protesters hurling rocks and Molotov cocktails
They have also involved street barricades made of burning trash and debris, snarling traffic and angering drivers of all political persuasions.
— Reuters