CARACAS, Venezuela — Manning barricades, sitting in deck chairs and sharing food, opposition supporters blocked roads in parts of Venezuela Monday to try to keep pressure on socialist President Nicolas Maduro.
Demonstrators have been on the streets daily since early April to demand elections, freedom for jailed activists, foreign humanitarian aid to offset Venezuela's economic crisis, and autonomy for the opposition-controlled legislature.
Maduro accuses them of seeking a violent coup.
Protesters have used varying tactics. Some rode horses through Caracas on Saturday, women took letters and flowers to police and military posts on Sunday's Mother's Day, and hundreds were joining planned daylong sit-ins from 7 a.m.
"I'm here for the full 12 hours. And I'll be back every day there's a protest, for as long as is necessary," said human resources worker Anelin Rojas, 30, sitting cross-legged with a novel and earphones in the middle of Caracas' main highway.
"Unfortunately, we are up against a dictatorship. Nothing is going to change unless we force them," added Rojas, surrounded by banners saying "Resistance!" and "Maduro, Your Time Is Up!"
Using branches, rocks and garbage, demonstrators blocked the main Francisco Fajardo thoroughfare in Caracas from soon after dawn. Many brought chairs, mats and food to last the day.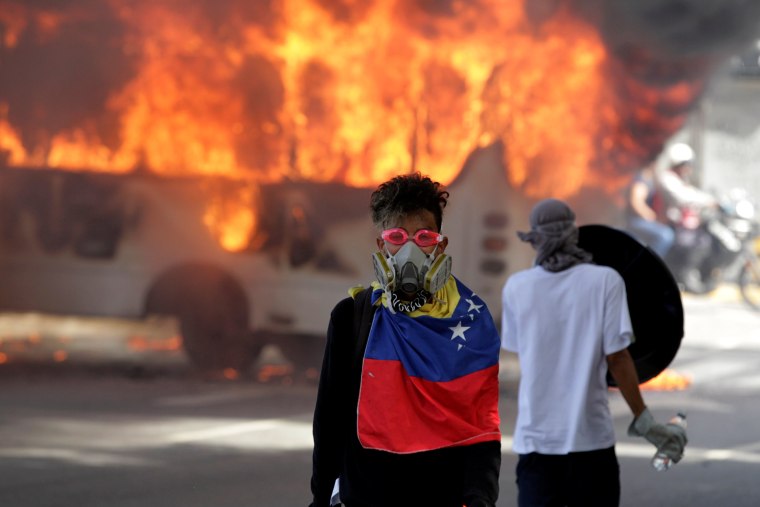 There were similar protests in other major cities around the South American nation of 30 million people.
The opposition, which commands majority support after years in the shadow of the ruling socialists, is more united than during the last wave of anti-Maduro protests in 2014.
But they have been unable to stop violence in their ranks, with youths hurling stones and petrol bombs, vandalizing property and starting fires when security forces block marches with tear gas, pepper spray and water cannons.
At least 39 people have died, including protesters, government sympathizers, bystanders, and security forces, during six weeks of protests. Hundreds have also been hurt and arrested.