MIAMI — Betty Blanco refused to vote in Venezuela's elections on Sunday because she said she loves her country too much.
The 77-year-old Caracas resident boycotted the controversial vote for a new constitutional assembly — a body that would vastly expand the powers of the country's ruling Socialist Party —"out of love for my country and for respect to my grandchild, because I don't want to leave him a mess of a country," calling the elections a "complete fraud."
Blanco was far from alone, according to the opposition and outside observers. Members of the opposition said they believed between 2 million and 3 million people voted. An exit poll by New York investment bank Torino Capital and a Venezuela public opinion company — based on surveys from 110 voting centers — put the number of voters at 3.6 million, or about 18.5 percent.
The country's election authorities, meanwhile, put the number of voters at 8.1 million, equaling a 41.5 percent turnout.
The different turnout numbers add more tension between the government and the opposition.
Many polling stations were largely empty and more than 70 percent of the country was opposed to the vote in the first place, according to opinion surveys. Critics called it a naked power grab by President Nicolas Maduro.
Related: Venezuelans Vote on Controversial Plan for All-Powerful Constituent Assembly
Jose Antonio Tovar said he and about 12 other relatives stayed home too. Life has just gotten too hard, said Tovar, who heads the sales department of a dairy company.
"I have hypertension, and I have not been able to take my medication in weeks because I cannot buy it anywhere," he said.
Maduro went ahead with the election in the face of broad condemnation from counties around the world, including the United States, whose leaders said the new assembly would weaken democracy.
"It's been and it is a successful day with large participation," Maduro said Sunday night in Caracas. "We don't care about the oligarchy's opinion. We care about the people's truth."
The exit poll conducted by New York's Torino Capital and the Venezuelan polling firm concluded that "the government maintains an important loyal core of supporters that it can mobilize in both electoral and non-electoral scenarios."
Many roads in Caracas were barricaded by anti-Maduro protesters, whom security forces quickly moved in to disperse. At least nine people had been killed, authorities said. One of them was a candidate for the assembly who died in his home during a robbery.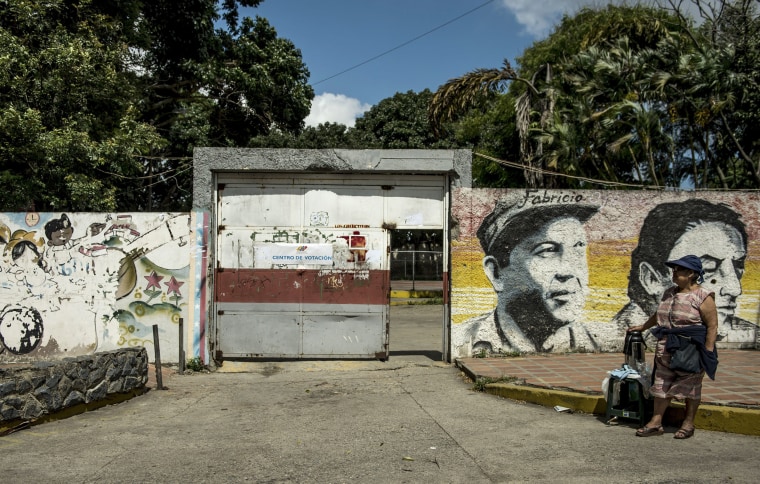 A bomb exploded in Caracas injuring seven police officers as they sped by an opposition stronghold on motorcycles.
"Today has been very intense," said Dereck Blanco, a Venezuelan broadcast journalist who monitored the situation in the Chacao district of Caracas. Blanco said anti-Maduro activists erected barricades on roads and clashed with security forces, leaving several people injured.
Some questioned whether the country's 2.8 million state employees were under pressure to vote out of fear of dismissal; a resident of Caracas, who asked to not be identified for security reasons, told NBC News that he viewed text messages sent to employees of PDVSA, the state-owned oil company, on Sunday warning that if they didn't vote, they wouldn't have jobs Monday.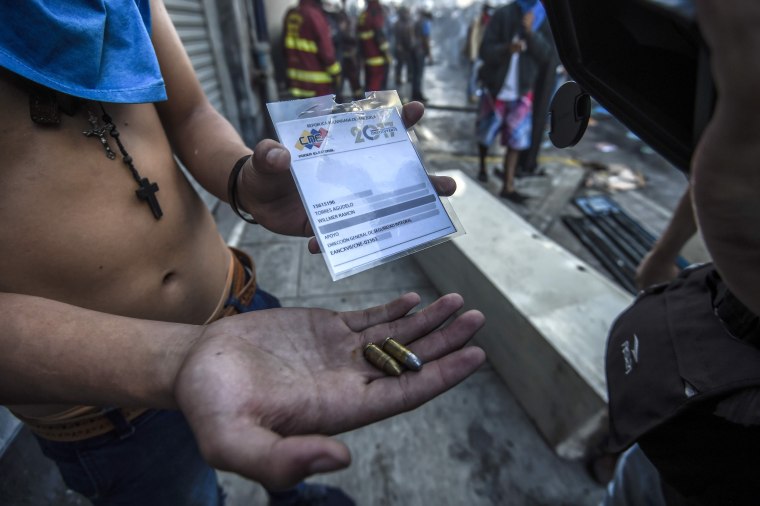 The new National Constituent Assembly is due to meet within 72 hours of the results having been being certified.
"The constituent assembly will start its work right away," Diosdado Cabello, deputy head of the Socialist Party, told a post-election rally in Caracas that featured singers, dancers and wound up after midnight in the announcement of the official vote count.
Opponents say the assembly would allow Maduro to dissolve the opposition-led Congress, delay elections and rewrite the rules so his ruling Socialist Party can remain in power.
Colombia, Argentina, Panama and Peru have said they won't recognize the results, leaving Venezuela with few allies — chief among them Cuba, Russia and China.
President Donald Trump, meanwhile, has promised broader economic sanctions that could be announced as early as Monday. The administration had already targeted the assets of 13 Socialist Party leaders last week; options for new sanctions include more action against individuals or an embargo against Venezuelan oil, which could crush the country's already crippled economy.
Related: U.S. Slaps Sanctions On Venezuela to Stop Rewrite of Constitution
It is the economic crisis that is fueling the outrage in what once was the wealthiest nation in Latin America.
Venezuela and its 30 million people sit on the largest oil reserves in the world. But mismanagement and corruption after 20 years of socialist rule have left the country in a deep recession aggravated by triple-digit inflation. And extreme shortages of food and medicine have fueled malnutrition and health problems.
When the opposition organized an unofficial referendum earlier this month, more than 7 million voters rejected Maduro's plan for a new assembly and backed early presidential elections.