Venezuelan security officials seized two opposition leaders from their homes in overnight raids, their families said on Tuesday, after they urged protests against a new legislative superbody widely denounced as anti-democratic.
Leopoldo Lopez and Antonio Ledezma were both under house arrest, the former for his role in leading street protests against President Nicolas Maduro in 2014 and the latter on charges of plotting a coup.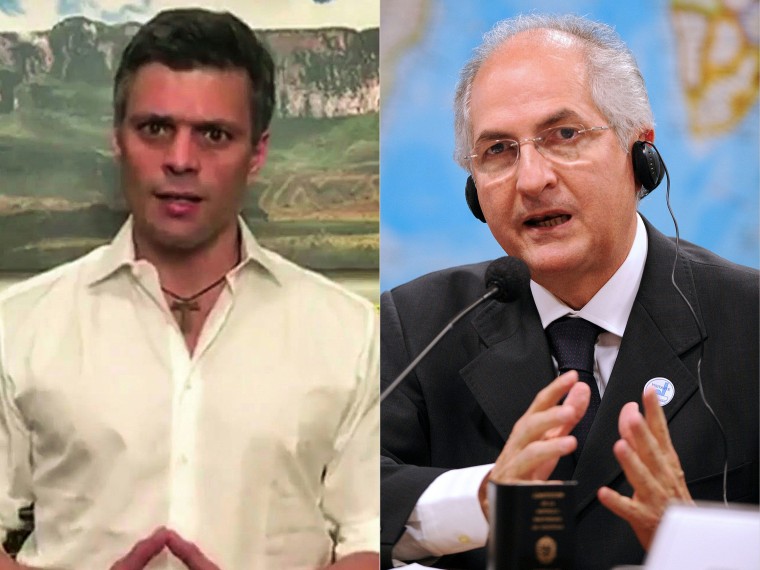 "12:27 in the morning: the moment when the dictatorship kidnaps Leopoldo at my house," Lopez's wife Lilian Tintori wrote on Twitter.
She posted a link to a video that appeared to show Lopez being led into a vehicle emblazoned with the word Sebin, Venezuela's intelligence agency.
The Information Ministry did not immediately respond to an email seeking comment.
Lopez and Ledezma are both former mayors in Caracas, and high-profile critics of Maduro.
They had called on Venezuelans to join protests over Sunday's election of the constituent assembly, which supersedes an opposition-controlled congress that a pro-Maduro Supreme Court had already stripped of its powers.
At least 10 people were killed in unrest during the vote, which was boycotted by the opposition and criticized around the world as an assault on democratic freedoms.
"They have kidnapped @leopoldolopez because he simply would not break under the pressures and false promises of the regime," wrote Freddy Guevara, a legislator from Lopez's Popular Will party.
Vanessa Ledezma said she held Maduro responsible for what happened to her father.
"The Sebin just took him," she wrote on Twitter, posting a video of intelligence agents taking Ledezma, who was dressed in pajamas.
He was granted house arrest in 2015 after being imprisoned on charges of leading a coup against Maduro.
Lopez was granted house arrest in July following three years in prison for his role in anti-government street protests in 2014. His release was considered a major breakthrough in the country's political standoff.
Lopez's lawyer, Juan Gutierrez, wrote on Twitter that "there is no legal justification to revoke the house arrest measure."