In front and inside the El Arepazo restaurant in Miami, Florida on Tuesday, a crowd of Venezuelan-Americans gathered to monitor the news from the country that many left years ago.
"It's gotten really worrisome," said Ernesto Ackerman, a member of the Independent Venezuelan American Citizens (IVAC) in Miami. "We want to call attention to what is happening to our students in Venezuela," referring to the demonstrations and clashes which have resulted in four deaths and increasing tension in the country.
Across the U.S., Venezuelan-Americans have been holding rallies, getting together and frantically checking Twitter, Facebook and other media for news about their loved ones.
"The weapon we have is the Internet," said Mireya Granadillo, who is in almost daily contact with friends and relatives from her home in Miami. She said she has heard from friends in Venezuela that their phones are blocked in certain blocks of Caracas around the protests. "That censure does exist," she added.
Nelson Ortiz, a young Venezuelan professional who lives in New York City, attended a rally Monday night with a few hundred others. "Most of my family is still there; I'm very connected," Ortiz said. He says Twitter is helpful, though he struggles to make sure the information he is getting is correct.
"We are in a stage we've never been in before," he observed. "I think there is an uncertainty in the country, and it generates a lot of fear."
Ortiz said the increasing scarcity of products impacts "chavistas" as much as those who oppose the government. He is part of a group of Venezuelan-American students and young professionals called Plan Pais, a non-partisan non-profit formed a few years ago to create, in their own words, "a platform for constructive, forward looking debate."
"I think there is an uncertainty in the country, and it generates a lot of fear."
Many U.S. Venezuelans are very vocal in their criticism of Maduro's current government.
"I come from a generation of professionals where if you studied hard you had a chance; now it's an economy adrift," said Mireya Granadillo from Miami. "It's who you know, there is no productivity, there is no food." She said even some "chavistas" she has spoken to are complaining about the current situation.
Natali Fani-Gonzalez left Venezuela when she was 16 years old. She is currently running as a candidate for the Maryland House of Delegates. Although she never supported Chavez, she can see why he appealed to Venezuelans who elected him into office.
"Let's tell the truth, there was a lot of poverty before Chavez - he did create a social mission and there was more access to education and healthcare," she said from Maryland. But Fani-Gonzalez is very critical of what has come next, especially the current government of Maduro.
"Our institutions are weak and corrupt - people in power have been enriching themselves." She added that the black market is "ridiculous" and inflation is very high.
She said she believes change should only come through the ballot box, but fears in the short term things will get worse.
Vicente Pugliese left Venezuela in 2002 and is the communications director for VEPPEX, which stands for Venezuelans Persecuted in Exile, an organization also based in Miami.
Rallying at El Arepazo in Miami, Pugliese said he is "part of the voices that the government has tried to quiet down in Venezuela through the media blackout."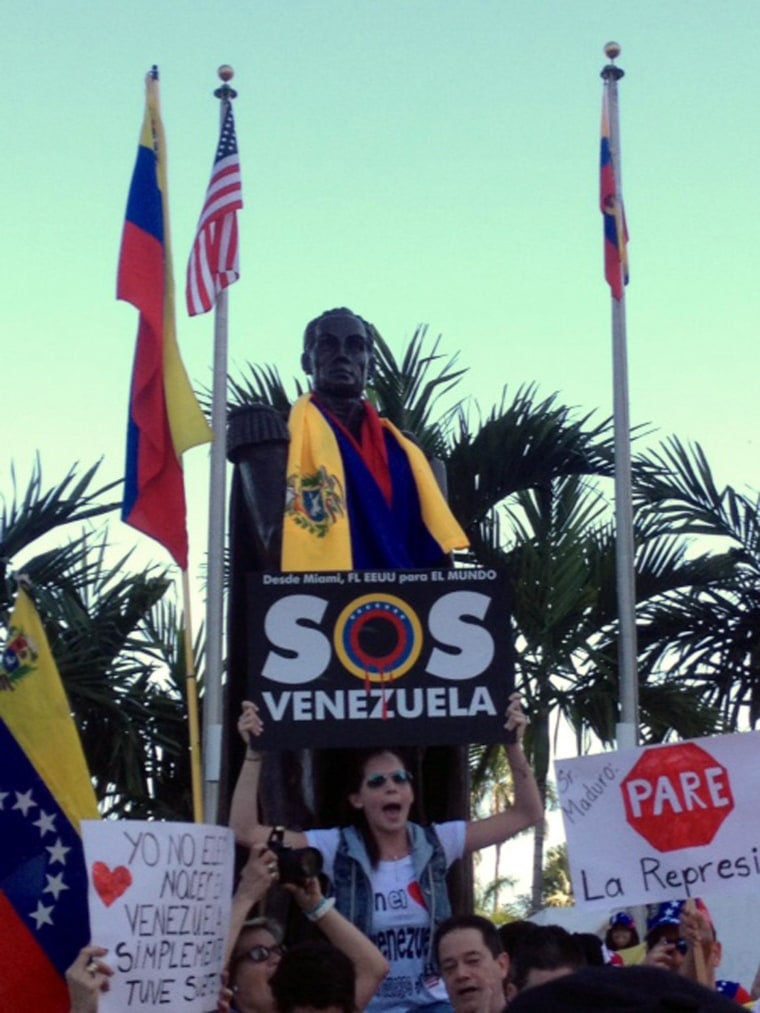 Many of those rallying are hoping to pressure the U.S. government to get more involved in Venezuela.Ackerman says his U.S.-based organization has 170,000 voters and they want their voices heard.
"We pay taxes, we vote, and we want our elected officials to support our actions," adding that Florida Republicans Ileana Ros-Lehtinen and Mario Diaz-Balart as well as Sen. Marco Rubio recently expressed their support. New Jersey Sen. Robert Menendez, who chairs the Senate Foreign Relation Committee, has also denounced the situation in Venezuela.
In the meantime, Fani-Gonzalez says the situation in Venezuela is tough.
"There is so much uncertainty. People are frustrated."
-Vanessa A. Alvarez, a graduate student at Columbia University School of Journalism, contributed to this report.