RICHMOND, Va. – Throughout the weeks of speculation about Hillary Clinton's choice of a running mate, Tim Kaine's presence at the top of the shortlist was steady, consistent and a perhaps little bit boring -- all words used to describe the Virginia senator himself.
Kaine has frequently been depicted as Clinton's "safe" or even "expected" choice. But Clinton's selection of Kaine for the job demonstrates that she ultimately viewed him to be the right fit for what's expected to be a very unconventional election against the often explosive and unpredictable Donald Trump.
A Traditional Pick in an Untraditional Year
Kaine boasts decades of experience, serving on the Richmond City Council, as mayor of Richmond, as lieutenant governor, governor, DNC chairman, and now U.S. senator.
His challenge throughout the consideration process, though, was to prove he had the true bite to move into the offensive role a VP candidate traditionally takes on, especially in a cycle when Trump's outbursts often consume the oxygen around the race.
"I am boring," Kaine flatly admitted on Meet The Press in late June, playfully adding, "but, 'boring' is the fastest growing demographic in this country."
"He's always smiling and happy," said L. Preston Bryant Jr., who served as Secretary of Natural Resources during Kaine's administration as governor and praises Kaine's character. "I may have seen his Irish temper twice, and both times it lasted about five seconds."
While Kaine's softer demeanor may lack the same "gruffness" of a Sherrod Brown, the Ohio senator whose name was also in Clinton's VP mix, people who have been around Kaine maintain that he can still be very tough if he needs to be. One Democrat who knows Kaine claims "he knows how to rip his opponents' face off with a smile so it doesn't feel gross." Another former colleague notes that "he's a genuinely nice guy but he's not a pushover," pointing to an intense debate with Republican Jerry Kilgore in the 2005 Virginia governor's race.
Kaine's supporters say he can be especially effective on the stump because he speaks very often without notes or prepared text and frequently writes his own remarks, a contrast to other onetime potential VP picks like Massachusetts Sen. Warren, who has used a teleprompter during most of her major recent speeches.
Those who have known Kaine describe him as at peace with himself, and someone who has managed to try to lead a normal life within the bounds of public office.
Heidi Abbott, a Richmond attorney and longtime supporter, met Kaine about 25 years ago as he was one in a group of people who met informally on her porch to discuss issues important to their community. "I have watched him tackle complex issues at the local, state and now federal levels with integrity, brilliance and an ability to communicate these complexities to the public in a way that makes sense," she said.
"I've never seen anything like it," Abbott continued. "What is a little surreal in a very good way is that he is the exact same person he was 25 years ago sitting on our porch."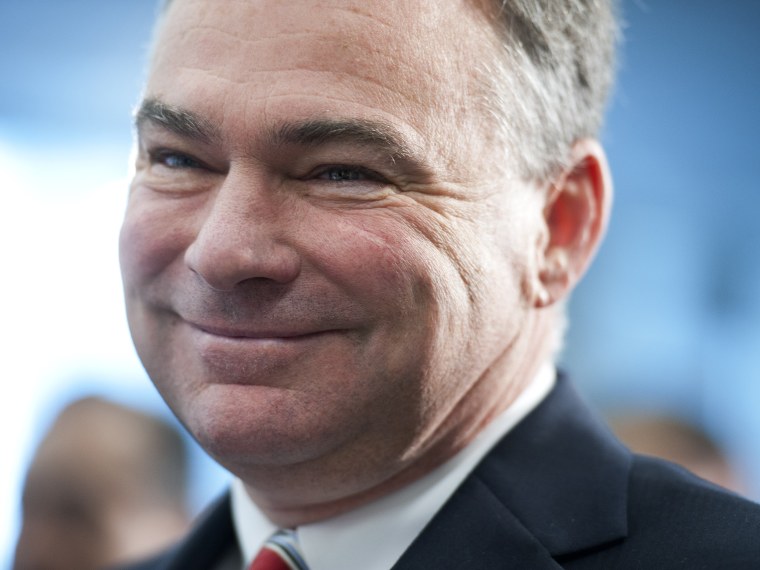 Another Time Around the Speculation Carousel
It's not the first time for Kaine on the roller-coaster of "veepstakes" before.
Kaine was one of the finalists when President Barack Obama was selecting a running mate eight years ago, and the two men had a lot in common: they were both civil rights lawyers, they both went to Harvard Law School, both married women who went to Princeton and then Harvard, and their mothers both have ties to El Dorado, Kansas, a small city in the south-central section of the state.
But Kaine's supporters note much has changed since then. In 2008, Obama was vetting his VP prospects during the period when Russia invaded Georgia and a premium on foreign policy credentials became more valuable, while Kaine was Governor of Virginia at the time, and Joe Biden was chair of the Foreign Relations Committee.
But since his election to the Senate, Kaine has served on the Foreign Relations Committee and the Armed Services Committee. Plus, supporters add that his tenure as DNC chairman from 2009 to 2011 linked him up with a wide network of donors across the country. Also, allies note that in 2012, an unprecedented sum of money was spent on Kaine's Senate race against Republican George Allen, so he has already withstood a massive barrage of negative ads in the middle of close elections with high stakes.
Tom Morris, who served in Kaine's cabinet as secretary of education, says Kaine wouldn't be one to make mistakes on the trail as he's been though enough campaigns and never lost an election. "He's not going to be upstaging the presidential nominee or getting off message," he added. "He knows how to stay on message… and would be a good partisan spokesman for Democrats."
"He's been lieutenant governor so he knows how to be second fiddle," said Bryant. "He knows how to be a team player… I think he would be a perfect running mate."
The Richmond Record
Dan Palazzolo, a political science professor at the University of Richmond, notes that there isn't anything spectacularly extraordinary that stands out as the significant accomplishment from Kaine's time as governor, as he had trouble passing major packages with a Republican legislature, and he was serving during the lead-up and the height of the financial crisis.
"You're not talking about any signature initiative," Palazzolo said. "I think he did a job, I think most people would give him very high marks for dealing with the Virginia Tech shooting. He had a very stable mind in that incident." That said, Republicans likely won't be able to dig up any very serious scandals with him, he said. "There are no skeletons in his closet. I don't know if you know about some of these politicians in Virginia. Some have a seedy past. None of that is going to happen with Tim Kaine."
"He was a terrific boss to work for," said Bryant, Kaine's secretary of natural resources, who was a Republican at the time, but now calls himself more of a "fierce" Independent. "He would appoint people, give them directions, and let them do their work. He would check in periodically, have weekly reports, but he did not micromanage."
While serving as governor and lieutenant governor, Kaine disclosed accepting more than $160,000 in gifts from 2001 to 2009, the subject of a recent piece from Politico. The gifts were all legal under Virginia's more lax gift laws, and there are no suggestions of any trade or official favors, but they became a point of fodder for the RNC as vice presidential speculation about Kaine intensified. Kaine's staff maintains he exercised great transparency, telling NBC News in a statement, "During his eight years as Lieutenant Governor and Governor, Senator Kaine went beyond the requirements of Virginia law, even publicly disclosing gifts of value beneath the reporting threshold. He's confident that he met both the letter and the spirit of Virginia's ethical standards."
Diversity Matters?
While Kaine admits he can be "boring," some Democrats also yearned for a running mate who could bring racial diversity to the ticket.
Supporters will cite the fact that Kaine speaks fluent Spanish after his time doing missionary work in Honduras, and the fact that he was the first to deliver a full speech in Spanish on the U.S. Senate floor.
Those who worked with Kaine during his years in Richmond, like his fellow city council member and eventual vice mayor, Rudy McCollum, and many other Kaine supporters, stress the time when they say he was able to create bridges with the African American community in the city, in an area that was (and still can be) a southern town plagued with racial strife. In the 1990s, the city council decided among themselves who was mayor.
McCollum says he supported Kaine for mayor because he was "exactly what the city needed… they need to have somebody who could be able to not just cross aisles -- we are non-partisan, but cross communities... Tim was somebody who definitely was able to bridge the community, bring different people together, and being a capital of the confederacy, with a lot of people wanting to maintain themselves and stay set in their ways."
A Deep Faith
People in Kaine's orbit constantly refer to his deep faith as one of the most prominent parts of the senator's life, and an aspect of himself that can connect with large swaths of the American population. He attends a mostly black Catholic church in a poor neighborhood in Richmond, the same church he has attended for years.
Faith has also seeped into his political life. He was moved to tears when Pope Francis spoke to Congress last year, and he has not been afraid to do interviews with televangelists and engage in long conversations about the bible. During his 2005 race for governor, the first ads his campaign ran were positive bio spots on Virginia Christian radio, where Kaine talked about his time as a missionary and how his faith shaped his values.
At the time, he was one of the more progressive people who had ever run for the office in the state, but former aides believe there were a lot of voters who supported him as they couldn't equate a person of strong faith with being liberal.
Kaine is pro-choice and his Senate record has a 100% rating from Planned Parenthood, but he says he is personally opposed to abortion and supported maintaining restrictions in Virginia, which could be a potential weakness for his appeal with the party's liberal wing.
The Virginia Map
Many Democrats in Virginia credit Kaine with starting the Democratic wave and building the roadmap to what has been a number of state-wide victories for the party in recent years. In his state-wide elections, Kaine focused heavily on suburban areas that have grown exponentially in recent years. National Democrats took notice, and President Obama used Kaine's model, as did other state Democrats, and now Virginia has two Democratic senators and a Democratic governor.
NBC News classifies Virginia this year as a "toss up" state on the electoral map, but even people around Kaine's world are split on how much of an impact his presence on the ticket would have on how the state votes this year.
Some influential Virginia Democrats think he would absolutely help Clinton, since there are people who are proud someone from their area could be working in the White House again, while others aren't so sure how much of a factor the person on the second row of the ticket will ever have on the minds of voters.
However, Virginia is exactly what Kaine talks about when his work with the Clinton campaign and vetting for VP comes up. "I'm just doing my work here in the Senate and in Virginia," Kaine told NBC's Andrea Mitchell last month on MSNBC when asked if he was being vetted. "My highest and best use is really in Virginia, because I do think that will be a critical state this November. And I'm going to do everything I can to help Hillary win."
NBC News' Kelly O'Donnell and Monica Alba contributed to this report.