LANCASTER, Calif. — Friends and co-workers paid tribute on Thursday to test pilot Michael Alsbury, who lost his life when the SpaceShipTwo rocket plane broke up nearly two weeks ago.
The memorial ceremony featured a rare flyover by the WhiteKnightTwo mothership that carried SpaceShipTwo to its final flight nearly two weeks ago.
About 1,000 mourners, including Alsbury's widow and their two children, attended the ceremony at a baseball stadium in Lancaster, a half-hour's drive south of WhiteKnightTwo's home base at the Mojave Air and Space Port. Among those in attendance were America's first private-sector astronauts, Mike Melvill and Brian Binnie, who flew an earlier SpaceShipOne plane into outer space 10 years ago.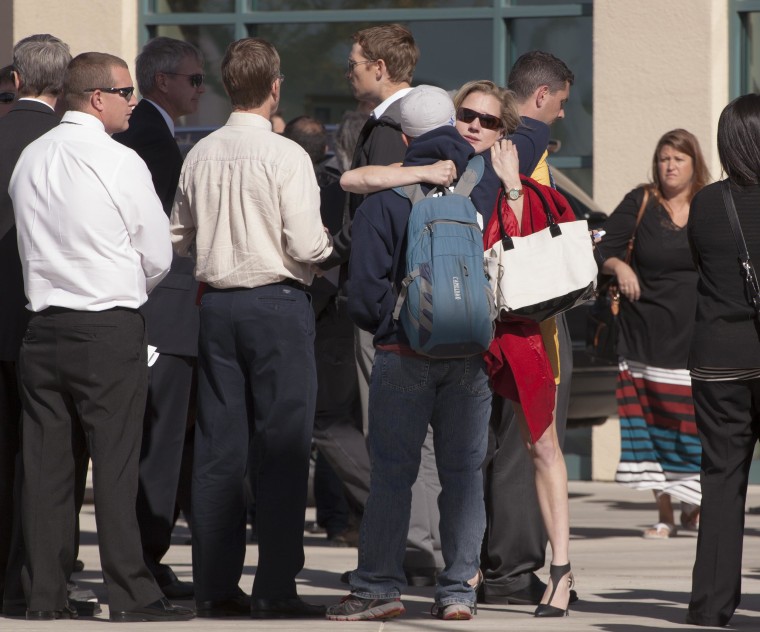 Alsbury, 39, was a test pilot for Mojave-based Scaled Composites, which built SpaceShipOne and had been testing SpaceShipTwo for Virgin Galactic's commercial operations. Alsbury represents the first in-flight fatality associated with a commercial space effort.
SpaceShipTwo pilot Peter Siebold was injured in the Oct. 31 crash, which is under investigation by the National Transportation Safety Board. Premature deployment of the plane's feathered-wing braking system is suspected to have been a key factor in the plane's catastrophic breakup.
In his eulogy, Scaled Composites President Kevin Mickey said Alsbury should be considered an American hero alongside the astronauts who died in the Challenger explosion of 1986 and the shuttle Columbia's breakup in 2003.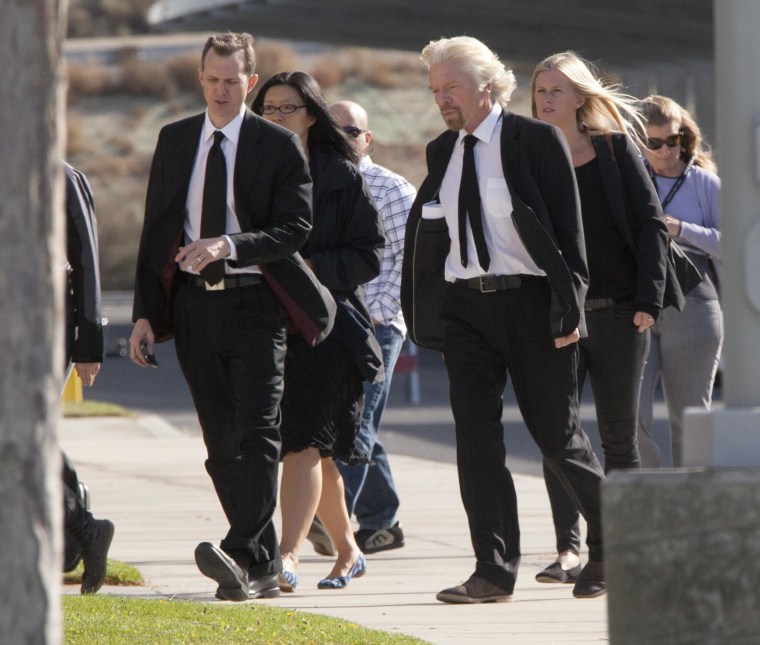 Virgin Galactic's chief executive officer, George T. Whitesides, said "Mike will be remembered long after all of us are gone." And Virgin Galactic founder Richard Branson hailed Alsbury as a hero of aviation.
"While the world has lost a true space pioneer, our team has lost a leader, a mentor and a friend," Branson said. A second SpaceShipTwo plane is more than half complete inside a Virgin Galactic hangar, and Branson noted that the engineers building the plane have nicknamed it "Hope."
"Mike has given us this hope, and we plan to honor Mike's name by achieving the dream he had pursued so very bravely," Branson said.
IN-DEPTH
SOCIAL
— Alan Boyle
NBCUniversal has established a multi-platform partnership with Virgin Galactic to track the development of SpaceShipTwo and televise Branson's spaceflight.