MOJAVE, Calif. — Even as Virgin Galactic is testing the hybrid rocket motor that powers its SpaceShipTwo suborbital space plane, it's developing a different rocket engine for orbital flights. Now the company is taking the wraps off that kerosene-fueled powerhouse, known as the Newton.
Two types of Newton engines have been designed for use on Virgin Galactic's two-stage LauncherOne rocket, which is destined to carry satellites into orbit from the WhiteKnightTwo carrier airplane starting as early as 2016. Future generations of the Newton could conceivably send rocket planes from, say, New York to London in 45 minutes.
The prototypes already have gone through dozens of rounds of firings at Virgin Galactic's rocket test stands in an isolated area of the Mojave Air and Space Port, said Robyn Ringuette, the company's director of liquid propulsion.
The NewtonOne, an upper-stage engine designed to provide 3,500 pounds of thrust, has been run for its projected full mission duration of five minutes, Ringuette told NBC News during a tour of the test site. The NewtonTwo, which would serve as LauncherOne's first-stage engine, has been hot-fired for just a few seconds at a time so far. When it's ready for prime time, Virgin Galactic expects it to blast away for about two and a half minutes, with 47,500 pounds of thrust.
Will Pomerantz, Virgin Galactic's vice president for special projects, said the company was told to budget a year for building one engine test stand in Mojave. But in just six months, two test stands were built. "It's one of the few projects that I know of that's ahead of schedule," he joked.
Ringuette said components for an upgraded NewtonThree engine are already undergoing testing.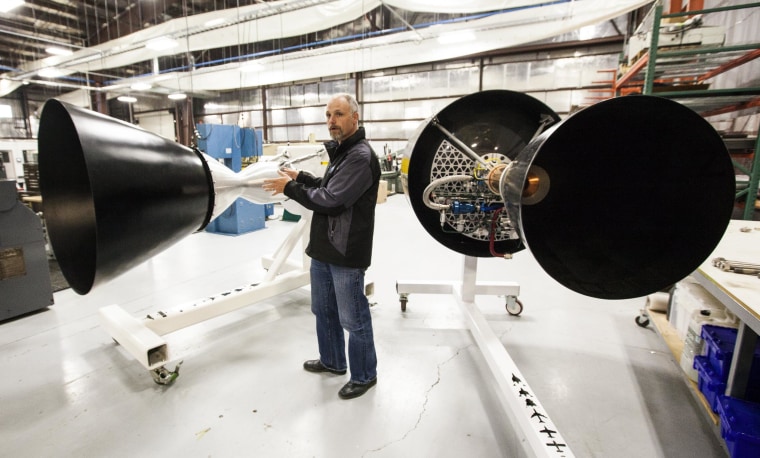 The 'other' rocketUntil now, Virgin Galactic has said little about the Newton project. Instead, attention has been focused on the hybrid propulsion system for SpaceShipTwo, which came in for its third rocket-powered test flight on Jan. 10.
SpaceShipTwo's rocket motor is built by Sierra Nevada Corp. It's a scaled-up version of the motor that Sierra Nevada's SpaceDev subsidiary provided for SpaceShipTwo's predecessor, SpaceShipOne, when that plane rocketed to space three times in 2004. Both versions are powered by a non-toxic solid fuel and nitrous oxide.
"We and our contractors at Scaled Composites and Sierra Nevada are continuing to develop ways to improve the motor design by making them easier to manufacture and install, or by further improving their handling characteristics and performance," Pomerantz said in an email.
The hybrid rocket motor is designed to send SpaceShipTwo and its passengers on an up-and-down jaunt past the 100-kilometer (62-mile) mark. So far, more than 650 passengers have signed up for that trip, paying as much as $250,000 a ticket. Commercial service could begin as early as this year.
In contrast, the Newton engines use RP-1 kerosene and supercooled liquid oxygen as propellants. Virgin Galactic says those engines will be powerful enough to send payloads weighing up to 500 pounds (225 kilograms) into low Earth orbit on LauncherOne, at a cost of less than $10 million. At least four companies already have signed up for satellite launches: Skybox Imaging, GeoOptics, Spaceflight Inc. and Planetary Resources.
Virgin Galactic's CEO, George Whitesides, said in a news release that he was proud of the propulsion team's progress.
"Combined with parallel progress made by the company in advanced tank and avionics technology, we are now well on our way to providing customers with the lowest-cost opportunity for small satellite manufacturers and operators to buy a dedicated ride to space," Whitesides said.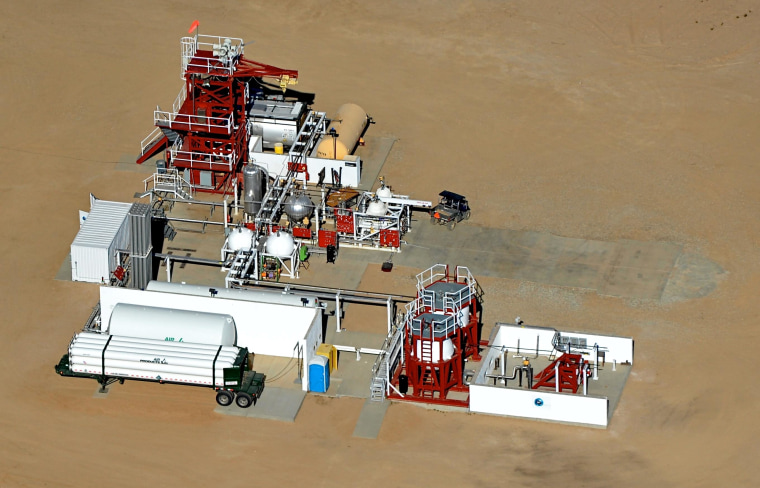 Thinking smallPomerantz said there are currently no plans to use the Newtons on SpaceShipTwo. But when it's time to think about point-to-point suborbital space travel on SpaceShipThree, more powerful versions of the Newton propulsion system could well be part of those plans.
"Those kind of future vehicles — the SpaceShipThrees and SpaceShipFours, et cetera — are going to require more advanced propulsion than what we need for SpaceShipTwo," Pomerantz said. "The liquid rocket engines we're testing now will help us get into service quickly with a great product in the form of LauncherOne, while also helping us get smarter and more capable so that we are ready to power those future vehicles when the time comes."
Other commercial ventures on the rise — including Blue Origin,SpaceX and XCOR Aerospace — have in-house rocket engine development programs as well. Another Mojave space venture, Stratolaunch Systems, is working on an air-launch system that's much more powerful than Virgin Galactic's. So why does the world need yet another rocket engine?
Pomerantz explained that LauncherOne is going after the small-satellite market, which Virgin Galactic believes will be the sweet spot for launch services.
"We noticed that the rockets keep getting bigger and bigger, and more expensive — while in parallel, satellites are getting smaller and cheaper," Pomerantz said.