Does test pilot Michael Alsbury, who died last Friday in the crash of Virgin Galactic's SpaceShipTwo rocket plane, count as a "fallen astronaut"? Alsbury's death presents those who manage space memorials with a new challenge and a new opportunity. One could have seen it coming, but nobody seems to have expected it quite so soon.
Alsbury's biography certainly seems to match what the public expects out of an astronaut. He was on his ninth flight aboard the SpaceShipTwo vehicle called "VSS Enterprise," helping to test a rocket-powered craft that was designed to rise above the internationally recognized boundary of outer space, 100 kilometers (about 62 miles). He accumulated 1,800 flight hours — most of them with Scaled Composites, a pioneering aerospace firm in Mojave, California.
Last year he was honored by the Society of Experimental Test Pilots for a technical presentation on the project, receiving an award that's previously been won by test-pilot astronauts ranging from Canada's Chris Hadfield and Apollo 13 spaceflier Fred Haise to X-15 pioneers Scott Crossfield and Bill Dana.
He left behind his wife and two children, aged 7 and 10. A memorial fund campaign already has brought in more than $100,000 in donations.
Test pilot Brian Binnie — who acquired official astronaut status 10 years ago aboard SpaceShipOne, the predecessor to SpaceShipTwo — told NBC News that he considered Alsbury a full peer. "He was a friend and a colleague to, uh, all of us," he said, barely controlling his emotion. "He never gets replaced."
The memorial wall
Near Cape Canaveral, Florida, stands a sober, stark monument to the human cost of space exploration. Operated by the Astronauts Memorial Foundation, a black wall known as the Astronaut Memorial bears the names of men and women who lost their lives in America's space effort.
Some, like the astronauts of the Challenger and Columbia shuttle tragedies, died during spaceflights. Others died during ground training, or in aircraft accidents, or while they were carrying out other official duties.
For now, there are no plans to add Michael Alsbury's name to the memorial.
"Alsbury doesn't quite meet our criteria" for inclusion, said Thad Altman, director of the Astronauts Memorial Foundation. "Qualification is predicated on being a member of the United States astronaut corps on a government-sponsored space mission."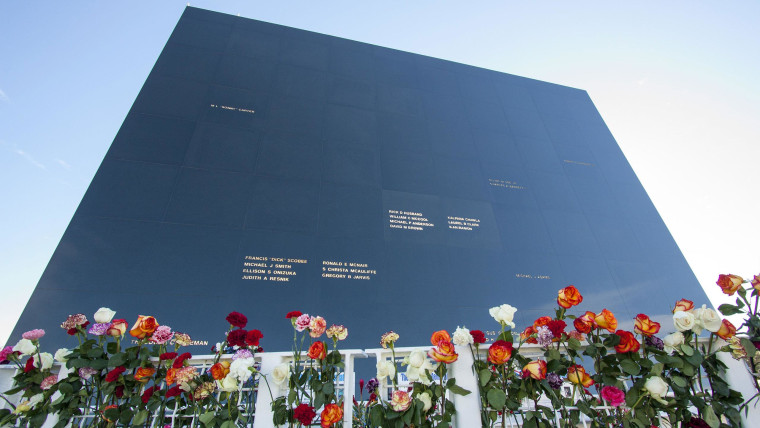 The U.S. Congress designated the foundation to provide the official national memorial for astronaut fatalities. It is located on federal property, and is partially funded by the state of Florida through license plate sales.
Although Alsbury doesn't meet the current criteria, Altman was eager to add that "we're ready to re-examine our requirements." He told NBC News that a meeting of the foundation's board of advisers, scheduled next month, could provide the opportunity for such a re-examination.
Altman elaborated in a formal statement emailed to NBC News: "The Astronaut Memorial Foundation is deeply saddened by the death of Michael Alsbury during the test flight of SpaceShipTwo. We recognize and value the contribution that Virgin Galactic is making toward commercialized spaceflight and know that his loss will not be in vain."
Had the SpaceShipTwo program been funded by NASA or the Defense Department rather than Virgin Galactic, Alsbury would have clearly met the existing standards because he was testing a spacecraft designed to go into outer space. Instead, Alsbury was part of a new population of commercial space pilots — and no matter what happens to the SpaceShipTwo program, that population is sure to grow.
One could argue that Alsbury qualifies even without an explicit change in the rules: Some of the early SpaceShipTwo missions are to be partially funded as research missions, and many of these missions make use of federal science grants.
Avoiding the wrong message
What the Astronaut Memorial Foundation does not need is a rerun of a bitter debate in the mid-1990s over technicalities that prevented the inclusion of an Air Force trainee astronaut, Robert Lawrence, who was killed while preparing for the Pentagon's own space station program, the Manned Orbiting Laboratory. The program was eventually canceled, and its younger astronauts were transferred to NASA to fly early shuttle missions.
Lawrence, the first black pilot selected for astronaut training, had not flown in space yet and had not achieved the U.S. Air Force astronaut wings — even though NASA calls its trainees astronauts as soon as they join the corps, years before they actually fly in space.
The result was that NASA pilots who were killed in training were still qualified for the memorial, while Lawrence initially was not.
The argument heated up over allegations the refusal was racially motivated. It was settled amicably in 1997 when the Air Force posthumously designated Lawrence a genuine military astronaut.
In his email to NBC News, Altman suggested that the foundation would not indulge in legalistic exclusions: "The No. 1 priority for the Astronaut Memorial Foundation is to honor our nation's astronauts and remember the sacrifices they have made."
A wider perspective
In his 1893 poem "Song of the Dead," a hymn in memory of English seamen lost on the world's oceans over the many centuries of seafaring, poet Rudyard Kipling portrayed those human losses as payments that justified his country's world dominance.
... We have fed our sea for a thousand years
And she calls us, still unfed,
Though there's never a wave of all her waves
But marks our English dead:
We have strewn our best to the weed's unrest,
To the shark and the sheering gull.
If blood be the price of admiralty,
Lord God, we ha' paid in full!
That was more than a century ago, in a different world. Today, some scant comfort may be afforded to those loved ones left behind, that these sacrifices serve a planetary purpose, not for any nation or any generation, but for the whole world's future.
Another thing must change. With a broad avenue ahead for commercial space access with privately operated vehicles, with non-governmental players already beginning to appear, now is the time for the Astronauts Memorial Foundation to update its standards and provide for recognition of any additional future casualties. We can all hope that the next candidate is far, far in the future — but the definitions, sadly, need to be widened now.