/ Source: Associated Press
SpaceShipTwo pilot Peter Siebold may have been the first person to survive the in-air disintegration of a rocket ship, but the experience of falling from an extreme altitude and living to tell about it isn't unique. Just ask Bill Weaver, a former Lockheed test pilot who was torn from the seat of an SR-71 Blackbird at 78,800 feet above New Mexico on Jan. 25, 1966. The plane was going faster than 2,400 mph — more than three times the speed of sound — when an engine malfunctioned and the jet began to pitch and break up.
Weaver blacked out. When he regained consciousness, he was plunging toward Earth. "I had no idea how I got out of the airplane," he told The Associated Press. "I had no idea how long I had been free falling. Had no idea how high I was or low I was."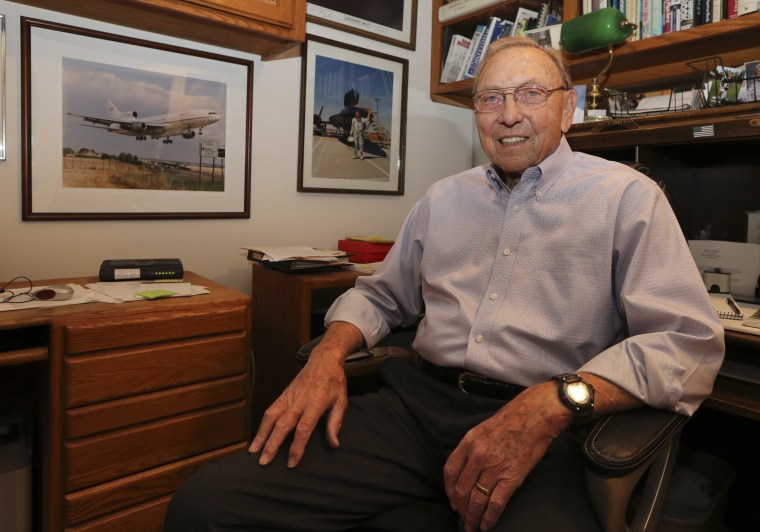 Weaver managed to open the iced-up face plate on his helmet to see where he was. At that point, his parachute chute deployed automatically. He landed in the desert largely unscathed. His colleague, Jim Zwayer, died in the accident. Weaver, now 85, attributes his survival to a miracle and also the protection his pressurized suit provided as he was ripped from his ejection seat.
It's not yet known how Siebold, 43, survived the fall from extreme altitude in Virgin Galactic's SpaceShipTwo crash a week ago while co-pilot Mike Alsbury, 39, perished. "It's no minor miracle that he did survive and survive in relatively good shape," Virgin Galactic Chief Executive George Whitesides said this week. Siebold and Alsbury didn't have pressurized suits, Whitesides said, but they did have extra oxygen.
IN-DEPTH
SOCIAL
— The Associated Press' Brian Melley and NBC News' James Eng