MOJAVE, Calif. — Pioneers of the commercial space age celebrated the 10th anniversary of the SpaceShipOne rocket plane's final flight to the final frontier on Saturday, shedding fresh tears over a decade-old drama, hugging it out — and then blowing out the candles on a cake.
The festivities unfolded at the Mojave Air and Space Port, where the SpaceShipOne saga reached its climax with the winning of the $10 million Ansari X Prize on Oct. 4, 2004.
The suborbital rocket plane, built by Mojave-based Scaled Composites with backing from software billionaire Paul Allen, was the first privately funded vehicle to carry its pilot across the 100-kilometer (62-mile) boundary of outer space. It's now hanging from the ceiling of the Smithsonian's National Air and Space Museum.
"It wasn't an accomplishment of building a spaceship," SpaceShipOne designer Burt Rutan said during a panel discussion that was presented in front of an invited audience and live-streamed as a Google Hangout. "It was an accomplishment of building a manned space program."
Rutan's concept lives on in SpaceShipTwo, the scaled-up space plane that he designed for Virgin Galactic before his retirement in 2011. That craft is now going through flight tests in preparation for taking customers on suborbital spaceflights, with the current ticket price set at $250,000.
Virgin Galactic's billionaire founder, Richard Branson, recently suggested that he might fly into space on SpaceShipTwo early next year — but on Saturday, he would say only that SpaceShipTwo was "on the verge" of going into outer space.
"We're going to start soon, as I've been saying for a few years, taking people to space and bringing them back again," he said.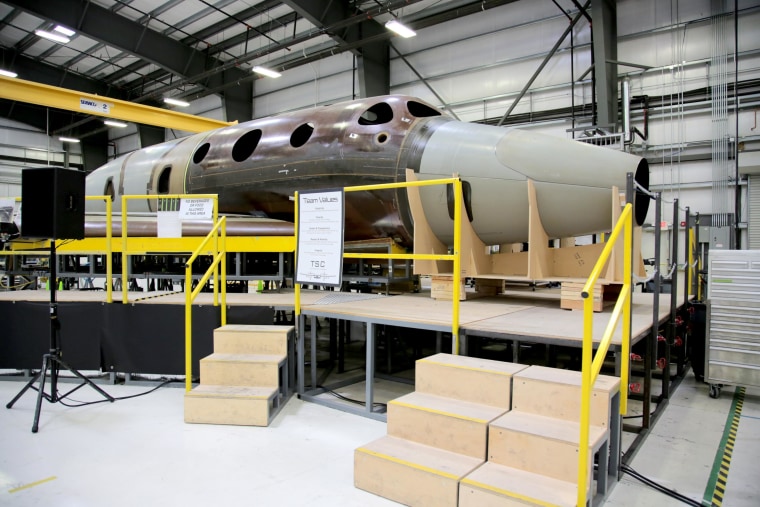 Rutan grew teary-eyed as he recalled the tension that the SpaceShipOne team felt when test pilot Mike Melvill prepared to make the first flight into space in June 2004. "I could tell that this was not a normal thing," he said. "I looked at him, and I said to him, 'Mike, it's just an airplane.' ... And I got the feeling that helped settle him a little bit."
During the second flight on Sept. 29, 2004, SpaceShipOne went into a dizzying spin. "It was an awful moment," Melvill recalled. "I was scared to death." But he got the vehicle under control and broke the space barrier, setting up the third and crucial spaceflight for fellow test pilot Brian Binnie on Oct. 4. That date also marked the anniversary of Russia's Sputnik 1 launch, which kicked off the first Space Age in 1957.
Binnie remembered that his mother-in-law accidentally splashed him with a sugary cup of coffee when she gave him a pre-flight hug. "By the time I got into that small cockpit, it just reeked of French Vanilla," he said. Despite the coffee stains, Binnie executed a perfect mission to win the X Prize. After the landing, he climbed on top of SpaceShipOne with an American flag for an iconic photo op.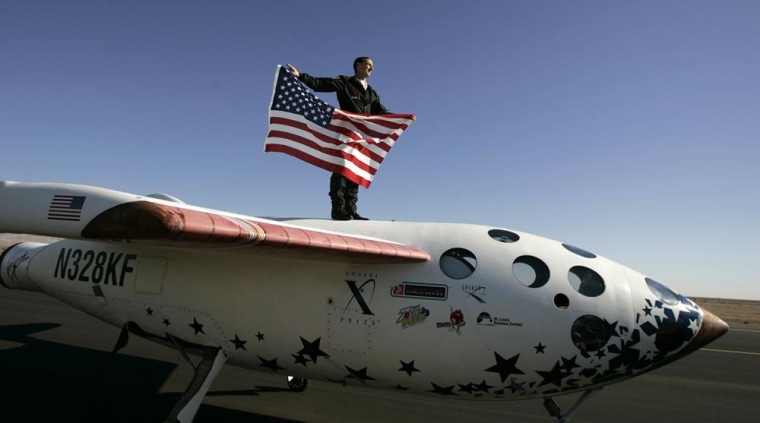 "Fifty years from now, when historians are really writing about this ... that moment will be a pivotal moment in history," said Charles Beames, the executive director of Stratolaunch, Paul Allen's latest space venture.
At the end of Saturday's commemoration, Branson paid special tribute to the 71-year-old Rutan. "I'd love us all to give Burt the biggest hug ever," he told his fellow panelists. The hug was given, punctuated by a kiss that Branson planted on Rutan's cheek.
Then it was time to blow out 10 candles on a cake that was brought out for the occasion. That may have been a strange thing to do at an anniversary party — but it was perfectly natural for the 10th birthday of the New Space Age.
NBCUniversal has established a multi-platform partnership with Virgin Galactic to track the development of SpaceShipTwo and televise Branson's spaceflight.