NEWARK, N.J. — Flying on a zero-gravity airplane makes anyone feel like an astronaut — and for Virgin Galactic's future space tourists, there's the chance to prepare for the even bigger doses of weightlessness ahead. But Sally Akridge had a special perk in mind as she prepared for her encounter with zero-G.
"It's a woman's dream to feel weightless," she said. "What is it? 'You could never be rich enough, or thin enough'? Well, this is my opportunity to feel weightless. Thin!"
At the same time, there's a bit of trepidation. Most people who go into zero-G experience a sense of disorientation and even nausea — a phenomenon known as "space motion sickness." Anti-nausea medications can help. But as much as New Zealand entrepreneur Derek Handley was looking forward to the flight, he had a nagging worry about how he'd feel afterward.
"Hopefully I'm still as smiley and happy ... and not throwing up all over myself," he said.
A foretaste of space
Akridge and Handley were among several space tourists who signed up for a ride on Zero Gravity Corp.'s modified Boeing 727 jet in Newark, to get a foretaste of the experience they're expecting aboard Virgin Galactic's SpaceShipTwo rocket plane.
More than 700 people have signed up for Virgin Galactic's suborbital space rides, with tickets currently going for $250,000 a seat. Those trips promise several minutes of weightlessness, plus a stunning view of the curving Earth beneath the black sky of space.
A trip on Zero G Corp.'s G-Force One doesn't give you the view, and the feeling of weightlessness comes in short shots lasting only 30 seconds at a time — but then again, the $4,950 price tag isn't as steep. Think of it as a dress rehearsal for spaceflight.
"When we're up for Virgin Galactic, I don't want to be spending the time trying to figure out how to get my feet down, or how to move," said Chandra Jessee, an activist and venture investor.
The principle behind a zero-G airplane flight is simple, and you can feel it when your car zooms over the crest of a steep hill. If you're in a vehicle that follows a parabolic arc, it's as if you're in free fall. For a brief time, you feel a floating sensation, followed by a lurch as the free-fall arc ends.
An airplane that takes a parabolic trajectory gives you a similar zero-G feeling, followed by a karma-balancing period of high-G. During the 30 seconds of weightlessness, you can float around and pretend you're Superman. But when you drop to the floor and feel 1.8 times heavier than usual, you have to look up at the ceiling and try not to feel sick. All those points are covered in Zero G's training sessions before you fly.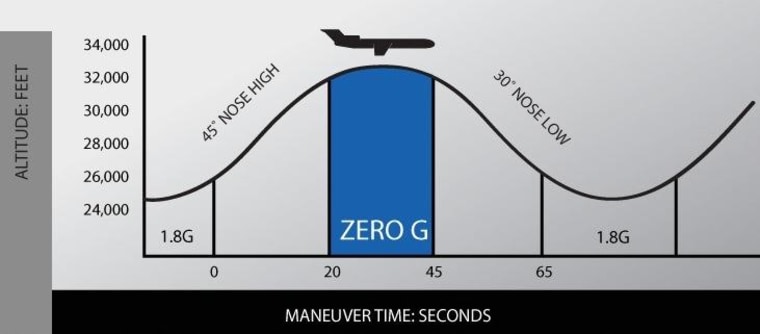 The road to weightlessness
During the breaks in the sessions at a Newark hotel, Virgin Galactic's customers traded stories about how they came to sign up for a trip to space. Some are veterans of adventure tourism — for example, they've taken flights on fighter jets, they've gone on trips to Antarctica, they've climbed to base camp on Mount Everest.
"We've been all over," said Sally's husband, Chip Akridge, who's a Washington real estate developer and chairman of the Trust for the National Mall. "This is one place we haven't been."
The thrill of going to a new frontier adds to the appeal. "It's really exciting to actually be, like, potentially one of the first thousand people to be in outer space," said Al Marino, a New York hedge fund manager. "While this is a short trip, I think it's a gateway to larger things in the future for both Virgin and space exploration and tourism for folks as well."
For Cheryl Howard Crew, a writer who traveled undercover through Afghanistan and Pakistan to research her first novel, getting that zero-G feeling is a family affair. Her husband, Oscar-winning film director Ron Howard, pioneered Hollywood's use of zero-G cinematics in "Apollo 13" almost two decades ago. And even before that, her late father, Charles Alley, made a name for himself as the world's oldest competitive aerobatics pilot.
"He would have loved this," Howard Crew said.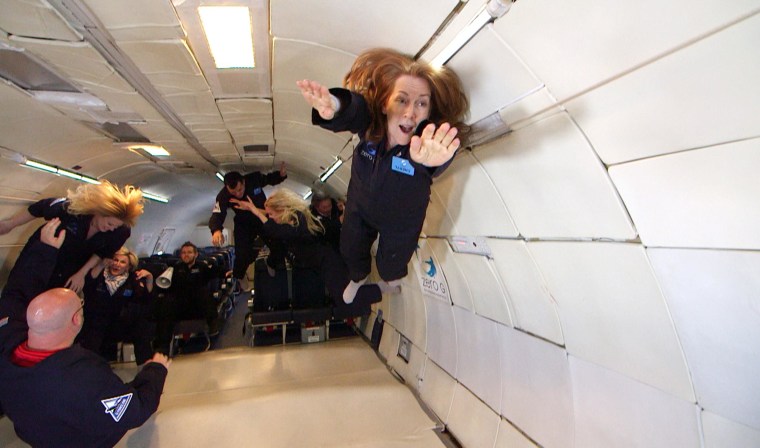 When it was go time, the Virgin Galactic tribe — along with about a dozen others who signed up for the afternoon flight — went through a metal detector and loaded up into vans for the short drive onto the tarmac at Newark International Airport. Each passenger walked up into the plane, took a seat in the back, and strapped in for a trip to nowhere over the Atlantic.
Under the guidance of their coaches, the passengers got up out of their seats in midflight for playtime. As a warmup, the plane's pilots provided one round of one-third "Mars" gravity, and two rounds of one-sixth "lunar" gravity. Then it was time for a dozen completely zero-gravity parabolas.
The fliers hooted and hollered as they played zero-G leapfrog, performed their Superman impressions, and tried to catch bite-size candies and floating globs of water. After each half-minute of weightlessness, everyone dropped to the floor — and so did any splashes of water that were left hanging in the air.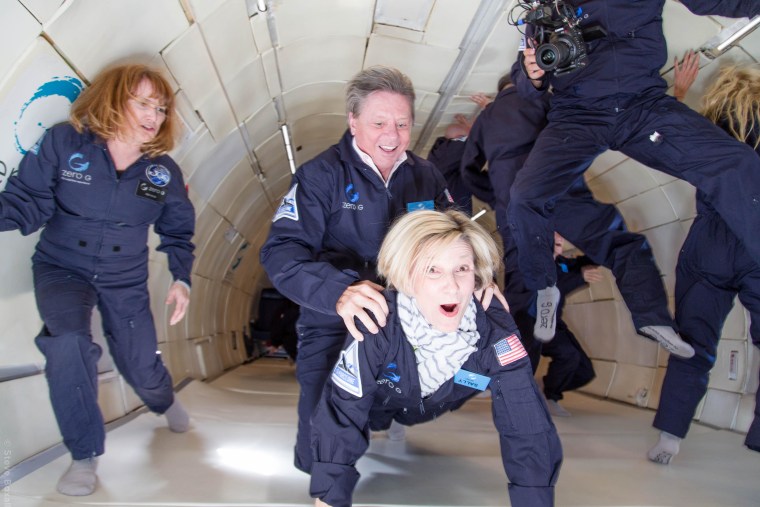 'Dancing in the air'
Some folks did get a little queasy toward the end of the flight, but by the time the adventurers returned to the hotel, they were all smiles. "Like dancing in the air, but not well," Handley joked.
Jessee said the experience was different from what she expected. "I had all these things that I wanted to do," she said. "I was going to be like 'The Matrix,' you know, and instead, once you're up there, you're like, 'I have no control over everything. I'm completely upside down. I have no idea how to get back around.' But it just felt so magical. You don't care."
Howard Crew had a similar response. "To be in a situation where you have to give in to having no control, to feeling zero gravity — it was exhilarating," she said.
"We got our 'space legs,' like getting our sea legs."
The experience whetted Marino's appetite for the adventures to come.
"This was great, but it was little snippets of zero gravity for 30 seconds versus a whole continual part of it," he said. "So I think it'll be really interesting to have four, five, six minutes of zero gravity continuously. That'll be really something to look forward to."
Virgin Galactic doesn't require its customers to go through Zero G's training in advance of their four-day spaceflight tour package, which is likely to include pre-flight training in simulated weightlessness. Nevertheless, Chip Akridge is glad he made the trip to Newark.
"There's a steep learning curve, which is why I'm really happy I went through this before we go to the real spaceflight," he said. "We got our 'space legs,' like getting our sea legs."
And how did his wife feel? "I didn't feel thinner," Sally Akridge admitted. "But I felt lighter. My husband and I did this together — and I think that made it more special, too, to do it with somebody you really love."
Correction for 1:40 p.m. ET: I originally scrambled the references to "lunar" and "Mars" gravity, but it's fixed now.
NBCUniversal has established a multi-platform partnership with Virgin Galactic to track the development of SpaceShipTwo and televise Virgin founder Richard Branson's spaceflight.