After Virgin Galactic's SpaceShipTwo crashed into California's Mojave Desert, killing one test pilot and injuring the other, some of the people who planned to ride the rocket plane to the edge of outer space asked for their money back. Others said they were unfazed.
And then there was the customer who wasn't sure.
On the night of the accident, that customer made a phone call to Craig Willan, a veteran of the aerospace industry who's No. 8 on Virgin Galactic's passenger list. Without disclosing the caller's identity, Willan told NBC News that the man had been planning to cancel his reservation the following Monday.
"I told him, 'Don't,'" Willan recalled. "Don't do it. You don't want to get into that for a couple of reasons. One is, it would be a potential run on the bank. And the second thing is, it sends the wrong signal to humankind. This is a very important phase in the gestation of something new, and we don't want to screw up this pregnancy.
"It turns out he did not ask for a refund," Willan said.
More than 700 customers have signed up to fly with Virgin Galactic, paying as much as $250,000 for a ticket. The loss of SpaceShipTwo on Oct. 31 has given even the most die-hard "Future Astronauts" an opportunity to reassess their decision.
Virgin Galactic says about 3 percent of the customers, or roughly two dozen, have sought a refund so far.
"We are humbled that all but a small percentage of our Future Astronaut community is, if possible, more committed than before," Clare Pelly, astronaut experience manager at Virgin Galactic, told NBC News in an email. "Also, the tiny minority requesting refunds are largely all supportive of the project, but due to personal circumstances have decided time is no longer on their side for their spaceflight."
One example is Peter Ulrich von May, a Swiss-based asset manager who told The Independent he wanted out. "I subscribed seven years ago at 63, am still an active private pilot and in good health but who knows how long it will now take," he told the British newspaper.
The list of no-shows also reportedly includes Princess Beatrice of York. "Beatrice was excited by the idea of space tourism, but there is no way she will be going on one of the flights, if they are ever allowed to take place," the Daily Mail quoted an unnamed source close to Buckingham Palace as saying.
On the flip side of the ledger, Pelly said two customers have signed up for a ride since the crash, specifically to show support for Virgin Galactic.
"I'm a believer, and the fact that things got harder make[s] me believe my support, however small, may be more useful now. Sign me up. I'm in," Virgin Galactic quoted one customer as saying in an email. (The email was shared on the condition that the writer's name was not disclosed, because that writer did not give assent to be named publicly.)
Thinking about the risks
Willan is all in. He's an aerospace engineer who has dealt with issues related to the space shuttle program as well as the Pan Am jetliner crash in Lockerbie in 1988. So he's well aware of the risks that any flight program entails.
"Back in 2011, I journeyed to China and Yuneec Aircraft Company to get my electric airplane," Willan said. "Five days before we arrived, they had a fatal crash. The company and all its people were devastated with the loss of a single pilot. I stepped in at a crucial moment in the company's history ... to offer an American perspective: that being American, we have always believed that the gift of flight was special and non-negotiable. The gift of flight is more precious than human life. I feel that and believe that."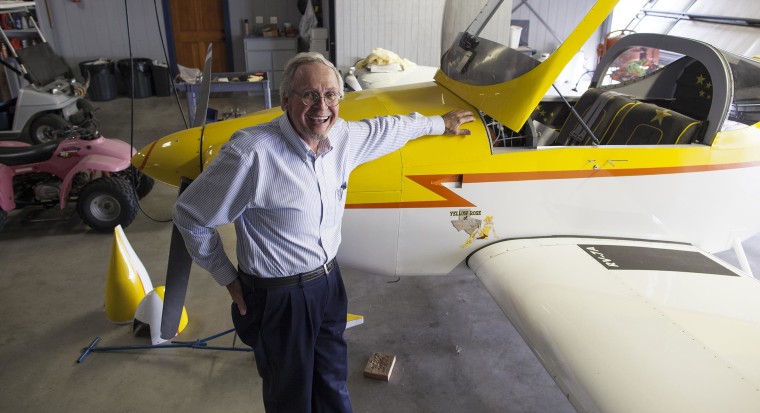 To Willan, it made a difference that the National Transportation Safety Board's investigation did not turn up a problem with SpaceShipTwo's propulsion system, but instead has been focusing on premature deployment of its wing-feathering system.
"If I got a call from Scaled Composites [which was testing the rocket plane] or Virgin Galactic, telling me they'd like me to fly in the back seat as a test engineer, I would be on an airplane to Mojave so fast it would scare the jackrabbits," he said.
'Ballsy move'
Ian Bailey, a Virgin Galactic customer from New Zealand, said he was still "150 percent committed to this." Like Willan, he's been a close follower of the NTSB investigation as well as Virgin Galactic's response. He has faith that if the investigation turns up something that Virgin Galactic needs to fix, "they'll fix it."
"I'm happy that they're talking about restarting in April of next year," Bailey, who made his mark in the electronic payment industry, told NBC News. "To my mind, that shows they've got some serious balls. It's a ballsy move."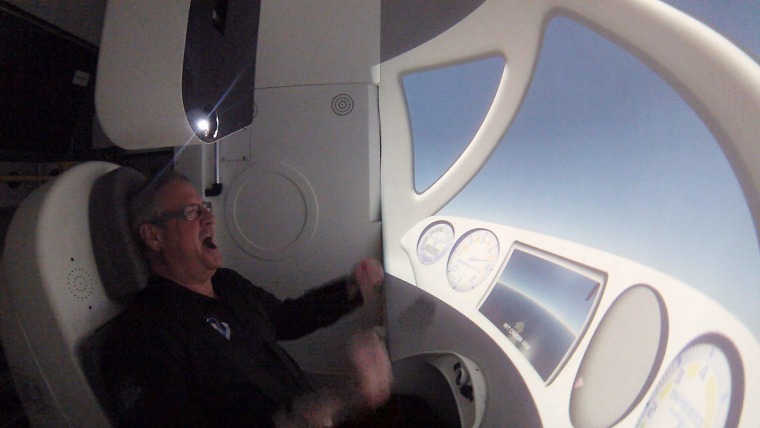 Chinese-American journalist Xin Liu, who was a teammate of Bailey's during a high-G training session in May, said SpaceShipTwo's crash came as a tragic blow — but she's hanging onto her ticket nevertheless.
"I never thought it was easy when I signed up, and really nobody knows how it will affect each participant physically and emotionally until one takes the actual flight," she told NBC News in an email. "I believe that most of us knew it was risky when we signed up."
A similar vote of support came from Derek Handley, another New Zealander who has a SpaceShipTwo ticket and went through a zero-gravity practice session earlier this year. He's the "entrepreneur in residence" at the B Team, a not-for-profit initiative led by Virgin Galactic founder Richard Branson.
As he was watching TV coverage of the crash, Handley never questioned whether he'd keep his SpaceShipTwo reservation. "We signed on because this is one of those dreams humans have had for centuries and centuries — going into space, going to the stars," he told NBC News. But he did wonder what his friends and family would think.
"They were all very supportive," Handley said. "People know that when you're trying to do something like this, there are risks that you need to take. That's part of the program. Virgin Galactic has always stressed that safety was their No. 1 priority, and I think that's why the customers are still committed."
One of Handley's teammates on the zero-G flight, Cheryl Howard Crew, brought a unique combination of perspectives to the SpaceShipTwo aftermath. She's an author who has taken some risky research trips through Afghanistan and Pakistan — but she's also the wife of filmmaker Ron Howard, who documented the risks of spaceflight in "Apollo 13."
Even when Howard Crew heard about the crash, she didn't have "a second thought" about her plan to fly into space with Virgin Galactic.
"My first thoughts were that I expected a much bigger outpouring of support from the professionals," she told NBC News. "When my husband made 'Apollo 13,' I had the pleasure of being with him when he talked with the astronauts, and the whole thing for them was discovery — the mandate for our species. It wasn't so much a race against the Soviets, it was a race against time. They just wanted to be around long enough to push it forward. And it's the same for me."
NBCUniversal established a multi-platform partnership with Virgin Galactic to track the development of SpaceShipTwo. This report draws upon interviews with Virgin Galactic customers who have agreed to be contacted by NBC News for occasional updates on their status. If additional customers respond to requests for interviews, their comments will be reported in follow-up items.