Virgin Galactic's SpaceShipTwo rocket plane broke up and crashed during a test flight on Friday, killing one crew member and seriously injuring another, authorities said.
The catastrophic breakup came after the plane dropped away from its WhiteKnightTwo carrier airplane and fired up its hybrid rocket engine, said Stuart Witt, CEO and general manager of the Mojave Air and Space Port in California. Debris was scattered across a two-mile swath of the desert floor north of Mojave, which is about 95 miles (150 kilometers) outside Los Angeles.
One of the two test pilots aboard the plane was killed, said Kern County Sheriff Donny Youngblood, who was among the officials dealing with the crash's aftermath. The pilot was identified Saturday as 39-year-old Michael Alsbury, who died at the scene, according to the Kern County Coroner's Office.
The other pilot, identified Saturday as Peter Siebold, 43, parachuted to the ground and was injured. Siebold was transferred to Antelope Valley Hospital in Lancaster, California, according to Kern County Deputy Fire Chief Michael Cody.
"We hope that the survivor will be just fine," Youngblood said during a news briefing.
Both pilots worked for Mojave-based Scaled Composites, according to Scaled's president, Kevin Mickey. Scaled has played a key role in developing and testing SpaceShipTwo for Virgin Galactic.
Virgin Galactic had planned to use this SpaceShipTwo to fly passengers on suborbital trips to the edge of space, beginning as early as next year. A nearly identical rocket plane is already under construction inside a Mojave hangar. More than 700 customers, including celebrities such as Ashton Kutcher and Justin Bieber, have paid as much as $250,000 to take a ride.
George T. Whitesides, Virgin Galactic's CEO, said the company would press on despite the setback.
"Space is hard, and today was a tough day," Whitesides told reporters. "We are going to be supporting the investigation as we figure out what happened today, and we're going to get through it. The future rests in many ways on hard, hard days like this. But we believe we owe it to the folks who were flying these vehicles as well as the folks who are working so hard on them to understand this and to move forward."
Witt said Mojave's close-knit aviation community was hit hard by the tragedy.
"When we have a mishap from the test community, we find that the test community is very small," he said. "We are human, and it hurts."
First powered flight in months
SpaceShipTwo's crew was testing the rocket engine in flight for the first time in more than nine months. The plane was slung beneath WhiteKnightTwo for takeoff from the Mojave Air and Space Port at about 9:20 a.m. PT (12:20 p.m. ET). When the paired planes reached a height of about 50,000 feet, about 50 minutes later, SpaceShipTwo was released for the test.
Witt said the anomaly occurred about two minutes after SpaceShipTwo dropped away and fired the rocket engine, but he didn't see any explosion. "It wasn't because something did happen. It was what I was not hearing and not seeing," Witt said.
Photographer Ken Brown, who was covering the test flight, told NBC News that he saw an explosion high in the air and later came upon SpaceShipTwo debris scattered across a small area of the desert. The WhiteKnightTwo plane and its pilots, meanwhile, landed safely.
Authorities cordoned off the crash site pending an investigation. A National Transportation Safety Board team was expected to get to the crash site Saturday morning. The Federal Aviation Administration said it was also investigating the incident.
Mickey said he expected that the investigation would take several days.
New kind of fuel tested
During the nine months since the previous rocket-powered test in January, Virgin Galactic switched SpaceShipTwo's fuel mixture from a rubber-based compound to a plastic-based mix — in hopes that the new formulation would boost the hybrid rocket engine's performance.
Mickey said engines using the new type of fuel had been thoroughly tested on the ground. The final pre-flight qualification engine firing took place earlier this month. Friday's test marked the first time the new fuel was used in flight, but Mickey said "we expected no anomalies with the motor today."
Before Friday's flight, the most recent aerial outing was on Oct. 7, when SpaceShipTwo took an unpowered, gliding flight back to the Mojave runway.
The fatal flight was part of SpaceShipTwo's years-long test program, following up on the successful suborbital spaceflights of the smaller SpaceShipOne rocket plane in 2004. Virgin Galactic had said SpaceShipTwo's first test flight to an outer-space altitude — usually defined as 100 kilometers, or 62 miles — could have taken place before the end of the year.
The company's billionaire founder, Richard Branson, was hoping to ride on the first commercial flight next year. Over the past decade, he and his investment partners have put hundreds of millions of dollars into the Virgin Galactic venture. After Friday's crash, Branson said in a Twitter update that he was "flying to Mojave immediately to be with the team."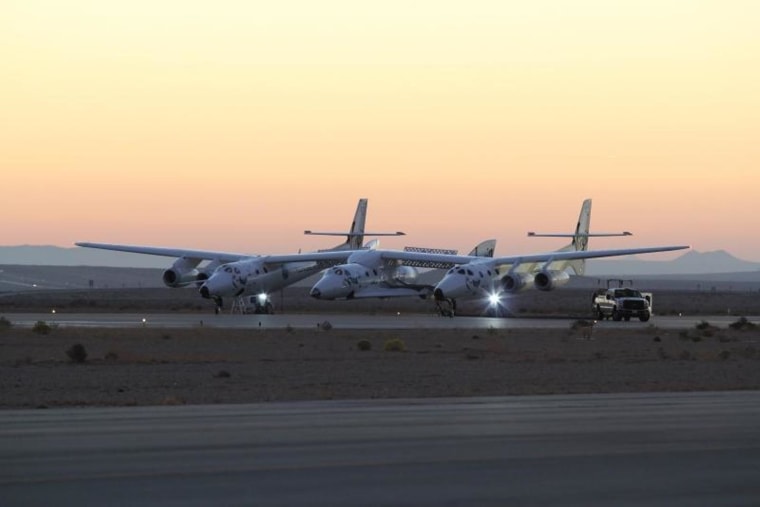 NBC News' Julianne Pepitone and James Eng contributed to this report. NBCUniversal has established a multi-platform partnership with Virgin Galactic to track the development of SpaceShipTwo and televise Branson's spaceflight.