Vester Flanagan, the disgruntled former reporter who shot two journalists to death on live television, vowed as he was fired two years ago that he would make "headlines," a station executive said Thursday.
And as police escorted him out of the building, Flanagan handed the news director a wooden cross and said: "You'll need this."
One day after Flanagan shot and killed a reporter and cameraman as they broadcast live from a shopping center during the morning news, station WDBJ of Roanoke, Virginia, offered details of the troubled year that Flanagan spent there.
Jeff Marks, the station's general manager, said he was told to improve his work, failed to check his facts and generally showed "poor news judgment."
Flanagan was also ordered to seek help from the station's employee assistance program, a service commonly offered by employers to help workers with personal problems affecting their work, Marks said.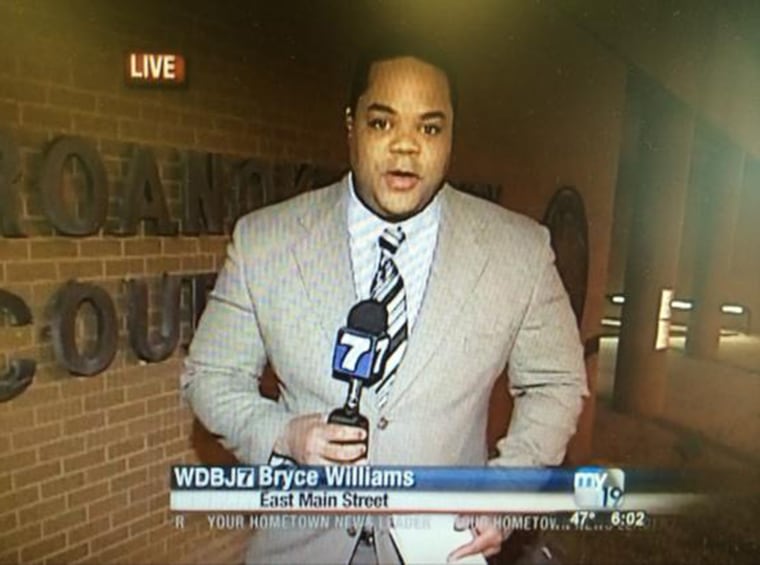 As NBC News reported on Wednesday, Flanagan had loud confrontations with station employees and gained a reputation as being difficult to work with. He was fired Feb. 1, 2013.
When two news managers and a human resources officer told him the news, "He reacted angrily, telling them that they would have to call the police because he was going to make a stink and it was going to be in the headlines," Marks said.
Related: Flanagan Had Wig, Ammo and To-Do List in Car
In the two and a half years after he was fired, WDBJ employees saw him around town, but there were no confrontations, and Flanagan was never seen following anyone and never tried to go back into the station, Marks said.
"It's very hard to get a negative reference these days"
He filed a harassment complaint with federal regulators, but it was found to be without merit, Marks said. Regulators have declined comment on the complaint, citing confidentiality rules.
Asked whether he knew of any grudge that Flanagan still held, Marks said, "It never fed back to me if that was the case."
Flanagan had a troubled work history at other stations around the country. But Marks said station human resources were given only positive references for Flanagan before he was hired.
"It's very hard to get a negative reference these days," he said. "I think anybody can make positive references happen if they try hard enough."
Flanagan recorded video of the killings and posted it to Facebook and Twitter hours later, while police were chasing him. He ran off the road, shot himself and died later at a hospital.
Related: Flanagan Bought Gun Legally, Federal Officials Say
A candlelight vigil is planned at the station for Thursday night. Marks said the station has been flooded with calls, emails, flowers and food since the shootings. On air, anchors have struggled to hold back tears during their broadcasts.
"They cry, they hug, and then they get the job done," Kelly Zuber, the news director, told reporters. "And that's all that I can ask of them right now."