The gunman who shot two journalists to death during a live broadcast had a wig, six magazines of ammunition, and a to-do list in the car he was fleeing in before he killed himself, according to an inventory of items found in a search warrant return.
Police also found 17 stamped letters, a briefcase that contained three license plates, a shawl, and an umbrella in Vester Flanagan's rental car, the search warrant return said.
Police say Flanagan died at Innova Fairfax Hospital at 1:26 p.m. on Wednesday, hours after firing shots at a Moneta, Virginia, shopping center during Roanoke affiliate WDBJ's morning broadcast.
According to a probable cause affidavit filed to search Flanagan's car, police said Flanagan texted a friend "making reference to having done something stupid" following the shooting of WDBJ reporter Alison Parker, photographer Adam Ward, and local chamber of commerce director Vicki Gardner, who was also shot and survived.
Related: Chilling Image Alerted Station to Killer Vester Flanagan
In addition, police found "assorted handwritten and typed letter/notes" and a "bookbag w/ random papers / cards," the affidavit said. Police also found a white iPhone in the vehicle.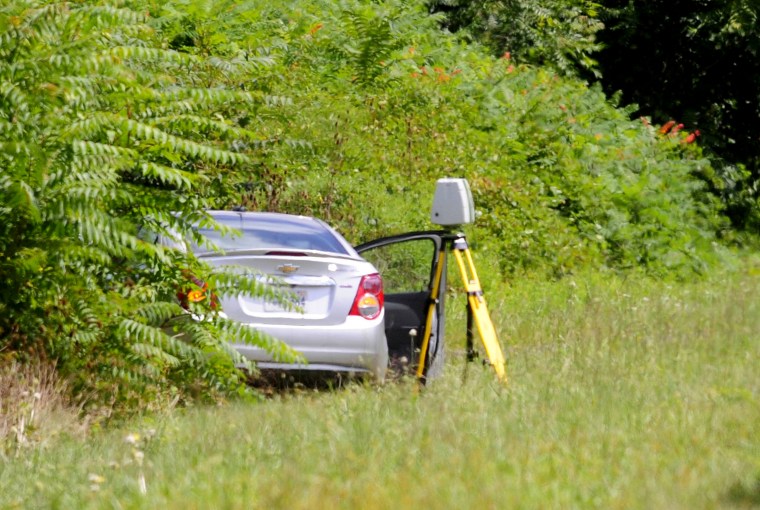 The car had a rental agreement from Enterprise inside it.
RELATED: Vester Flanagan Bought Gun Legally From Virginia Dealer, Officials Say
On Wednesday, Enterprise told NBC News, "When situations involve the police, we always – as a matter of policy – refer all related media queries to the local authorities. They are in the best position to know all of the facts and which details should and shouldn't be publicly shared."
Police found Flanagan's car at the airport about four hours after the shooting. Flanagan drove off the road and shot himself after a police chase.