A judge declared a mistrial Monday afternoon in the fatal shooting of an unarmed black man at the hands of a South Carolina former patrolman, after the jury said they could not come to a unanimous verdict.
In a statement read by Circuit Judge Clifton Newman, the jury said "We as the jury regret to inform the court" that they were unable to come "to a unanimous decision in the case of the state versus Michael Slager" after a day of questions and deliberation.
"The court therefore must declare a mistrial in this case and I so declare that this case is mistried," he said after the jury returned to the room and confirmed their decision.
Scott's death on April, 4, 2015 was captured on video by a bystander and took the nation by storm during the heat of a debate over police brutality against men and women of color.
Scott's mother, Judy Scott, gave an emotional statement after the verdict, saying she "knows justice will be served."
"God is my strength and I know without a doubt that he is a just God and injustice will not prevail," she said.
Scott added that "we have the federal trial and another trial to go — I'm just waiting on the lord, I'm going to rest in the lord."
"I don't care how it looks, it's not over — you all hear me — it's not over, until God says it's over," she said.
Scott family attorney Chris Stewart said the mistrial was a "missed opportunity to heal a lot of wounds in the country" and "to remind the good officers that put on that badge that they aren't Michael Slager."
"If you thought that we were going to come out here crying or weeping or weak, you don't know the Scott family. That was round one — we've got two more rounds to go," he said, adding that solicitor Scarlett Wilson planned to try the case again as soon as she could.
Wilson released a statement later Monday, saying "We will try Michael Slager again."
The solicitor also stood in support of the Scott family, adding "We are grateful for their patience, understanding and cooperation with us. They have not received the credit they deserve in their calm leadership for the community. The Scotts have been a sterling example of dignity and grace in extraordinary circumstances."
Related: Lone Juror Says He Can't Convict Ex-Cop in Walter Scott Killing
Walter Scott's brother, Anthony Scott, called on the public to "keep your head high" and protest peacefully.
He added that while he hoped to find peace he could not yet forgive Slager.
"In my heart I will find the peace to forgive Slager for doing that, but in this present time until my family can see justice, no, there's no forgiveness," he said.
"I think there was malice and forethought, I think it was murder," he added.
South Carolina Governor Nikki Haley said in a statement Monday evening that "It is my understanding that there will be, as quickly as possible, a new trial where the Scott family and all of South Carolina will hopefully receive the closure that a verdict brings."
"Justice is not always immediate, but we must all have faith that it will be served — I certainly do," she said. "I urge South Carolinians — in Charleston and across our state — to continue along the path we have walked these last two years: a path of grace, faith, love and understanding."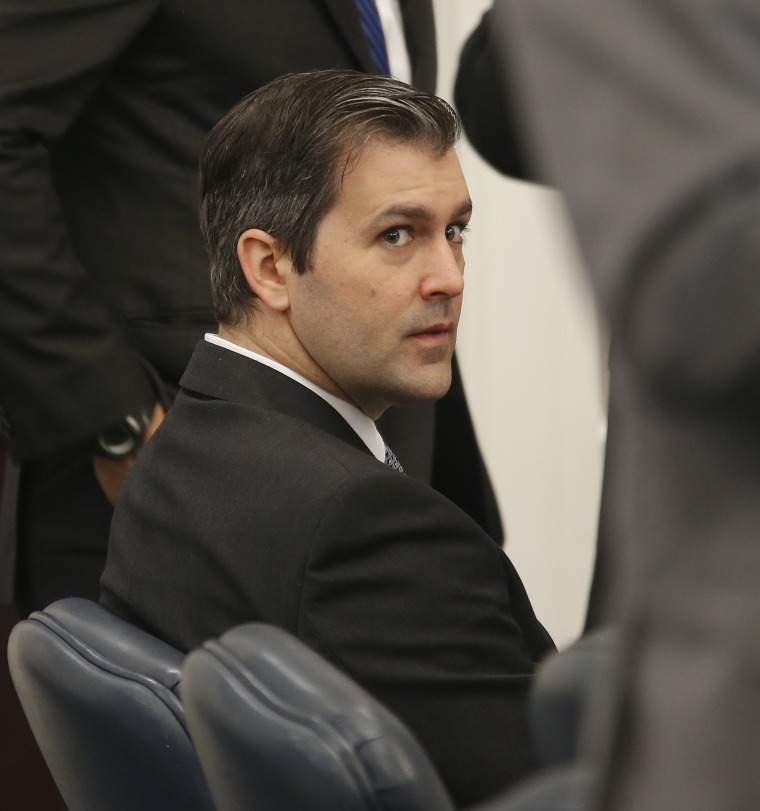 The jury, which consisted of 11 white men and women and one black man, had remained undecided on Monday in the murder trial.
The defense in ex-patrolman Michael Slager's the five-week trial claimed that he feared for his life when 50-year-old Walter Scott got control of the officer's stun gun and pointed it at him.
Related: Prosecutor Will Retry Ohio Cop in Killing of Driver
But Scott was shot five times in the back while running from Slager during a routine traffic stop.
Slager was fired from the North Charleston police department after his confrontation with Scott led to Scott's death.
Slager had been charged with murder in Scott's killing, although the jury was also allowed to consider a lesser verdict of manslaughter. He had faced 30 years to life in prison if convicted.
Slager also faces trial next year in federal court on charges of violating civil rights laws, obstruction of justice and using a firearm while committing a act of violence.
The court had resumed session at 9 a.m. on Monday after a lone juror on Friday said Friday he could not " in good conscience" consider a guilty verdict against Slager and the jury wanted to continue deliberating.
On Monday, the jurors sent a note to the judge earlier Monday saying, "The majority of the jurors are still undecided and we would like help with the following questions."
The jury wanted clarification on why they were given an option of manslaughter. They also wanted definitions of "sufficient provocation," "imminent danger," "forethought" and "self-defense."
Defense attorney Andy Savage had asked the judge for a mistrial after their statement, but that request was denied by Judge Newman.
The jury was asked to keep deliberating at around 12:45 p.m. ET and returned to the courtrooms shortly after 3:30 p.m., a little while after defense attorneys sought to have the jurors given further instructions.