A white police officer in North Charleston, South Carolina, was charged with murder after a cellphone video was released of him fatally shooting a black father of four in the back following a traffic stop.
The release of the footage — which shows Officer Michael Slager fired eight times at Walter Scott — was praised by the 50-year-old victim's family, who during a news conference said: "All we wanted was the truth."
"It looked like he was trying to kill a deer or something, running through the woods," Scott's father, Walter Scott Sr., told TODAY on Wednesday.
Slager, 33, was arrested earlier by the South Carolina Law Enforcement Division and faces 30 years to life in prison or the death penalty if convicted, state officials said in a news release. He was being held without bond in the Charleston County Jail.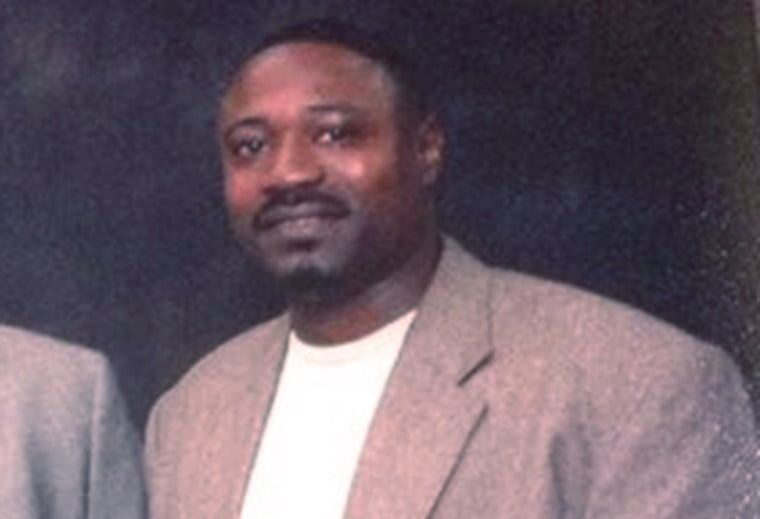 The Scott family told NBC News that they were expecting a visit from the mayor, the police chief and a chaplain on Wednesday morning.
The confrontation occurred around 9:30 a.m. ET on Saturday after Slager pulled over Scott's car because of a broken taillight.
The video, which was first obtained by The New York Times, picks up after the stop. Slager is seen shooting at Scott eight times as he runs away in a vacant lot. Scott drops to the ground after the last shot and Slager walks over calmly and is shown handcuffing Scott's arms behind his back. Other police officers and later EMS tried to administer CPR but Scott died at the scene, according to an incident report. The video provided to The New York Times does not show those efforts.
The officer said the suspect took his Taser and that he feared for his life.
"Shots fired. Subject is down. He grabbed my Taser," Slager says in a call to dispatchers.
The video doesn't show Scott taking Slager's stun gun. But officials say Scott was hit with the officer's Taser because one of its projectiles was still attached to him.
The Justice Department and the South Carolina Office of the FBI are also reviewing the incident, which comes on the heels of other police-related deaths involving unarmed black males in the St. Louis suburb of Ferguson, Cleveland and New York's Staten Island.
Slager was arrested less than an hour after the video, taken by a bystander, was provided to city and police officials.
Attorney L. Chris Stewart, who is representing the Scott family, said the victim may have tried to run from the officer because he owed child support, which can get someone sent to jail in South Carolina until they pay it back. There were no violent offenses on his record, the attorney added.
In his interview with TODAY, Walter Scott Sr. also suggested that his son ran because he owed child support.
"I believe that he didn't want to go to jail again," he said. "He just ran away."
At a Tuesday news conference, North Charleston Mayor Keith Summey said the decision to charge the officer came after viewing the footage.
Having to charge an officer is "not something that we like to hear or like to say but it goes to say how we work as a community: When you're wrong, you're wrong and if you make a bad decision, don't care if you're behind the shield or just a citizen on the street, you have to live by that decision," Summey said.
Slager has been with the department for at least five years, officials said.
North Charleston Police Chief Eddie Driggers called the incident a "tragic day" for many, but said the shooting shouldn't reflect on the department's 343 officers.
"It is not reflective of the entire police department and the city of North Charleston," Driggers said. "One does not totally throw a blanket across the many, and I think that's true in life, so it is a tragic event."
South Carolina Gov. Nikki Haley added that the shooting, as it appears, is unacceptable. "I assure all South Carolinians that the criminal judicial process will proceed fully," she said in a statement. "This is a sad time for everyone in South Carolina, and I urge everyone to work together to help our community heal."
At a news conference in front of the Scotts' Charleston home, his family remembered the father of four and Coast Guard veteran as a proud member of the community and said he "would never" have fought an officer over a Taser.
"Out of my brothers, he was the most outgoing out of all of us," Anthony Scott said. "He knew everybody. … He was well-known in the community everywhere. He was just an outgoing type of person, and loving and kind."
Anthony Scott said they were disturbed by initial reports that Slager said his brother grabbed the stun gun.
"I think through the process, we have received the truth. We can't get my brother back, and my family is in deep mourning for that," Anthony Scott added. "But through the process, justice has been served. I don't think all police officers are bad cops, but there are some bad ones out there."
Lawyers for the family said they are looking into filing a civil lawsuit against police. Attorney Stewart said the video will play key evidence.
"For the first time in a long time, an officer is going to be charged," Stewart told reporters. "What happened today doesn't happen all the time," he added. "What if there wasn't no video, what if there was no witness ... then this (murder charge against the officer) wouldn't have happened."
The Associated Press contributed to this report.