Mourners packed a South Carolina church Saturday to remember Walter Scott, the black man shot to death by a white police officer last weekend.
The funeral was at the W.O.R.D. Ministries Christian Center in Summerville, about 20 miles from North Charleston, where 50-year-old Scott was killed after fleeing a traffic stop one week ago.
"There is no doubt this was motivated by an act of overt racism," Pastor George Hamilton said at Saturday's service.
But an attorney for the family said after the funeral that Scott's death went beyond race. "We are not going to let this case boil down to racial issues. Because it's bigger than that. It's a human issue," L. Chris Stewart said.
Faith is keeping Scott's family together, he added.
"You would assume they're angry. You would assume they're devastated. But all those assumptions are incorrect. Because this family has shown time and time again that the thing that guides them is faith," Stewart said.
Among those at the service was Republican South Carolina Sen. Tim Scott, who tweeted, "Thankful to have been able to pray and talk with his family this week."
An overflow crowd spilled out of the church, and organizers lined up chairs in the foyer to accommodate the extra people.
South Carolina Representatives Jim Clyburn, a Democrat, and Mark Sanford, a Republican, were also in attendance.
Scott was a devout Christian who sang in his church choir, the program at his service said. He was stopped for driving with a broken taillight, and ran from the officer, Michael Slager. The 33-year-old veteran officer has been fired since the shooting, which police and an attorney for Slager said happened because of a tussle over his Taser.
A video taken by a witness showed Slager firing eight shots at Scott's back as he was running away. Scott was apparently unarmed.
Scott owed more than $18,000 in child support and court fees at the time he was stopped. His relatives have said they believe he ran from Slager because he was afraid he would be penalized for the missed payments.
"I believe he didn't want to go to jail again," his father, Walter Scott Sr., told TODAY this week. "He just ran away."
Slager has been charged with murder for Scott's death. On Friday afternoon, activists and the group, Black Lives Matter, attended a rally for Scott at North Charleston City Hall, demanding an end to violence after the latest instance of a white officer shooting an unarmed black man.
At a wake on Friday, many stopped by to pay their respects to the father of four, whose open casket was covered in an American flag and a Dallas Cowboys sign — his favorite team.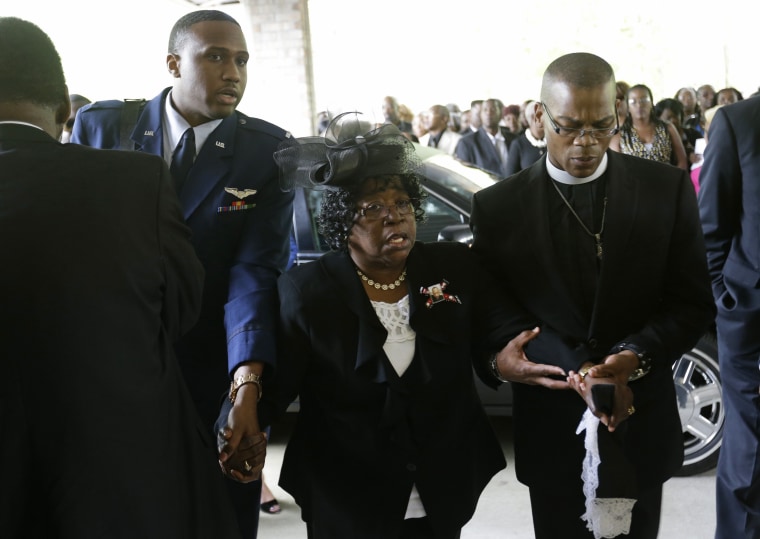 IN-DEPTH
SOCIAL
— Elizabeth Chuck