Walter Scott, the man whose fatal shooting by a police officer in South Carolina shocked America, was a father of four who was remembered as kind, outgoing, and passionate about sports and music by friends and family.
Scott, 50, was killed on Saturday by police officer Michael Slager after a traffic stop in North Charleston, South Carolina. Bystander Feidin Santana captured the last moments of Scott's life in footage that has reignited the debate over the use of police force.
Scott's parents told TODAY on Wednesday they thought Scott fled from Slager because of the child support he owed.
"I believe he didn't want to go to jail again. He just ran away," Walter Scott Sr. said.
Scott did owe back child support — and some have speculated that's why he ran — but he also had minor traffic infractions on his record. South Carolina's Post and Courier reported that Scott had been arrested about 10 times, mostly for failure to appear for court hearings and child support. The paper also said his first arrest was in 1987 for assault and battery, but that could not immediately be confirmed by NBC News.
On Tuesday night, during a press conference, one of Scott's two brothers, Anthony, painted a kind portrait of him as a loving guy who had spent two years in the Coast Guard and was a passionate Dallas Cowboys fan.
"He was the most outgoing out of all of us," he said. "He was well known in the community."
Friends remembered Scott as a funny and nice person. Michelle Murray, who went to school with Scott, remembered him as a popular kid who was diligent in his studies.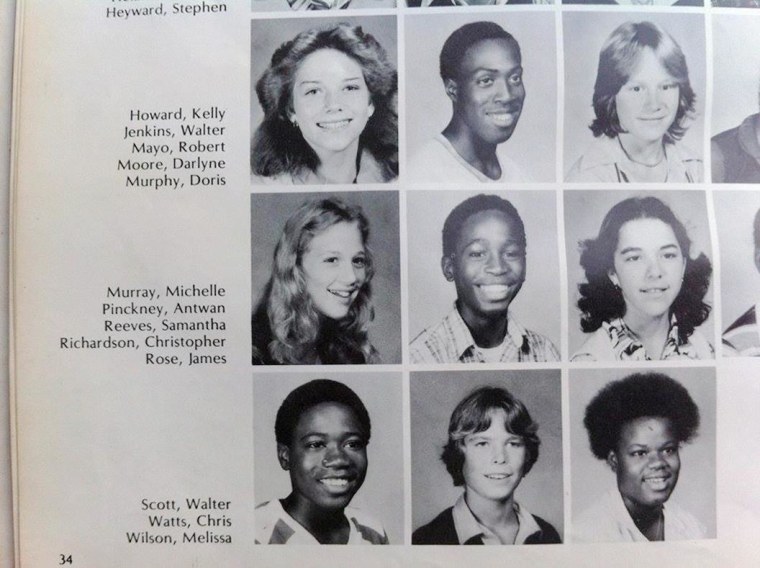 "He was always humorous. He always came to school. He was a person that you would want to get to know. He just was just a really great all around; everybody loved him," she told NBC News.
Murray said she was deeply disturbed by the video of Scott's death.
"The video was awful and that should have never happened," she said. "He was done wrong that way. That grief never goes away."
Chris Watts, another fellow classmate who attended C.E. Williams Middle School and St. Andrews Parish High School in Charleston with Scott, had just reconnected with his old friend on Facebook last week. The two exchanged messages about playing music, and Scott told Watts he was considering getting a guitar "to keep the mind sharp."
"What a nice guy," Watts said. "I am happy that we connected that day."
Another friend, David Campbell III, played football for three years with Scott at St. Andrews and described him as a "very happy guy who got along with everyone. Never caused any problems."
Those feelings were also echoed by another former classmate, Demett Jenkins, who described Scott as "friendly, soft-spoken, all-around kind, never bothered anybody, everybody just thought he was a great person." Jenkins said she hadn't seen Scott in person since 2011, but they kept in touch via Facebook.
"To see this happen to him is shocking," she said, adding: "I hope that Walter's death is not in vain. I hope that it's a platform for viewing the police in the way they function and operate and holding them accountable for their actions."