NOF AYALON, Israel - Relatives of the American who was among three Jewish teens kidnapped in the West Bank are refusing to give up hope that they'll be returned home safely.
"We really know that everybody is doing everything possible to bring all three boys back," said Ittael Fraenkel, the aunt of missing 16-year-old Naftali Fraenkel. "The family is strong, amazingly strong. It is very hard and the family is keeping their hopes up."
Sign up for breaking news alerts from NBC News
Fraenkel, an American citizen who was born in Israel, went missing along with Gilad Shaar, 19, and Eyal Yifrach, 16, on Thursday night near Gush Etzion, an area that features several Jewish settlements in the West Bank.
While Israel has accused Hamas of kidnapping the trio, there has been no credible claim of responsibility for the abductions.
"We're trying to be optimistic and I must say my sister and brother-in-law are amazing, they are strong people and this strengthens me as well," Fraenkel told NBC News in Nof Ayalon, where the family lives. "We really miss Naftali and want to hug him."
On Monday, police revealed that they had received a call from one of the teens the night that students vanished.
"We are kidnapped," one said on Thursday night, according to a police source. Officials tried calling back the but there was no answer and assumed it was a prank.
"We are determined to bring them home and bring the perpetrators of their abduction to justice"
Israel said Monday that it had arrested 40 Palestinian "terrorist suspects" in the West Bank overnight in connection with the case. That brought the total number of arrests to 150.
The Palestinian media reported that among the detainees were lawmakers from Hamas, the Islamist group that governs the Gaza Strip.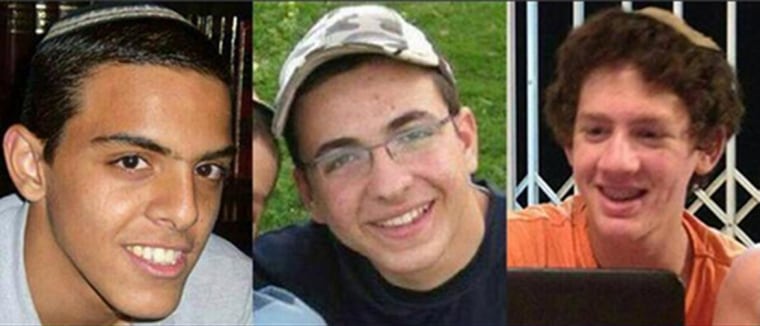 The widespread effort to find the three sparked street confrontations that resulted in the death of at least one Palestinian, according to hospital sources. Another Palestinian was seriously injured.
"IDF efforts are focused on enabling operational capabilities, enhancing intelligence and influencing those that participated, are involved or have knowledge of the whereabouts of Gilad Shaar, Naftali Fraenkel and Eyal Yifrach," Lt. Col. Peter Lerner said on Monday. "We are determined to bring them home and bring the perpetrators of their abduction to justice."
The search was focusing around the city of Hebron in the West Bank, which Palestinians hope one day will form part of an independent state.
Prime Minister Benjamin Netanyahu alleged Hamas – deemed a terrorist organization by the United States but which this month entered into a coalition agreement with Palestinian President Mahmoud Abbas - was behind the disappearances.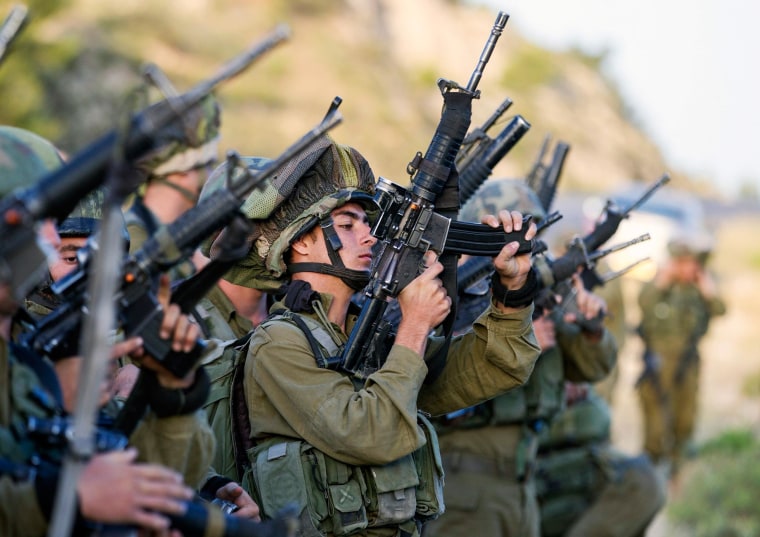 The crisis is a severe test for the U.S.-backed Abbas, and his security forces have stepped up to help Israel's search.
Rockets were fired into Israel from the Gaza Strip over the weekend, and Israel responded by launching air strikes at camps used by Hamas and Islamic Jihad, another Palestinian militant group.
F. Brinley Bruton reported from London.