JERUSALEM - The burned body of an Arab teenager was found early Wednesday amid fears of reprisals following the kidnapping and murder of three Israeli teens in the occupied West Bank, security sources and police told local media.
The body was found hours after the reported kidnapping of a Palestinian youth in East Jerusalem.
An Israeli security source told Reuters that it was suspected the youth had been kidnapped and killed, possibly in retribution for the earlier murders. However, the Jerusalem Post reported that police were investigating local family feuds and previous attempts to kidnap a relative of the murdered Arab boy.
Anti-Arab crowds protested in Jerusalem against the killings of Gilad Shaar, 16, American-Israeli Naftali Fraenkel, 16, and Eyal Yifrach, 19, late Tuesday, and there were reports some had shouted "death to the Arabs" at one demonstration, according to Reuters.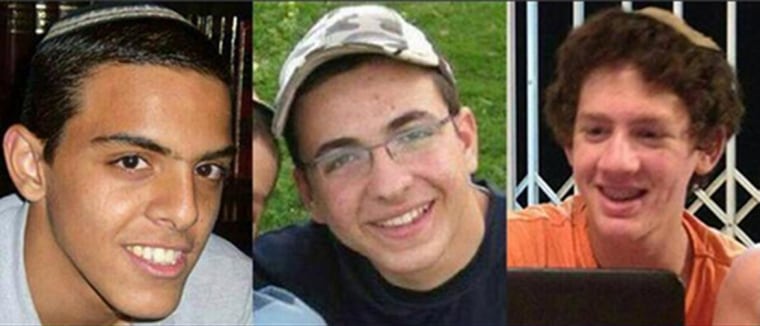 Five Palestinians were attacked, and two of them needed medical treatment, Haaretz reported. It said there were violent confrontations with police in the center of Jerusalem for several hours, leading to the arrest of 50 people.
The mayor of Jerusalem condemned the latest death and called on all sides to "exercise restraint." In a statement, Nir Barkat said: "This is a horrible and barbaric act which I strongly condemn. This is not our way and I am fully confident that our security forces will bring the perpetrators to justice."
There was a heavy police presence around Jerusalem Wednesday as police set up roadblocks in search of suspects over the latest killing.
Palestinian radio named the victim as 16-year-old Muhammad Hussien Abu Khdier, reporting that he had been kidnapped at dawn and that his body was found burned in a forest near Giva't Shao'l.
Palestinian residents told a Reuters photographer that they saw a teenager forced into a vehicle outside a supermarket in the Shoafat section of Jerusalem.
Micky Rosenfeld, a spokesman for Israeli police, told Reuters that officers had been notified of a youth "pulled into a vehicle and possibly kidnapped."
Yossi Phreanti, a police commander, told a news conference that the kidnapping was reported at 4 a.m. Wednesday local time (9 p.m. Tuesday ET) and the body was found one hour and 45 minutes later.
"At this moment we cannot connect the missing person that was forcefully put into a car and this body, we're checking this," he said. "We're checking all possible investigation leads. I'm asking from everyone to operate in restraint, not to jump to any conclusions, and to wait for the investigation to finish."
Israel's Ynet wesite said the body was that of an Arab, that it was charred and showed signs of violence.
Israel has blamed Hamas Islamists for the earlier kidnappings of the Israelis. The group had praised the abductions but not claimed responsibility.