A Facebook page calling for the execution of one "terrorist" per hour until three Jewish teens kidnapped in the West Bank are freed had garnered more than 17,000 likes by Monday.
"Execute a terrorist every hour until the Jewish kidnapping victims are released," read the page's description, referring to Palestinians jailed in Israeli prisons for terrorism.
Sign up for breaking news alerts from NBC News
Gilad Shaar, 19, Eyal Yifrach, 16 and Israeli-born American citizen Naftali Fraenkel, 16, vanished on Thursday night near Gush Etzion, an area that features several Jewish settlements in the West Bank.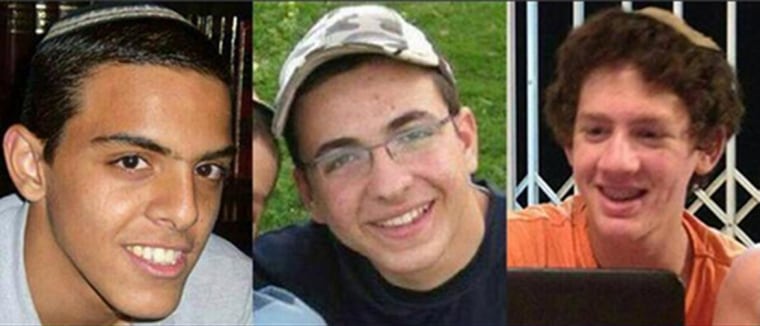 While Israel has accused Hamas of kidnapping the trio, there has been no credible claim of responsibility for the abductions.
The comments on the Facebook page were overwhelmingly supportive of the proposed executions.
"You don't need to disconnect the water and electricity. You need to connect the water to the electricity," one said referring to Israel's occasional cutting of utilities to the West Bank and Gaza Strip.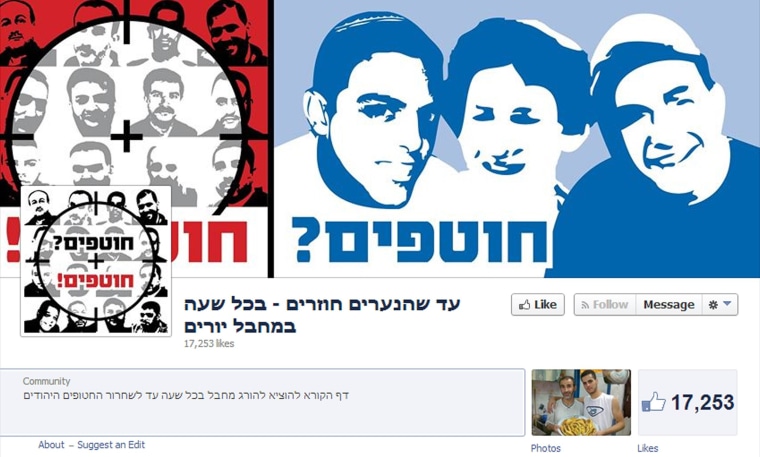 Beneath the picture allegedly of a Palestinian prisoner, another commented that: "Hassan Salame is an arch terrorist who is responsible for the murder of more than 45 Jews in a series of attacks. Salame is still celebrating in prison at the expense of the Israeli taxpayer ... and is waiting to be released in the next prisoner exchange. It is time to eliminate him immediately and by that reduce the appetite of the kidnappers."
- Baruch Ben-Chorin and F. Brinley Bruton