LOS ANGELES — Flames pour down a hillside in the darkness like molten lava. Homes explode in flames. Subdivisions look like they were incinerated in a carpet bombing. And it''s all right there to see, on live T.V.
No wonder a grandmother sent her granddaughter in Colorado a picture from California this week, with a note: "Cali is burning to the ground," the granddaughter recounted on Twitter this week. "You sure you wanna move out there still???"
The answer for many people is still "Yes." Yes, we want to come here. Or to stay. And wouldn't think of living anywhere else.
The reason is that the fiery, apocalyptic California of this week's wall-to-wall cable television coverage is not the California most people in the state are living in. While the firestorms of 2017 have been especially harsh, it's rare — even among those who have lost the most — to hear Californians talking about getting out.
That's because there are still too many things here to like — families, jobs, beaches and mountains, sunshine and, yes, still an air of abundant possibility.
Those of us raised in the shadow of sage-and-chaparral-covered hillsides became accustomed to the arid and tempestuous Santa Ana winds. And we came to know at a young age that the tempest might bring fires, too. (In northern California, which suffered through its own fire disaster in October, the branding is less subtle. They call them the Diablo, or Devil, winds.)
A handful of times, as a kid, I remember packing the car and decamping to my aunt's house, closer to the city, for a few hours, or days. The acrid skies and our parent's nervous glances suggested all was not right. But the fires inevitably blew past, leaving us unscathed. And the people who were burned out never seemed to doubt that they would rebuild.
Americans in less psychoanalyzed locales are not so different from the ones who live here. We're perfectly comfortable living with the disasters we know, but often can't fathom how our fellow citizens put up with their own disasters, the ones we don't face.
"Some people in California might think it's crazy to live in a snow region, where there are blizzards," said Gina Eosco, a social scientist and risk communication expert who advises the National Oceanic and Atmospheric Administration (NOAA). "People who live in a snow region might think living with wildfires is just crazy. And people who didn't grow up in the middle of the country might think it's crazy to live with tornadoes."
"We all have different risks that we're willing to accept," Eosco said, "and it's often what we have grown up with."
"We all have different risks that we're willing to accept."
The so-called Thomas Fire burning in Ventura County has torched more than 132,000 acres and destroyed 401 structures since it broke out on Monday, according to the California Department of Forestry and Fire Protection. The Creek Fire burning near the community of Sylmar in northern Los Angeles has destroyed 33 homes. The Skirball Fire that broke out in tony Bel-Air in L.A. on Wednesday destroyed 6 structures and damaged others, the Los Angeles Fire Department said.
When I made my way north on U.S. Route 101 this week into Ventura County, the coastal bluffs had been cloaked in black and gray. The sun glowed a Martian orange. And the Highway Patrol occasionally stopped all traffic as flames still burned too close to the 101 freeway, the coast's main north-south artery.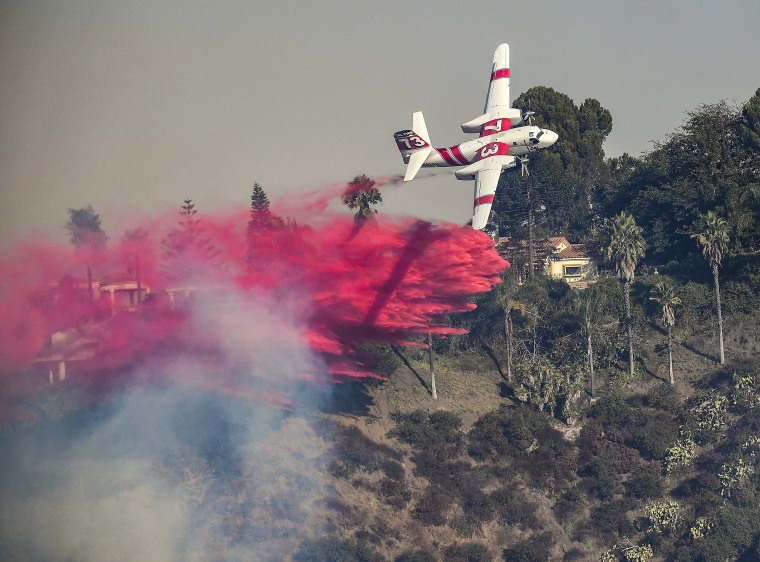 But the tiny village of La Conchita brimmed with a sense of victory. None of the dozens of occupied homes in the funky beach community had burned, as locals joined professional firefighters in pushing back flames that lapped at their back fences. "This is kind of what we do," said Sue Harrison, chair of the La Conchita Community Organization, in explaining how locals fought the fire and might soon have to contend with mudslides.
And those who live with wildfires tend to think it's those who come from the outside who are most likely to put their communities at risk. Eosco went to three Western states earlier this year, to talk to people about risk before the fire seasons started.
The social scientist heard from several people that it was not locals, but outsiders, who tended to cause fires. They were the ones who didn't understand that a flicked cigarette could touch off a brushfire or a loose chain, dragging behind a truck, could spark and set an entire forest ablaze.
"They felt like, 'We are not the problem. We understand the risk,'" said Eosco. "But they felt these other people didn't really understand."
Low humidity and winds gusting to hurricane force clearly put some hillside and canyon communities in danger. For those outside the evacuation zones, days of "FIRE DISASTER" news cycles were bound to amplify the sense of risk.
But for much of Southern California the fires were a distant menace, a brown halo of smoke on the horizon. Much of the region basked this week under cloudless, 70-something skies. The pictures that aren't on T.V. are much like the ones Americans will sigh over come New Year's Day, when pictures of the sunny Rose Parade are beamed into their snowbound homes.
Thus, the American Psychological Association focuses on the media, among other things, in its list of things to do to alleviate wildfire distress. "Turn it off and take a break," the group's website recommends. "You may want to keep informed, but try to limit the amount of news you take in whether it's from the internet, television, newspapers or magazines."
Experts say that humans are much more accepting of natural disasters, which they see as inevitable and beyond their control, than they are of human-driven calamities.
"We might have very little risk of being in a terrorist attack, but there can be a tremendous perception of a risk of terrorism," said Paul Slovic, a psychology professor at the University of Oregon, who studies risk perception. "The notion that someone would do something to us intentionally is abhorrent. We don't feel that kind of maliciousness coming from nature and so those disasters are easier to accept."
That's not to say people in California have not been disturbed by the loss of homes and prized possessions and, in a few cases, of horses and prized pets. There have been plenty of tears and deep heartache.
Bianca Kaveh is one who isn't sanguine and doesn't care if the experts expect people to remain in place. She fled this week with her two teen-aged children, as the Bel-Air fire burned right to her driveway or their hilltop home, held off by firefighters and her husband, wielding a garden hose.
"I am not staying there. I am not," Kaveh said Friday. "I am going to fix up house, wait for some of that scorched mountain to turn green again, and then put it up for sale. I suggest everyone live where it's flat and there are lots of buildings."
"You see these hurricanes and floods and people saying, 'I am going to rebuild. I am going to do it again,'" Kaveh continued. "I don't understand that. I am a different kind of person. I can take the hint the first time."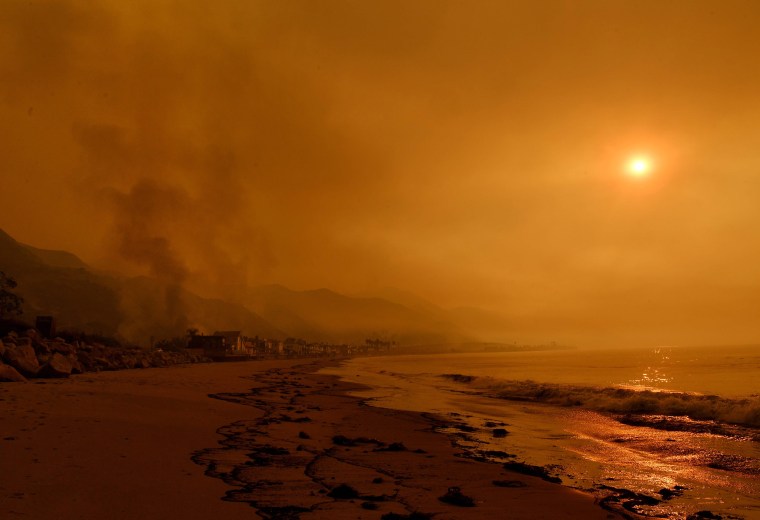 More common were people like Mike Bell. Asked why he stayed in La Conchita, which suffered a deadly mudslide a dozen years before this week's fire, Bell said: "I wake up every morning looking at the ocean. And I can go to the beach every day. What's not to like?"
A 50-something-year-old man down the hill from Kaveh had to rush his 92-year-old mother to a safer location earlier this week. When asked if he would consider moving out of Bel-Air, he looked confused, as if someone had asked him why he kept his nose on his face. He swept his arm toward the near horizon — a ridge of terra-cotta haciendas and ranch houses tucked amid oaks, pines and bougainvillea.
A fountain burbled and — after the retreat of the Skirball Fire — the sky had turned azure. His only words: "Just take a look."