The Wragg fire on the outskirts of California's Napa Valley chewed through thousands of acres of steep, treacherous terrain Thursday, forcing mandatory evacuations of two small communities and threatening more than 200 structures, fire officials said.
The fire in the area of Wragg Canyon near Lake Berryessa in Napa and Solano counties spread from 1,000 acres Wednesday night to 6,900 by late Thursday afternoon, the state, local and federal interagency team battling the blaze said. More than 1,300 firefighters were in the scene, less than 24 hours after the fire started.
Lake Berryessa is about 30 miles east of Napa Valley. Winds were erratic, but they were forecast to trend northeast through the rest of Thursday — generally away from wine country. Fire officials said no wineries were threatened.
But the communities of Quail Canyon and Golden Bear were under mandatory evacuation orders, as were the popular Canyon Creek and Lake Solano campgrounds.
An evacuation center for large animals was even set up in the town of Winters.
Bill Peck of Quail Canyon was able to get his horses out of harm's way, but he told NBC Bay Area on Thursday morning, "It's unbelievable fire could spread so fast."
Sarah Dickinson, another horse owner, said the speed with which the fire was spreading was frightening.
"I watched it burn down the hill and could literally watch it go — chunk after chunk — go, like, within minutes," she said.
Winds calmed Thursday afternoon, giving firefighters a better chance against the fire, which was 15 percent contained. But they were expected to pick up again in the evening, and smoke was having a big impact on a much larger area.
"It looks very apocalyptic," Al Calderone of Winters told NBC station KCRA of Sacramento. "It's scary. It's hard to breathe out here, too."
Demi Bir, who fled the town of Vacaville with her family to the relative safety of Winters, told KCRA: "We were very nervous driving in, because we were like, 'What are we going into?'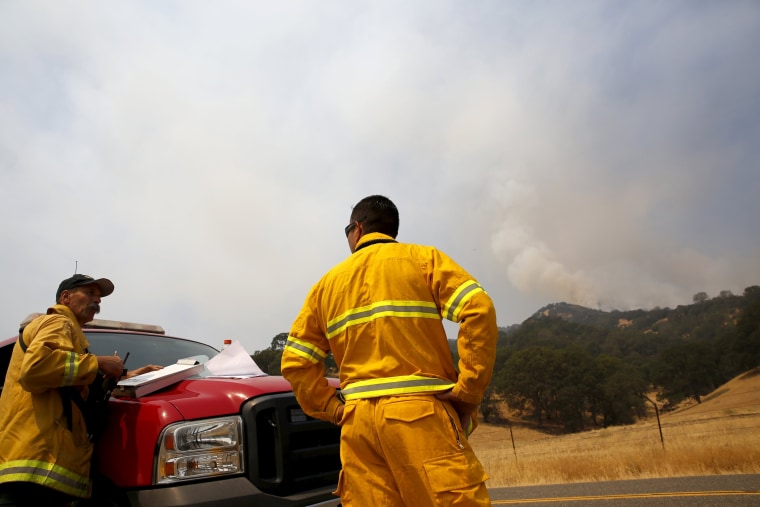 "Everything's starting to look red," she said. "It's very cloudy. We can't see."
In southeastern Washington state, the so-called Blue Creek fire edged closer Thursday to the city of Walla Walla, population 60,000. Fire officials said that one home has been destroyed and that dozens of others are in danger.
And in Montana, authorities began evacuating homes near the eastern side of Glacier National Park as the Reynolds Creek fire approached. The fire was burning acres 4,000 acres Thursday, and low humidity with gusts of 20 to 30 mph threatened to fuel its spread, the National Weather Service said.
Officials evacuated homes along St. Mary Lake and visitors fled hotels and campgrounds in the nearby community at Glacier's eastern entrance.
"We're kind of in the direct line right now," said Susan Brooke, who owns the St. Mary Glacier Park KOA. "It's raging down the ridge toward St. Mary."
Brooke said 688 people were in the campground when the fire ignited Tuesday afternoon about 6 miles east of Logan Pass. Word of the fire began to circulate and soon the plume of smoke could be seen in the distance.
"People started to panic and started leaving immediately," she said.