A wildfire continued raging through rural communities Wednesday in Southern California, triggering a state of emergency and evacuation orders for more than 82,000 residents in the San Bernardino area.
More than 1,500 firefighters and other emergency workers were battling the Bluecut fire, which flared early Tuesday about 60 miles east of Los Angeles and spread rapidly along the Cajon Pass. By Wednesday evening, it had burned 25,600 acres, with firefighters able to contain only 4 percent of it, officials said.
"It hit hard. It hit fast, with an intensity that we've never seen before," San Bernardino County Fire Chief Mart Hartwig told reporters.
He warned that many families will return home "to nothing."
San Bernardino National Forest spokesman John Miller described the conditions as "explosive."
Gov. Jerry Brown declared a state of emergency in San Bernardino County, families fled and Interstate 15 was closed as the blaze grew. The California Air National Guard on Wednesday activated two C-130J Hercules air tankers to help firefighting efforts. Each can drop 3,000 gallons of water or retardant, the guard said.
"This moved so fast," said Darren Dalton, 51, who along with his wife and son had to get out of his house in the small town of Wrightwood. "It went from 'have you heard there's a fire?' to 'mandatory evacuation' before you could take it all in. ... Suddenly, it's a ghost town."
PHOTOS: Crews Fight to Contain California's Blue Cut Fire
Ash fell on motorists from billowing black smoke, while aerial pictures from NBC Los Angeles captured a roadside "firenado" in which swirling gusts of wind sent flames twisting high into the air.
No deaths have been reported in the blaze. Two firefighters were hurt and briefly hospitalized when they became trapped while defending homes and assisting evacuations in the Swarthout Canyon area, the San Bernardino Fire Department said.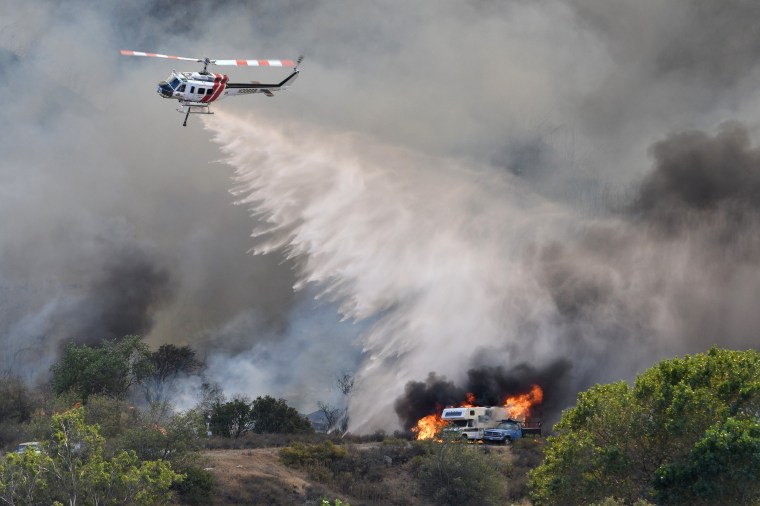 The Red Cross set up shelters for residents forced from their homes. "Numerous structures" were destroyed in the fire, the California Department of Forestry and Fire Protection, also known as Cal Fire, said. An exact number of homes burned was not released.
Shannon Anderson of the Blue Mountain Farms horse ranch in Phelan had to load up and evacuate 40 horses as the fire approached.
"It's raining ash," Anderson told The Associated Press.
The destruction included a landmark restaurant, the Summit Inn in Hesperia, whose owner posted a photo of it on fire to Facebook.
Related: Full Coverage of Blue Cut Fire at NBC Los Angeles
The National Weather Service issued a red flag warning through Thursday night, saying strong winds, low humidity and warm temperatures meant "critical fire weather conditions" would contribute to "extreme fire behavior."
One the 800 residents in the Lytle Creek area told NBC Los Angeles that she was in the shower when deputies knocked on her door and asked her to evacuate.
The woman, who gave her name as Amber, said she grabbed what she could — including her dogs — and took off.
"There is no escape," she said. "This was the time for me to go."
Another evacuated resident, John Goodfried, told the station that he watched air tankers flying missions over the blaze.
"If the smoke is heavy and thick and black, you know it's burning something," he said.
The Los Angeles County Sheriff's Department said a 98-year-old hospice patient was evacuated by helicopter from the Wrightwood area to the north of the wildfire.
Highway 138 to Lone Pine Canyon was closed, while the San Bernardino Fire Department said there was no timetable for when Interstate 15 — the main link to Nevada — would reopen.
More than 1,300 personnel were on scene fighting the blaze, fire officials said. Eight air tankers and two Very Large Air Tankers, or VLATS, and eight helicopters were fighting the fire Wednesday.
An 84-year-old local historian who uses a walker and is hard of hearing was saved after family members saw aerial pictures of his house surrounded in flames.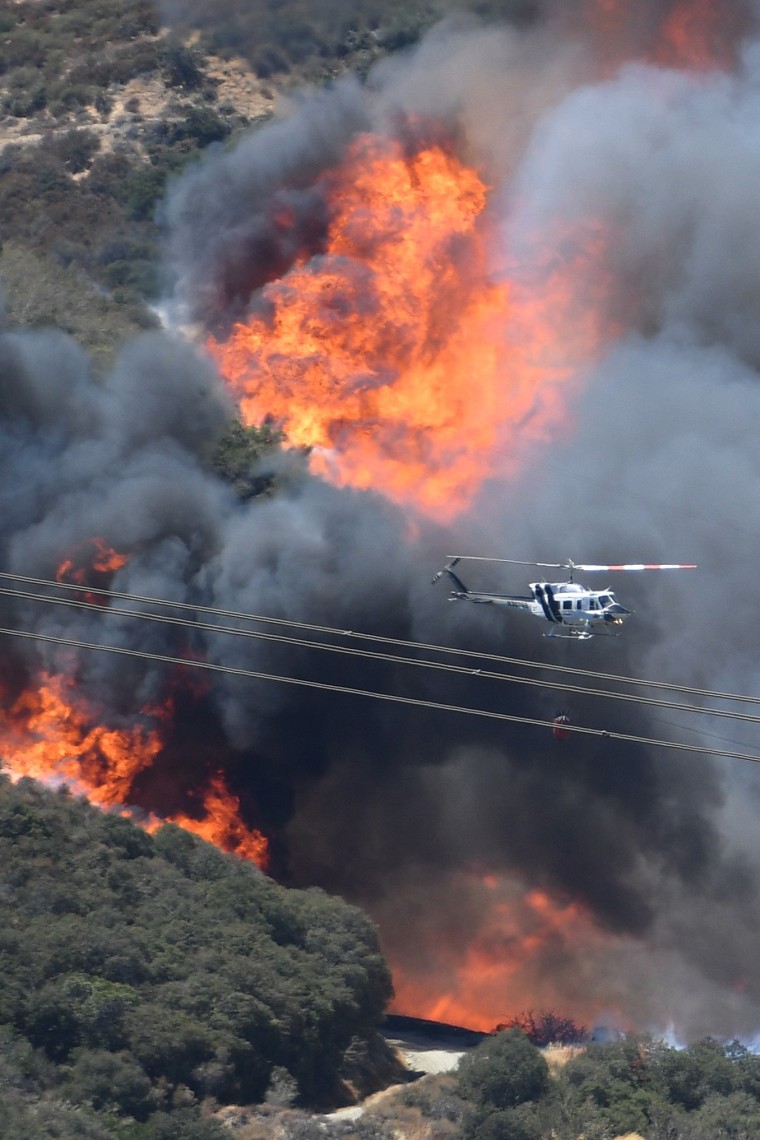 John Hockaday, who has penned books about the Cajon Pass and Route 66, wrapped his head in wet rags and held a hose with water from an emptying tank as the fire swept over his property, burned several cars and his mother-in-law's home, his cousin Ron Snow said.
Snow said that he was watching an NBC Los Angeles live stream of the fire as flames surrounded Hockaday's house in Cajon Pass and that he reached out to the newsroom, which got in contact with dispatchers to get rescuers to Hockaday's location in a canyon called Lost Lake.
"He was surrounded by fire," Snow told the station. "Fire crews were dispatched. Now he's safe."
A Cal Fire battalion chief, Mike Mohler, rescued a dog in the West Cajon area of the fire, Cal Fire said in a Facebook post. The dog ran from a burning structure and jumped into Mohler's arms, the department said.
The number of fires in California has grown by 21 percent over the last decade, rising from more than 4,800 fires in 2006 to nearly 5,800 fires in 2015, according to California Department of Forestry and Fire Protection data, NBC Los Angeles reported.