California Gov. Jerry Brown toured areas devastated by a large wildfire burning in Southern California on Saturday, and warned the state faces a "new normal" of fire risk exacerbated by climate change.
One death has been blamed on the so-called Thomas Fire in Ventura County, which broke out on Monday and like other large blazes burning in the region was fed by Santa Ana winds.
Nearly 800 homes and other structures have been destroyed in all the recent fires, including 537 in the Thomas Fire, according to the California Department of Forestry and Fire Protection, also known as Cal Fire.
"We're facing a new reality in this state, where fires threaten people's lives, their property, their neighborhoods, and of course billions and billions of dollars," Brown said at a news conference. He called California a "very wonderful place, but a place that's getting hotter."
"And we know from the changing in the climate that it's going to exacerbate everything else," Brown said.
Firefighters have made good progress in battling six major fires that have broken out across Southern California over the past week, Cal Fire Director Ken Pimlott said. But he warned that the danger is not over, and strong winds could continue into this week.
"We continue to make real good progress on all of these fires, but we're far from being out of the woods on any of them," Pimlott said.
Ventura County Fire Chief Mark Lorenzen said that the Thomas Fire, which as of Saturday was at 148,000 acres and 15 percent contained, has grown in the northern areas, and he urged people to be prepared to leave if necessary.
Marie McTavish, 65, described a harrowing scene as she tried to evacuate horses to safety from the ranch her family has owned in Ojai for more than 30 years.
They loaded their horses and took them to the Ventura County Fairgrounds, but that was at capacity with other animals brought there as a refuge from the flames, and they made the trek to show grounds in Santa Barbara 25 miles away, she said in a phone interview Saturday.
"There was a wall of fire going to Santa Barbara on the 101" highway, McTavish said. Back at the West Winds Ranch, they placed garbage pails of water on the roof of a barn to protect it — the plastic pails melt if flames come near, releasing the water.
"We saw the fire coming down the ridge," she said. Her property was saved. Others in Southern California were not so fortunate.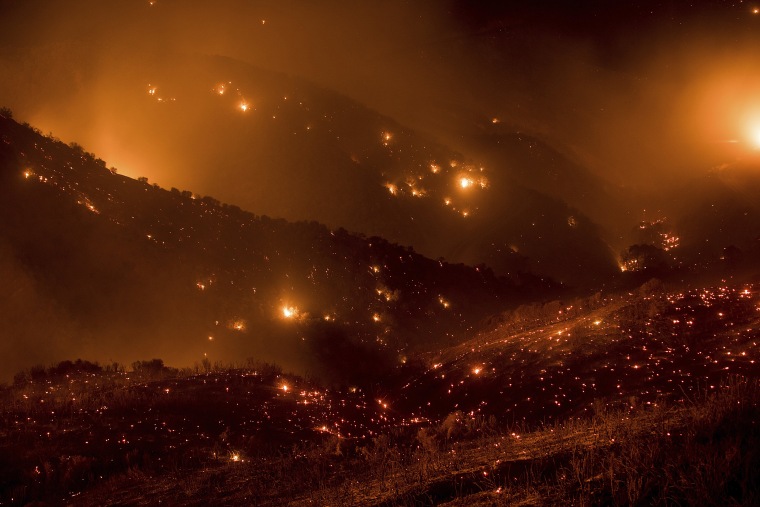 The so-called Lilac Fire that broke out in San Diego County on Thursday swept into San Luis Rey Training Facility, where it killed more than 40 elite thoroughbreds and destroyed more than 100 homes — most of them in the Rancho Monserate Country Club retirement community, the Associated Press reported.
That fire has burned 4,100 acres and was 50 percent contained Saturday, according to Cal Fire.
A fire erupted in the tony Los Angeles neighborhood of Bel-Air on Wednesday, destroying multimillion dollar homes not far from the Getty Center and its priceless art collection. The center reopened on Friday. The fire, dubbed the Skirball Fire, has burned 421 acres and was 75 percent contained Saturday, according to the Los Angeles Fire Department.
And the Creek Fire in Los Angeles County burning near the Los Angeles community of Sylmar, which had prompted evacuations, was 80 percent contained Saturday, according to Cal Fire. It burned more than 15,000 acres and destroyed 56 homes and 46 outbuildings since it broke out on Tuesday.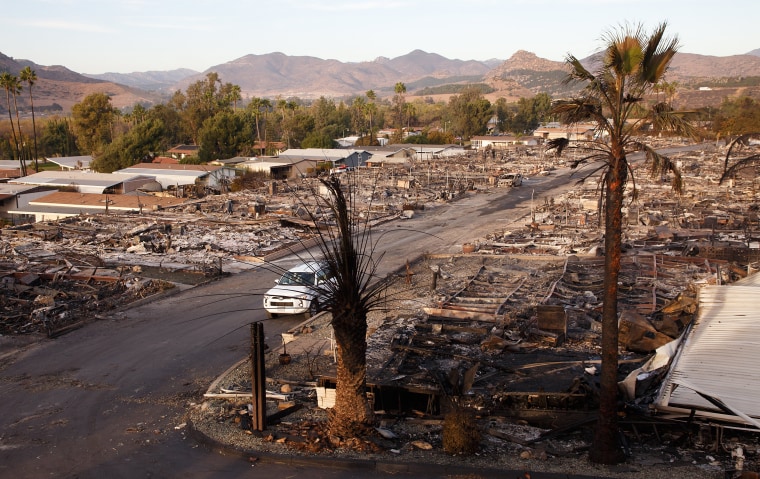 Parts of Northern California were devastated by large wildfires in October, which killed more than 40 people and destroyed around 8,900 homes and other structures.
Brown said that with climate change California can expect to get more droughts and fire conditions, and said there may need to be changes in the way forests and building are managed. "This is the new normal, and this could be something that happens every year or every few years — it happens, to some degree. It's just more intense, more widespread, and we're about ready to have firefighting at Christmas," Brown said.
Pimlott said that 8,500 firefighters were on the fire lines fighting the large blazes in Southern California Saturday. Ten western states, from Montana and New Mexico to Alaska, have sent firefighters and other assistance to California, Cal Fire said.
"It's December, and it's amazing to be able to say we aren't out of fire season," Pimlott said. "And this is the challenge that we face in California and certainly here in Southern California, that it is a year-round challenge that we are all in."