Firefighters in California made more progress Tuesday battling the huge and destructive Valley fire, which burned nearly 600 homes and led to at least one death, officials said.
The fire burning west of Sacramento was 30 percent contained, up from 15 percent earlier in the day, and covered 67,200 acres Tuesday evening, the California Department of Forestry and Fire Protection, also known as Cal Fire, said in a statement.
The fire destroyed 585 homes and hundreds of other structures mostly in Lake County, after it broke out at around 1:24 p.m. Saturday (4:24 p.m. ET) and quickly spread and burned homes and detonated propane tanks in Middletown. The communities of Cobb and Hidden Valley Lake were also affected.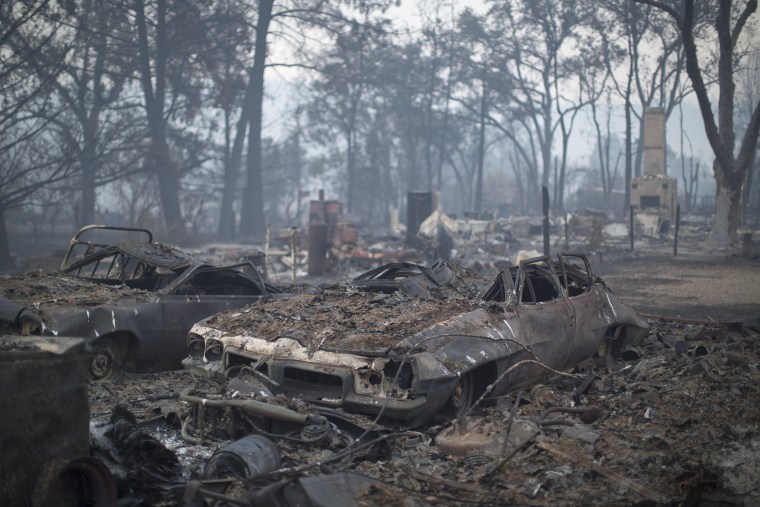 RELATED: Valley and Butte Fires Have Destroyed 700 Homes
"This was a very destructive fire," Cal Fire public information officer Daniel Berlant said Tuesday. Four firefighters were burned battling the Valley fire.
The injured firefighters suffered second-degree burns, and were recovering at UC Davis Medical Center in Sacramento, Cal Fire said. They are expected to recover, but "have a long and difficult road of recovery ahead of them," the department said in a statement.
Light rain and cooler temperatures helped firefighters Tuesday, but Berlant said "this fire still has a lot of ability to be able to grow."
RELATED: Devastated Wildfire Claims a Life, Forces 23,000 to Flee
The Valley fire is one two huge wildfires fires burning near Sacramento. To the east of the city, the so-called Butte fire was at 71,780 acres and was 40 percent contained by Tuesday evening, Cal Fire said.
The fire, located in Amador and Calaveras counties about 60 miles southeast of Sacramento, has destroyed 233 homes, as well as other structures, since it broke out Sept. 9. Nearly 6,500 structures are threatened. It was 37 percent contained Tuesday.
California is in the fourth year of a historic drought, causing dry conditions especially susceptible to wildfires.