Thousands of people were ordered out of their homes Monday after wind-whipped wildfires burned dozens of buildings across northern California.
Described as "unprecedented" by authorities, the largest blaze — which is known as the Rocky Fire — had torn across Lake County, north of San Francisco, growing to almost 60,000 acres, or 93 square miles, by Monday afternoon, CalFire spokesman Officer Daniel Berlant said.
Describing the fire as "erratic" and "destructive," Berlant said that "it is burning in whatever direction it wants to."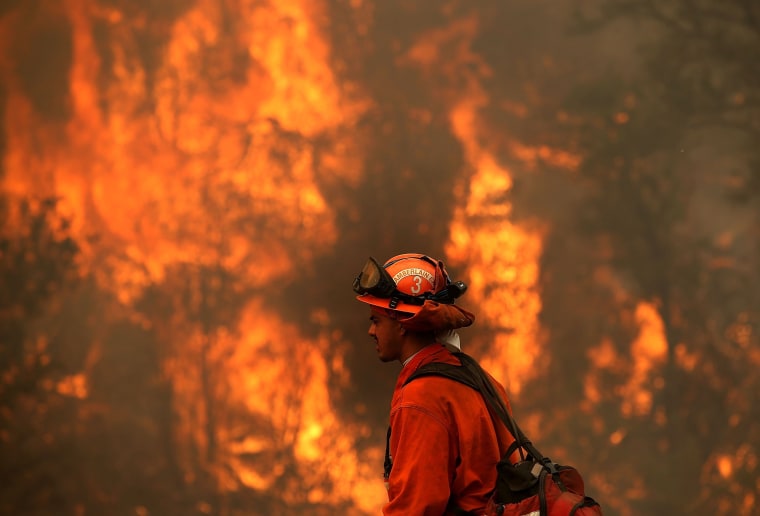 At one point on Monday afternoon, the fire even jumped the highway along its northern border.
Even so, the nearly 3,000 firefighters who are battling the blaze have made some progress, Berlant added, increasing the fire containment area from five percent o to 12.
The scale of the blaze has prompted officials to order 13,000 people to evacuate their homes, Berlant said, and several roads have been closed.
The fire has already destroyed 24 homes and 26 outbuildings and was threatening 6,300 homes, officials said.
Photo Gallery: Rocky Fire Blazes Through California
"A lot more firefight left on this fire," Berlant said. "It's not done yet."
Many of the California fires were sparked by lightning and the danger was expected to continue as the National Weather Service issued a Red Flag warning for Modoc County on Monday. A separate blaze the known as the Frog Fire continues to burn in that area.
Officials urge "extreme caution" during Red Flag warnings "because a simple spark can cause a major wildfire."
U.S. Forest Service Firefighter Dave Ruhl died in the fire around 100 miles south of the Oregon border on Saturday. Four others were burned in a fire near Sacramento.